Bruins
3 reasons for optimism and concern for the Bruins in the 2023-24 NHL season
Patrice Bergeron and David Krejci are gone, but there are reasons to have hope (and concern) for the Bruins this upcoming season, which starts Wednesday.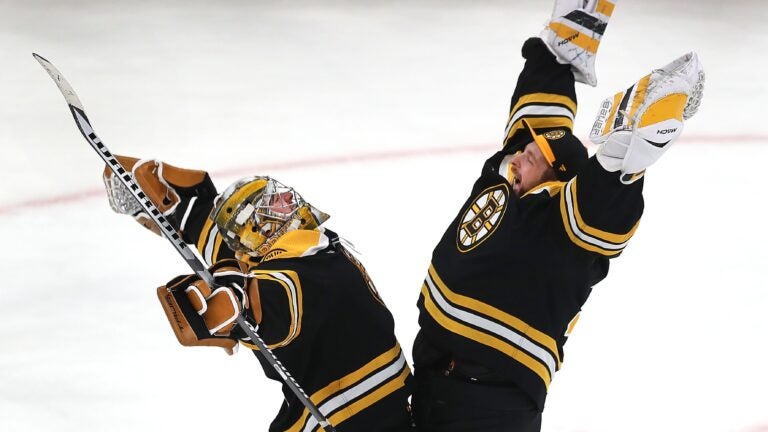 The Bruins begin their Centennial season as a team in transition.
Because of cap restraints, general manager Don Sweeney went into cost-cutting mode over the summer.
The Bruins traded Taylor Hall and Nick Foligno to Chicago in late June. Tyler Bertuzzi (Toronto), Dmitri Orlov (Carolina), Garnet Hathaway (Philadelphia), and Connor Clifton (Buffalo) all found new homes after hitting the free-agent market in early July.
Boston's roster took another significant blow after Patrice Bergeron and David Krejci announced their retirements. Now they enter a new year with a patchwork lineup, opting to sign a returning Milan Lucic, another veteran power forward in James van Riemsdyk, and an intriguing bottom-six cog in Morgan Geekie to short-term contracts.
Indeed, the Bruins will face a dropoff after notching 65 wins and 135 points a year ago. Yet, there's still reason for some hope around the Hub following a competitive training camp.
From a new captain to the new faces, here are three reasons to be optimistic and concerned about the 2023-24 Bruins.
Optimism: The league's best goaltending tandem returns.
David Pastrnak should still pot his share of goals. Yet, the Bruins may encounter some issues offensively as the new and old faces throughout the four forward groups find familiarity with one another.
But even with the uncertainty up front, the Bruins won't have any concerns on the last line of defense.
Linus Ullmark and Jeremy Swayman return for another season. Over the last two seasons, the reigning Vezina winner and fourth-year standout provided stability in the crease following Tuukka Rask's retirement.
The Bruins rotated Swayman and Ullmark throughout last year's 82-game slate. But they deviated from that rotation in the first-round series against the Panthers, starting Ullmark in the first six games before throwing Swayman in a do-or-die Game 7.
Jim Montgomery will face more questions about his postseason goalie rotation if or when the time comes. While their numbers might slightly dip from last season, the Swayman-Ullmark tandem will likely pick up where they left off.
Concern: The center depth faces significant tests without Bergeron and Krejci.
For nearly a decade and a half, the Bruins relied on a pair of battle-tested veterans to anchor the middle of their top six. But they knew that they'd eventually enter the post-Bergeron and Krejci era.
Replacing a two-way legend in Bergeron and a crafty playoff-proven performer in Krejci will take work. For the interim, they'll rely on expanded roles for Pavel Zacha and Charlie Coyle amid a transitional year.
Perhaps the crafty Zacha, a former New Jersey Devil, makes a smooth transition to his natural center position after posting career highs in the three major offensive statistical categories last year (21 goals, 36 assists, 57 points in 82 games). And maybe Coyle, a reliable third-line staple since coming to Boston at the 2019 trade deadline, will become more than a short-term stopgap as he moves up the lineup.
Matthew Poitras' impressive camp could provide the Bruins with another top-six option. Both Coyle and Zacha provided some optimism after filling in admirably for Bergeron and Krejci during the first four games of the Florida series.
While there's promise here, the Bruins currently enter a time of uncertainty in the middle of the top six. With an increase in the salary cap next off-season, Sweeney may have to wait until the summer to address Boston's top-six if things go sideways.
Optimism: Poitras, Beecher, and Lohrei appear primed for full-time NHL role.
Unlike previous years, the Bruins entered training camp with multiple vacancies. A trio of prospects, in particular, made the decision process a little more difficult for Sweeney and the front office.
Poitras and Lohrei excelled after playing in multiple capacities during the preseason. Barring any unusual development, the duo will respectively center Boston's third and fourth lines on Wednesday night.
Beecher can head down to Providence if he struggles to maintain consistency early in the season. Poitras is only eligible to return to Guelph (OHL) but loses his junior hockey eligibility once he plays in his tenth NHL game.
With that in mind, Poitras will have another mini-audition before the Bruins decide his fate for the rest of the 2023-24 season. For now, he enters the season as a popular commodity following an impressive camp.
The 19-year-old showcased his poise and a stout two-way skillset over the last three weeks. From his faceoff prowess to his offensive instincts away from the puck, he showcased significant progression each time he touched the ice.
Poitras will likely draw between Geekie and Trent Frederic on the third line. The trio put forth a solid outing during the preseason finale, with Poitras and Frederic connecting on a go-ahead goal in Thursday's 3-1 win over the Rangers.
Beecher developed initial chemistry with Lucic and Jakub Lauko. Between Lucic's snarl and Lauko's energy, the former Michigan Wolverine provides speed, quickness, and a keen puck-pursuit mentality to complement the fourth-line wingers.
The Bruins sent Lohrei down to Providence on Monday. Lohrei always faced tougher odds of making the club thanks to a veteran logjam at the back end, but provided plenty of encouraging signs throughout camp. His transitional instincts and two-way prowess will come in handy once Lohrei receives a promotion to the big club. For now, Lohrei will go into a top-pairing role with the Baby B's and will only benefit from playing over 20 minutes a night against fellow NHL up-and-comers.
Concern: The rest of the pipeline isn't ready for NHL minutes.
Beyond Poitras, Beecher, and Lohrei, the Bruins have limited options to choose from within their pipeline.
Fabian Lysell provided an early spark in the first half of Providence's season. But his confidence took a hit after he hit a wall while representing
his native Sweden at last year's World Juniors tournament. The 2021 first-round found himself in chase mode during his stints of preseason play as he struggled to generate quality looks and got knocked off pucks more often than not.
Even if Lysell regains his scoring touch in Providence, he'll likely have to wait until at least the end of the year for his first call-up.
Marc McLaughlin, who saw time with Boston late in the 2021-22 campaign, and Patrick Brown sit near the top of the list for a potential promotion to Boston's bottom-six. Brandon Bussi will likely make the trip up I-95 if Swayman or Ullmark misses time because of injury. Beyond that, the potential options aren't very enticing for one of the league's bottom-ranked prospect systems.
Optimism: The leadership core remains strong.
Bergeron and Zdeno Chara left a footprint that still resonates throughout the organization. So, it was only natural for the Bruins to select one of their lone holdovers from the 2011 Stanley Cup squad as their next captain.
Marchand's ascension to the captaincy seemed highly unlikely at the beginning of his career. But even with his pair of suspensions in the 2021-22 campaign, Marchand grew into a leadership role and overcame his past reputation filled with fines, suspensions and other controversies.
The Bruins will need everyone to fill the massive leadership void left by Bergeron and Krejci. But they have another core of leaders ready to take another step forward, including Pastrnak, Coyle, and Brandon Carlo (to name a few).
After an unusually record-breaking season, the Bruins will face adversity from the get-go, hoping to avenge their historic playoff collapse amid significant roster turnover. Marchand's experience and leadership can only help ease some of the early season tensions following an off-season of turnover.
Concern: The Atlantic Division will be tough.
Frankly, the Bruins are a hard team to project, given the transitional circumstances. Some predictions have Boston finishing as low as sixth in the Atlantic, while others envision that they'll maintain a top-three spot in one of the NHL's tougher divisions.
Fresh off their run to the Stanley Cup Final, the Panthers hope to springboard from fringe playoff status to a perennial championship threat.
The high-powered Maple Leafs, fresh off their first postseason series win since 2004, still face questions in net but remain a viable regular season club worthy of sitting atop the division.
The Lightning, who have lost their last two playoff series following 11 straight best-of-seven triumphs, may be looking at a shrinking cup window with Steven Stamkos and Victor Hedman entering the final year of their contracts. Their all-world goalie, Andre Vasilivesiky, will be for at least six to eight weeks following offseason back surgery. But the Bolts won't go down easy. And while their Cup window may have shrunk a bit, they're still worthy of postseason contention.
Even with their goaltending and defensive issues, the Sabres stayed within postseason contention up until the final week of last season. Devon Levi's arrival from Northeastern stabilized Buffalo's goalie situation. Behind Levi and a handful of developed talents in Rasmus Dahlin, Tage Thompson, and Owen Power, the Sabres enter a new season with new hope and a realistic chance to snap a 12-year playoff drought.
The Red Wings and Senators developed a healthy amount of prospects and mixed in some solid veterans to their respective squads, but are both likely on the outside looking in for a potential wild card spot.
Between the improving squads and the top teams, Montgomery's bunch finds themselves somewhere in the middle of a crowded Atlantic Division. Whether they stay in the top three or find themselves in wild card territory is anyone's guess.
Sign up for Bruins updates🏒
Get breaking news and analysis delivered to your inbox during hockey season.