Bruins
What Bruins legends said about Brad Marchand's captaincy, Matthew Poitras' path to NHL
"I think the potential is unlimited."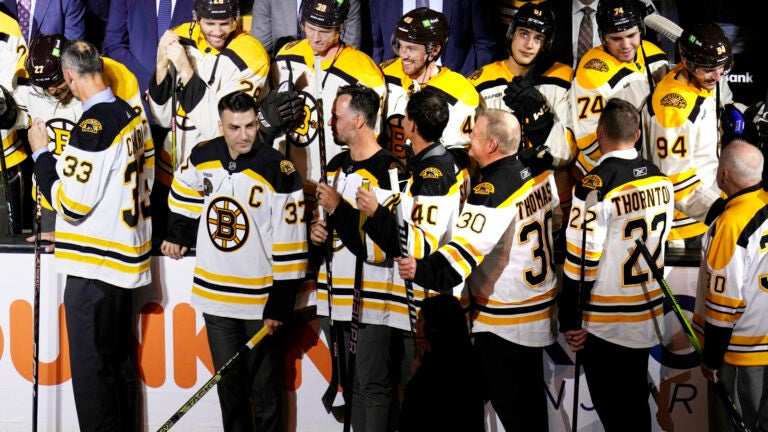 The Bruins opened their centennial season on Wednesday with a tribute to the many legends of yesteryear who wove themselves into the fabric of an Original Six franchise.
But amid the musings on memories forged over the last 100 years, several former Bruins are more interested in looking to the future – and seeing how a revamped 2023-24 Bruins plan on writing their own legacy.
Plenty has changed over the past few months for Boston. Two franchise fixtures down the middle in Patrice Bergeron and David Krejci were back on Causeway Street Wednesday — but took in the action from the Garden seats for the first time in their respective careers.
It's a different feeling for the recently retired Bergeron, who's still looking to shake what was once a regular commute to the Bruins' barn in the West End. But with the keys of the team now handed to his longtime linemate in Brad Marchand, Bergeron believes that Boston remains in good hands.
"My only advice was probably to just be himself," Bergeron said of Marchand ahead of Wednesday's game. "Leadership is by committee and letting other guys grow. Having that core with you and letting them take charge. Marchy has just been around for so long. He's got the experience.
"He's competitive as we all know. It's the perfect combination to be a great captain and a great leader. As I said before, he's an amazing friend. Happy for him. He doesn't need any advice from me."
Marchand has come a long way from his rookie campaign in Boston, where he first cut his teeth in the NHL ranks on a fourth line with the likes of Shawn Thornton.
"He's always had the desire and the work ethic," Thornton said of Marchand. "He's a character guy. Behind the scenes, as you guys know now, he did a lot of the right things. I texted him right after. I'm happy for him. That's a huge honor. He deserves it."
Even at 35 years old, Marchand still holds court as one of the best two-way wings in the NHL.
"If he's not the best left wing in Boston Bruins history, maybe Chief [Johnny Bucyk] is in the discussion," Mike Milbury added on Marchand's standing. "But that's about it."
Even with the "C" now stitched onto his sweater, Marchand's propensity to pester opponents hasn't waned — with the veteran attempting an in-game trade for Chicago star rookie Connor Bedard early in Wednesday's matchup.
"I think if I played against him, I'd hate him," Terry O'Reilly said of Boston's new captain. "But he wears the B. So I love him."
Marchand is not on an island when it comes to established star talent on a Bruins roster undergoing seismic challenges.
A reigning 61-goal scorer in David Pastrnak will be tasked with driving play in the offensive zone.
But throughout the history of the Bruins, the franchise has been buoyed by a stingy defense — usually anchored by a franchise fixture on the blue line.
Be it Shore, Orr, Park, Bourque, and Chara, Boston has always had the luxury of having a game-changing defenseman ready to hop over the boards.
Bourque believes that the Bruins have another worthy successor to that esteemed list of blue-line talent in Charlie McAvoy, who has yet to enter his prime at just 25 years old.
"He's got the whole game," Bourque said. "He's got the physical game, the skating game. He's got some great vision, the shot. He has instincts that are very special. I love watching him play. I think the potential is unlimited."
Boston's floor as a stingy, defense-first club with elite talent on the wing is set by the established veterans still present in the dressing room.
But the 2023-24 Bruins' ceiling might be determined by how the next wave of talent like Matthew Poitras can pull on that same rope in their foray into the NHL.
Bergeron, who leapfrogged the AHL and broke camp with the Bruins as an 18-year-old rookie in 2003, knows of the daunting road ahead for Poitras as he tries to entrench himself in Boston's lineup for the long haul.
"I think it's great," Bergeron said of Poitras' unexpected push to the NHL. "It just shows that the future is bright and you can't say anything but good things about this franchise and how important it is for them to kind of make sure this team stays strong for years to come. And to see a kid like that kind of pushing his way into the lineup, you've got to love that competitiveness but also that will to want to make an impact and stay."
The early returns were promising for Poitras and fellow rookie Johnny Beecher against Chicago.
Poitras recorded his first NHL point with a secondary helper on Trent Frederic's first goal of the new campaign, while also winning five of his seven chances at the faceoff dot.
Beecher, who ingratiated himself to the Garden crowd by dropping the gloves with Blackhawks forward Jason Dickinson, was the man in the middle of a bruising fourth line with Milan Lucic and Jakub Lauko.
In the 5:43 of 5v5 ice time that the Lucic-Beecher-Lauko line logged against Chicago, the Bruins held a 9-2 edge in shot attempts and a 2-0 advantage in high-danger scoring chances.
"I think to soak it all in, be in the moment," Bergeron said of advice for Poitras and Boston's younger skaters. "I think at that age it is probably what you're doing anyways. But it's a roller coaster. It goes fast, so enjoy it. But honestly, look at some of the leaders, guys on the team that have been around and learn. It happens fast when you're that age."
Sign up for Bruins updates🏒
Get breaking news and analysis delivered to your inbox during hockey season.