Bruins
Bruins-Blackhawks takeaways: How Brad Marchand, B's limited Connor Bedard
"He's a real great player," Milan Lucic said.
The gold carpet. The pregame ceremony featuring numerous Bruins legends. Connor Bedard's second career game. Taylor Hall and Nick Foligno's returns. Brad Marchand's first game as captain.
The pomp and circumstance of Wednesday's season opener at TD Garden provided plenty of intrigue. But it was all business at puck drop.
The Bruins came out engaged, but fell behind 1-0 after Bedard netted his first career tally on a wraparound at 5:37 of the opening frame.
Bedard had another eventful night, but the Bruins managed to rattle him a tad. The top overall pick from the summer's entry draft encountered a couple of run-ins with Marchand, with one resulting in Bedard's first career penalty.
The former Regina Pat wasn't the only shining youngster on the night. The Bruins had their own young standout on display for the equalizer as Matthew Poitras set up a Brandon Carlo one-timer and a Trent Frederic tip for Poitras's first NHL point on Boston's first-period equalizer.
With a handful of his fellow 2011 teammates in attendance, a returning Milan Lucic made a trip down memory lane with David Pastrnak. The veteran power forward delivered a timely feed to the Czech playmaker to give the Bruins the 2-1 lead at 13:09 of the middle stanza.
A chippy third period began with Jason Dickinson taking exception to John Beecher's hit from behind on Cole Guttman 3:12 in. It continued with Bedard taking a spill on a scoring chance with under five minutes left in regulation. In the end, the Bruins secured their first win of the season on Pastrnak's empty netter.
With several Bruins legends in attendance to kick off the centennial season, here's what we learned from Boston's 3-1 victory.
Bedard caught the Bruins' attention.
The hype surrounding Bedard's debut took center stage in Pittsburgh Tuesday night. On Wednesday, he encountered a few more "welcome to the NHL moments."
The transitional Bruins handled Bedard reasonably well after the talented rookie notched his first NHL goal. Whether it was Marchand poking Bedard into the home bench and goading him into a retaliatory penalty in the middle frame or Boston's D hemming in his attempt for the equalizer late in the third, the Bruins stayed within their layers to minimize his impact.
Through their attempts to disrupt Bedard, however, the Bruins found out he was worth the hype. And even though just two NHL games, they sense a blossoming career ahead for Bedard.
"He's a really good hockey player," head coach Jim Montgomery said of Bedard. "We were aware of him. He created time and space. I don't think our checking is where it needs to be no matter who it is, and then you get a good player like that, he's going to break free."
"He's a real great player," Lucic said. "I saw him play [against the Penguins]. Really elite skill, elite skater, great vision…obviously an unbelievable shot. He's only two games in, but I think he's going to keep getting better and better, and he's going to be the real deal."
Lucic knows a thing or two about elite talents. For two seasons, he witnessed Connor McDavid develop into an elite superstar with the Oilers.
But little did Lucic know that he'd reunite with another upper-echelon goal-scorer when he donned the Bruins sweater for the first time eight years.
Lucic's reunion with Pastrnak highlights in-game changes.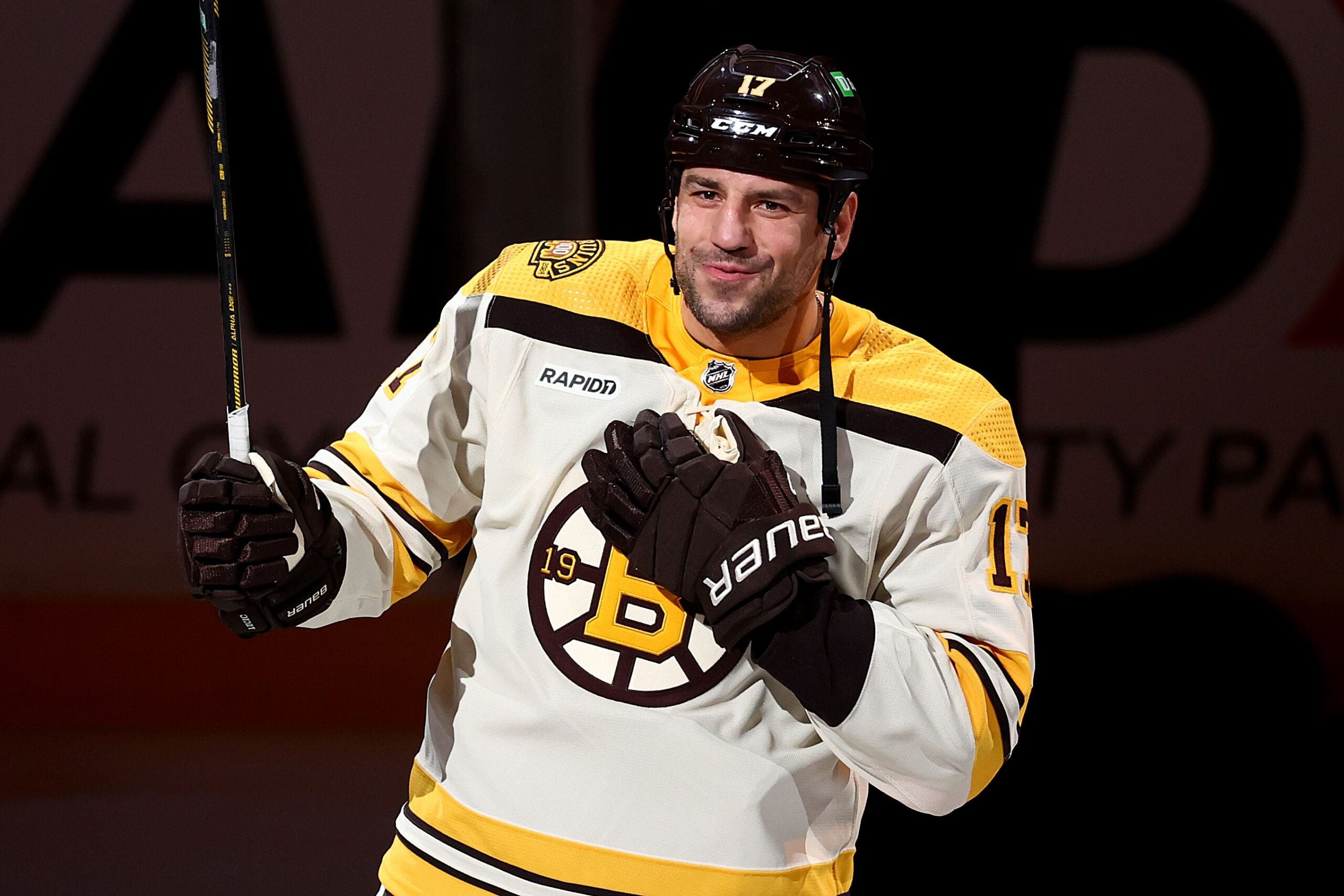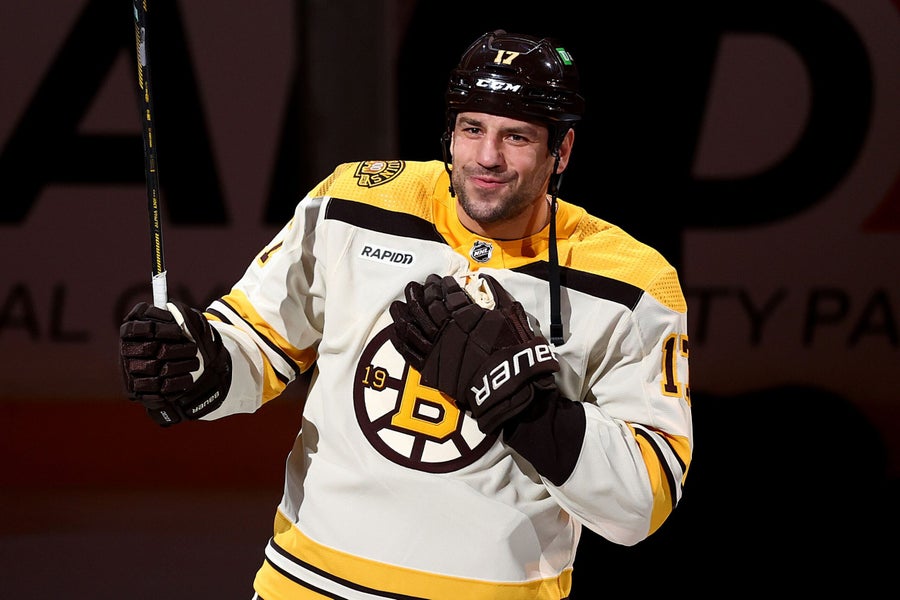 With new faces, Montgomery knows the Bruins will need time to gel with their new linemates. Even then, that didn't prevent the second-year coach from making the necessary in-game lineup tweaks.
Lucic began the night with John Beecher and Jakub Lauko on Boston's fourth line. But Lucic's skating and physical engagement prompted a promotion to the top six.
For a few shifts in the second period, Lucic moved alongside Pastrnak and Pavel Zacha, prompting James van Riemsdyk to fourth-line duty with Beecher and Lauko.
Montgomery felt van Riemsdyk skated well but also wanted to reward Lucic for his effort.
"I felt Lucic was skating well, so I put him with Zacha and Pasta for a couple of shifts," Montgomery said. "I thought van Riemsdyk's game was really good, and I told him that, 'you're not being punished and I'm just spreading around the minutes."
Montgomery's adjustment paid off.
Lucic tallied his first point as a member of the Bruins since 2015, setting up Pastrnak for his first of two tallies to put Boston ahead for good.
For a pair of linemates who hadn't skated together in over eight years, Lucic and Pastrnak picked up right where they left off.
"We had a couple of shifts there together, and we were able to connect on the goal there," Lucic said of the Pastrnak reunion. "It's great to get the win, fun to contribute, and set the season off with a big one."
With several greats from the 99 previous seasons in attendance, the Bruins gave their legends and the rest of the 17,850 in attendance a fitting result.
Bruins "soak in" the aura of the centennial celebration.
Lucic couldn't help himself.
Nor could his 19 other teammates on the bench.
The Bruins kicked off their centennial season in style with a gold carpet event hours before the opening faceoff. The festivities continued before the opening faceoff in a banners ceremony with a reunion featuring Stanley Cup-winning teams of the past and the select few who have their numbers up in the rafters.
The list included a who's who of former Bruins, including Bobby Orr, Phil Esposito, Terry O'Reilly, Rick Middleton, Tuukka Rask, Tim Thomas, Gerry Cheevers, Brad Park, Terry O'Reilly, Patrice Bergeron, Zdeno Chara and David Krejci (to name a few).
"I was just soaking it all in like a fan," Lucic said. "I'm on the bench going, 'This was really good to be a part of, and a real special moment for hockey history.' To see all the legends that are here…former teammates, and to be a part of the ceremony tonight was something special to be a part of. It just adds to being back here in Boston."
But even a historic night provided some firsts with Poitras and Beecher making their NHL debuts.
"Bobby Orr came in before the game, and I got to shake his hand," Poitras said. "That was crazy."
Poitras and Beecher impressed during camp. And it didn't take them long to compile some early career highlights.
Beecher's bout with Dickinson provided the rag-tag moment of the night. Poitras chimed in with his first career assist, ultimately setting Frederic for a tip-in attempt on Carlo's shot, netting a needed first-period equalizer.
"It's an honor to play for an organization like this with so much history," Poitras said. "Watching that pregame video, I had chills going down my spine. So it gets you fired up, and obviously, you want to play good with all those guys in the building."
Poitras and Beecher should provide more moments as their careers progress. But the two will never forget the moments surrounding their first career NHL game.