Bruins
James van Riemsdyk's netfront skills shine on Bruins' reworked power play
"It's the way that he's made a living."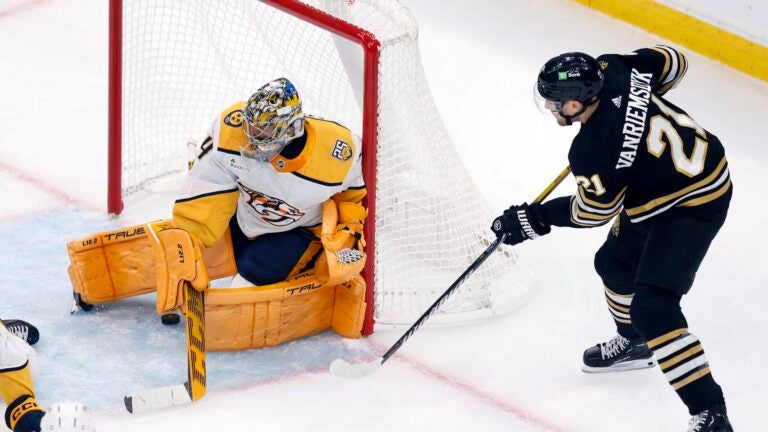 James van Riemsdyk may not wield a blistering one-time shot like his new teammate in David Pastrnak.
The highlight reel that he's compiled over 15 years in the NHL isn't necessarily inundated with dekes and dangles in Grade-A ice.
But with 89 career power-play tallies on his resume, it's clear that the 34-year-old veteran is doing something right on the man advantage.
Of course, having the willingness to plant oneself at the netfront when you're 6-foot-3 and 208 pounds can usually go a long way toward burying a few looks while up a skater. But the power forward's keen hand-eye coordination and knack for tipping volleys of vulcanized rubber puts him in rare company among power-play specialists.
"He's an extremely good tipper of the puck," Charlie McAvoy said of one of Boston's free-agent pickups earlier this week. "When I think of him, I think of David Backes — someone who you knew around the league who was extremely gifted at tipping the puck.
"I think Joe Pavelski is probably the one that comes to mind when you think of that. JVR is really good at that. It's the way that he's made a living. So we gotta give him the chance."
The chances finally came van Riemsdyk's way on Saturday night at TD Garden. And in just his second game in a Bruins sweater, the big-bodied skater showcased why Boston believed his skill set could make an already potent power play even deadlier.
In a gutsy matchup against the Predators where Boston had to keep off the ropes against seven Nashville power plays, van Riemsdyk delivered the knockout punch on special teams — scoring twice on the power play to push Boston to a 3-2 victory at TD Garden.
It was an encouraging start for van Riemsdyk, who matched his power-play scoring output (two goals) from last season with the Flyers … in 59 fewer games.
"It's a big part of my role and my job here is to be effective there and again, there are great players that I'm out there on the ice with, so that makes it a lot of fun," van Riemsdyk said. "So those guys obviously make a ton of great plays and it's my job to be around the net and capitalize when it's my time to do that. So it's great to be out there with guys that can snap the puck around like those guys."
Even with Patrice Bergeron's absence at the "bumper" position, Boston didn't have to rework its entire power-play unit this summer.
Such an overhaul isn't necessary when you still have a 60-goal scorer like Pastrnak in place, along with a poised passer like Brad Marchand at the half wall.
But van Riemsdyk's ability to turn seemingly harmless shots from the point into quality looks adds another much-needed element at the netfront.
"He allows you to make a lot more plays low, just because of his ability to tip pucks," Jim Montgomery said. "Everybody sees, I mean that second goal is incredible. But the plays that we go down low, he has the poise and he makes really good decisions, and they have to be split-second decisions."
His first goal of the evening might have been manufactured off of a fortunate bounce, but van Riemsdyk's willingness to dish out those cross-crease feeds will continue to lead to quality looks.
The eventual game-winning tally at 2:52 in the third period was no fluke, with the winger taking a wrist shot from McAvoy and altering its path ever so slightly to beat one of the best netminders in the league in Juuse Saros.
"I gotta get it there for him," McAvoy said of van Riemsdyk. "He has a career in this league outta getting there and he's shown it in practice that he can do it. … So I gotta keep working on my chemistry with him. But I'm really happy to see him tip one in. It's a big goal for us."
van Riemsdyk may not be the same player who averaged 27.1 goals per season from 2013-19.
But the underlying numbers last season offered up hope that his two tallies on the power play with a dreadful Flyers team were a stark outlier from his established production.
Even with those two goals in Philly, van Riemsdyk posted an individual expected goals for rate of 4.75 on the power play — which ranked second on the Flyers and actually was 47th in the entire NHL. Not bad for a player mired on the league's worst power play (15.6%) last season.
He may not be the focal point on a top power-play unit, but van Riemsdyk is far more than a bargain-bin addition to Boston's roster, especially on the man advantage.
"It's been amazing," van Riemsdyk said of the cheers at TD Garden. "Obviously, with all of the years I've played, this is one of the best places in the league to play and it's a great atmosphere every night and it's fun to be on the good side of that instead of getting booed. So it's always fun."
Sign up for Bruins updates🏒
Get breaking news and analysis delivered to your inbox during hockey season.