Bruins
Bruins-Predators takeaways: Special teams and David Pastrnak's penalty shot
Here's what we learned from Boston's gritty 3-2 win over the Preds.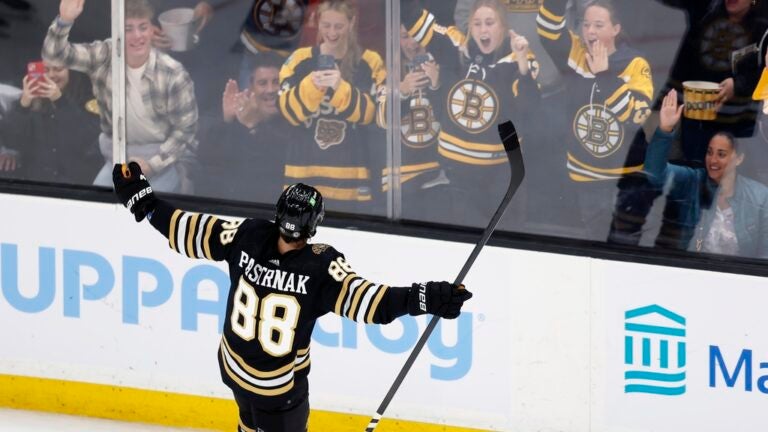 The TD Garden promotional crew must have forgotten to schedule a sin bin night as they pondered over their Centennial-themed nights.
Well, the Boston Bruins and the Nashville Predators did their best to schedule a penalty-filled promotion at the last minute.
In the second game of their 100th season, the Bruins took a whopping seven penalties against the Predators — eight if you include Colton Sissons' second-period equalizer on a delayed penalty late in the middle frame.
Boston's penalty kill persevered, killing all seven of Nashville's power plays.
Despite the odd-paced night, the Bruins found a way to improve to 2-0 on the young season.
Shortly after Sissons' first-period marker, James van Riemsdyk netted his first as a Bruin on a feed intended to Pastrnak for a power play bit that deflected off of Dante Fabbro and into the back of the net.
Pastrnak didn't need any luck on his second-period penalty shot, beating Jusse Saros' glove side with a Houdini-like shot to give the Bruins a 2-1 lead.
The Bruins had their share of power play attempts as well, including three in the final 20 minutes. They took the lead for good after van Riemsdyk tipped Charlie McAvoy's shot past Saros for his second PP marker of the night just 2:52 into the final stanza.
Here's what we learned from Boston's gritty 3-2 win over the Preds.
The penalty kill set the tone.
No matter the broadcast, every network that posts a keys-to-the-game segment likely lists avoiding penalties as one of the objectives.
If only it were that easy.
The Bruins went to the box seven times over the first 40 minutes. The penalty kill did yeoman's work from the get-go, however.
Boston killed all seven of Nashville's power play attempts, including a 14-second 5-on-3 stretch in the opening frame and a four-minute span early in the second when Jakub Lauko served a double minor for high sticking.
Jeremy Swayman stopped all 13 power play shots he faced. The defense in front of him kept the Predators at bay, limiting traffic around the crease with timely checking and shot blocks. Through it all, the 17,850 at TD Garden rose to their feet, providing the Bruins with energy and momentum.
"We're getting a tremendous amount of momentum," said head coach Jim Montgomery. "And our fans are so knowledgeable that they're recognizing the great effort to block shots, the great saves that our No. 1 penalty killer Swayman was making, and the sacrifice by the defensemen and forwards working together. At the end of one of [the kills], there was a tremendous ovation, and you can tell it energized our bench."
"That's why we got that win," Swayman said. "It's special to see guys stick to the game plan and not get down on themselves when we're getting penalty after penalty. I think the morale was great. Obviously, the bench was great. And coming out of the locker room, we all had to use that to our momentum. It was good to see early on, and it's something we can build on moving forward."
Swayman faced a heavy workload in his first start. But the Bruins received some timely relief following their exceptional PK performance.
Pastrnak draws unique inspiration for his penalty shot.
The 2014 first-round pick has already racked up numerous highlight-reel goals over nearly 10 years in Boston. But even an upper-echelon goal scorer may need to draw some unique inspiration to add to his arsenal.
"I tried a couple of different shots this summer," Pastrnak said after delivering a successful penalty shot for the second time in his career. "I was working on that fun shot, and it was a little different. I tried it a couple of times…tried it in the preseason, actually. It hit the logo, right in the middle of the goalie. I didn't have much confidence going into it, but it worked out, so…"
Pastrnak didn't pull out his newest trick from his peers on the ice. Instead, the crafty Czech looked at another European sport — handball — to garner inspiration.
In fact, Pastrnak tried the same exact shot at handball. But unlike that trip to the court with his best friend, Pastrnak delivered a successful penalty shot attempt with his on-ice version of the handball shot.
"I promised my buddy that I would go practice with them, and I went and, honestly, I was terrible. They all shoot like that and I tried to do that in there, and I was really terrible," Pastrnak said. "So I tried it on the ice, and I was much better at it on the ice than I was at floorball. So I tried to mix a little different shot, I guess."
Indeed, Pastrnak changed up his penalty-shot approach. And Saros — and even Swayman — may not be the only netminders who fall victim to Pastrnak's handball-inspired curveball.
"I liked it. It went in the top corner," Montgomery said. "He disguised it. He looked like Luis Tiant on the mound and brought it back behind…"
"It works every time," Swayman said with a chuckle. "He's good at it."
van Riemsdyk adds net front dynamic to the top power-play unit
Boston's power play remains a work in progress. Even so, they may have found a keeper in the net-front position on the top unit.
With his pair of power play markers, van Riemsdyk already matched his man-advantage output from his final season with the Flyers.
van Riemsdyk fits the net-front role to a T. He's made a career out of scoring on tips, rebounds and hard drives to the crease. The veteran power forward brings that needed dynamic amid an early rotation on the top unit in the first year without Patrice Bergeron at the bumper.
"He's known for an outstanding net-front [presence] his whole career. He scored a lot of goals on the PP…I remember him from Philly where he's around the net," Pastrnak said of van Riemsdyk. "He's great there. He makes really good for how tall he is and how big a stick he is. He makes a lot of plays around the net, so I'm happy he got on the board and overall how the power play got on the board."
Boston's two power-play units looked stagnant in Wednesday's season-opening victory over the Blackhawks. Against the Predators, the top unit of Pastrnak, van Riemsdyk, McAvoy, Brad Marchand and Pavel Zacha established a more fluid puck-moving tempo in the attacking end, resulting in quality scoring chances around Saros.
"We moved the puck around pretty well, and the guys made good plays to get pucks to the net," van Riemsdyk said. "We kept it simple and tried to get pucks and traffic down there and we got rewarded."
Behind the power play and penalty kill, the Bruins earned a gritty win to improve to 2-0 ahead of their first road trip of the season. Their four-game west coast swing begins in San Jose on Thursday and continues with a weekend slate in So. Cal — in Los Angeles (Saturday) and Anaheim (Sunday) — before concluding in Chicago a week from Tuesday.
Newsletter Signup
Stay up to date on all the latest news from Boston.com