Bruins
A confident and 'assertive' Trent Frederic is settling into a key role for Bruins
"I think he's just a lot more confident hockey player and it's showing."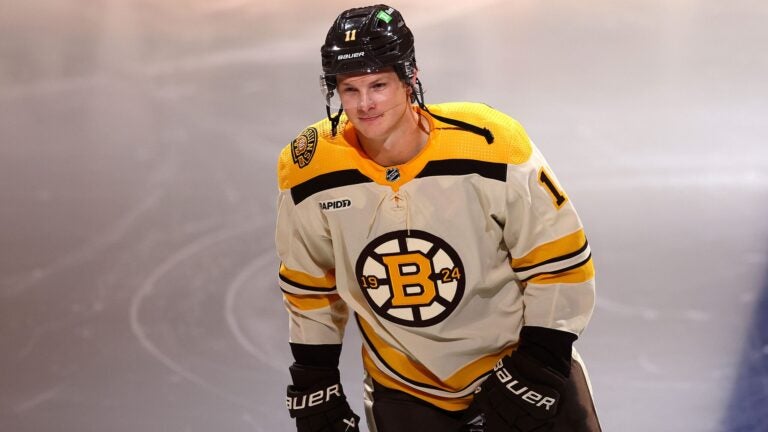 Plenty has changed for Trent Frederic over the past year.
Last season, the pugnacious forward spent most of his shifts on a line next to Charlie Coyle and Taylor Hall — two forwards with over 1,600 combined games of NHL experience.
But at the start of the 2023-24 campaign, the 25-year-old Frederic found himself in unfamiliar territory. For the first time in years, the Bruins forward was the elder statesman on his line next to 19-year-old Matt Poitras and Morgan Geekie — who is five months younger than Frederic.
"In college, I was never [the oldest]. Providence? I don't think I ever was," Frederic said while rolling through his mental rolodex of previous linemates. "Yeah, I think it's my first time in a long time. … It's really weird. Because last year, Halsey and Chuck had like 800 games each in the league. I used to watch them growing up, it's different."
On a Boston roster still anchored by seven veterans with at least 500 games of NHL reps, Jim Montgomery isn't looking for a player like Frederic to make a sudden shift into a vocal leader in Boston's bottom-six corps, at least not yet.
But fresh off of a breakout season in 2022-23, Montgomery and the Bruins believe that Frederic is on the cusp of unlocking another gear as a play-driver further down on Boston's depth chart.
"I've just noticed him as far as where he was last year to this year, he's a way more assertive hockey player," Montgomery said of Frederic's growth. "And I think he's just a lot more confident hockey player and it's showing how he's taking the puck and skating with it more this year and looking to create offense more on his own."
Frederic's development from a fourth-line scrapper into a two-way contributor on the third line played a vital role in Boston's surge of depth scoring during last year's record-setting run.
Not only did the former first-round pick set career-highs in both goals (17) and points (31) while still doling out 105 hits, but he was arguably one of the most impactful bottom-six forwards at 5v5 play across the NHL.
During 5v5 action, he averaged 1.09 goals per 60 minutes of play, per Natural Stat Trick. Only David Pastrnak (1.72) Jake DeBrusk (1.51) and Jakub Lauko (1.23) performed better on the Bruins — with that 1.09 rate ranking 70th among the 738 NHL skaters with at least 150 minutes of 5v5 ice time.
But on the opposite side of the ice, Frederic thrived as a defensive stopper. Despite having just 42.7 percent of his on-ice starts set in the offensive zone during 5v5 play, the Bruins still held an absurd 47-23 edge in goals scored when Frederic was out on a shift last season.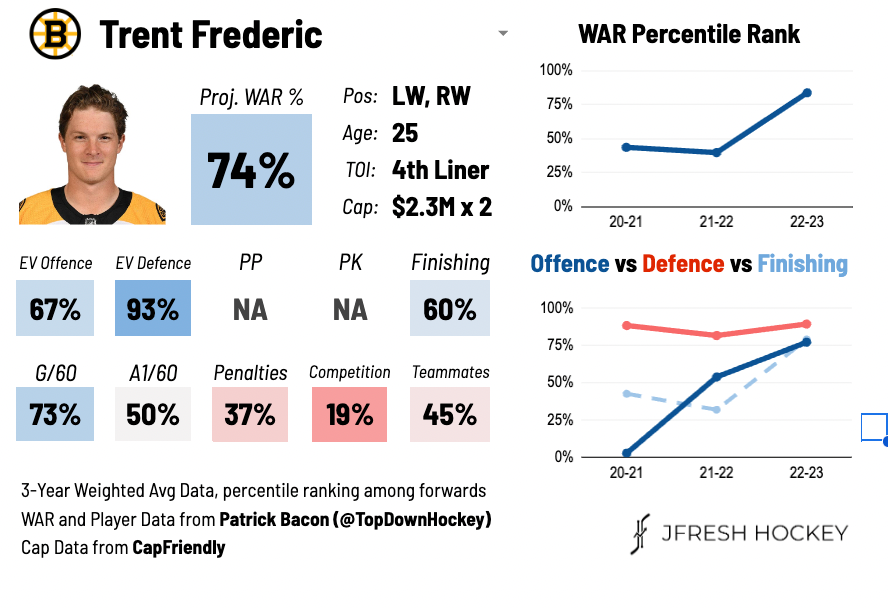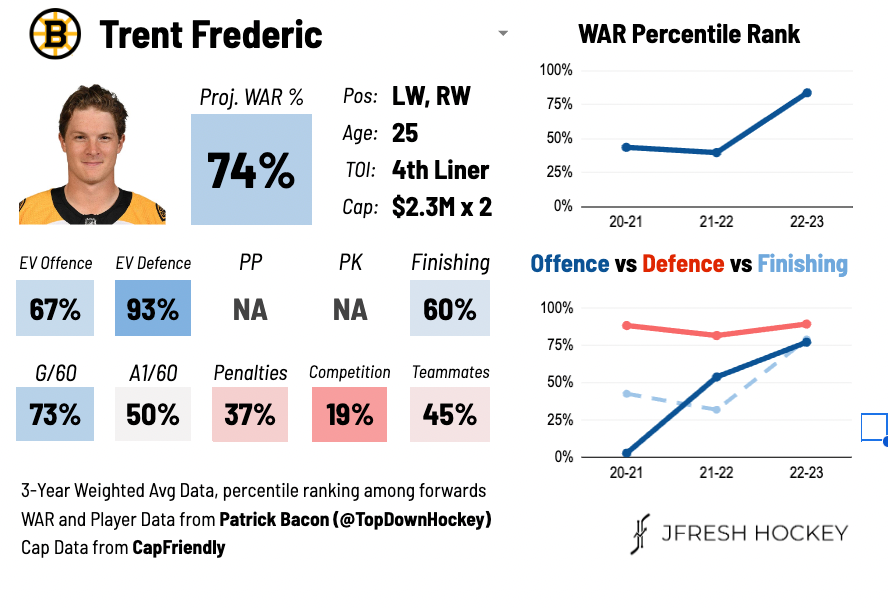 On a Bruins team whose strengths this season will be rooted in their defensive fortitude, Frederic stands as a key piece of the puzzle thanks to his two-way acumen that flourished last season next to Coyle and Hall.
"There's stuff I took away from both Charlie and Taylor last year," Frederic said. "They're both good guys. And I was always asking questions like, 'How do you do this? Or what's your thought process when you've got that?' Some people maybe don't want me to ask those questions all the time, but they were always guys that were trying to help and teach me.
"I think when you do that over and over, you start to learn from the guys that are successful. Whatever that may be, if that's Hallsy pulling up, if that's Charlie with puck protecting, all that stuff."
Frederic's blend of size and skill makes him a coveted player, especially in today's NHL. But along with Frederic's propensity to dole punishment and stout D-zone work, Montgomery believes that Frederic is beginning to showcase even more offensive capabilities.
His 6-foot-3 frame can come in handy during netfront screens, tips, and rebounds — as was the case during his opening tally against the Blackhawks on Oct 11.
But along with an effective (and often underutilized) wrist shot, Montgomery believes that Frederic's ability to shield the puck down low and willingness to pass into Grade-A ice can make him a player keen on generating plenty of high-danger scoring chances — both as the first man in on the forecheck or as the F3 forward operating higher up in the slot.
"They're both really good five-on-five below the top players," Montgomery said of a reworked third line of Frederic, Coyle and James van van Riemsdyk on Monday. "They're both good defensively as well. So if I want to, I can match them up against another team's best offensive line. But most importantly, the O-zone time that they play well together.
"And I think a guy like van Riemsdyk really helps them connect the dots there because he likes going to the net front. Charlie likes to possess it. And Freddie does a good job of getting open as the F3 and shooting it."
A reunion with Coyle, starting with Thursday's road game against the Sharks, should further bolster Frederic's game.
Such a lineup reshuffle gives Montgomery the option of deploying a puck-possession third line capable of negating other top-six matchups. But it also allows Frederic to build off the already impressive results he forged last season next to Coyle.
And if last year represented just a hint of Frederic's full potential, the Bruins could have a potential trump card in place on their bottom-six unit moving forward.
"I think we gel really well," Frederic said of playing with Coyle. "I don't know if he's just an easy guy to play with. He talks well. He's easy to read off, just the way he plays is more straight line. He's a really good player but he's never gonna do anything like a spin-around.
"Like he might, but for me, he's easy to read. When he has the puck, I know where to go. So it's why I really like playing with him and like I said, he's just a good guy, very positive, always teaching me little stuff about puck protecting or whatever he sees out there."