Bruins
3 takeaways as Bruins remain undefeated with 3-1 win over Sharks
David Pastrnak scored his fourth goal of the season in the second period to put the Sharks away and start the Bruins' road trip on a high note.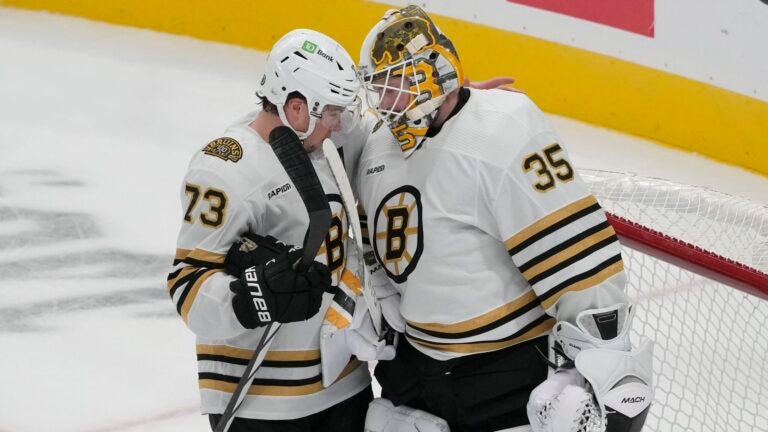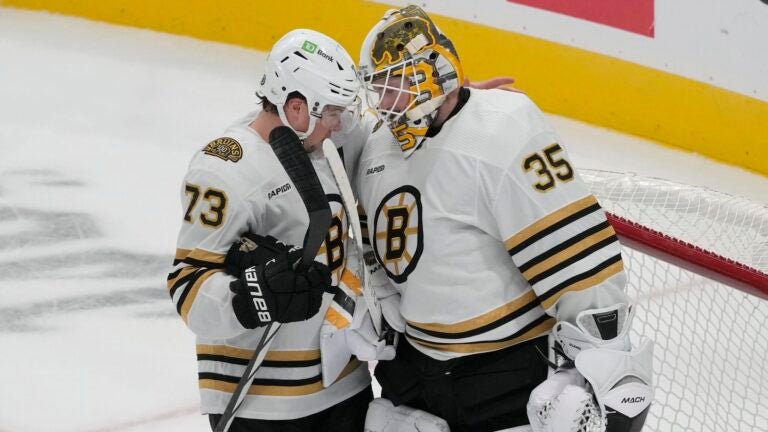 Jim Montgomery reportedly didn't take too kind to the Bruins' approach over their last two days of practice.
According to The Athletic's Fluto Shinzawa, the second-year Boston coach had some choice words for his club hours before the opening puck drop in San Jose.
Perhaps the lengthy four-day layover factored into the recent sluggish training sessions. But Montgomery rarely showcased any vocal displeasure a year ago. In the rare instances of turmoil, the reigning Jack Adams Award winner often turned to Patrice Bergeron, David Krejci, Brad Marchand, and other veterans to take control of the room.
Even with Marchand taking over the captaincy reigns, Montgomery will likely need to provide more tough love as the season approaches with the transitional Bruins. He can look to Thursday's result as a blueprint.
After trading scoring chances with the Sharks for most of the first 20, the Bruins jumped out to a 2-0 lead over the Sharks when Marchand and James van Riemsdyk scored in a 21-second span late in the opening stanza.
A pair of fortunate bounces benefitted the Bruins and Sharks in the final 40.
Following a hard drive to the net, David Pastrnak scored on a ping-pong-like tally off a few Sharks defenders to extend Boston's cushion to 3-0 at 16:46 of the middle frame.
Boston's lone blemish came when Anthony Duclair's feed to the front of the net deflected off of Hampus Lindholm's skate and past Linus Ullmark to put San Jose on the board 11:13 into the third.
The Bruins struggled to capitalize on their multiple quality scoring chances. But they leaned on another solid defensive effort and remained effective offensively, outshooting the lowly Sharks 36-27.
"It was the first game of the road trip, and we haven't played in a bit," Marchand told NESN's Adam Pellerin. "Definitely some things we need to continue to clean up, but if we continue to improve while we're getting points, it will be good."
Here's what we learned from the Bruins' 3-1 victory to kick off their four-game road trip.
Charlie Coyle remains comfortable in a third-line role.
Even with the time off, the Bruins hadn't gone a day this season without some lineup tweaks. But Thursday provided the first instance of Coyle returning to the third line.
After a solid showing through the first four games of the Florida series, the Bruins hoped Coyle would pick up right where he left off in the middle of Marchand and Jake DeBrusk. But Matthew Poitras' initial impression prompted Montgomery to give the 19-year-old his first look at top-six minutes, prompting Coyle's move back to his comfortable spot on the third line.
Coyle and Trent Frederic regained their chemistry after skating with a rotating cast of left-wingers a year ago. van Riemsdyk joined the duo after spending his first two games in a top-six role with Pavel Zacha and David Pastrnak.
Perhaps Montgomery found a keeper with the van Riemsdyk-Coyle-Frederic trio. In their first game together, the third line held a 10-2 edge in shots on net and a 12-3 cushion in shot attempts during 5v5 play.
Their skillsets well on Boston's second goal, as Coyle showcased his puck possession prowess before firing his initial shot attempt, allowing more space in front of the net for Frederic and van Riemsdyk. The power forwards jammed for the loose puck on multiple occasions before van Riemsdyk nudged the rebound past Kappo Kahkonen for his third goal of the season.
"He's definitely a horse in the offensive zone with the puck like that," van Riemsdyk told reporters of Coyle. "He draws the extra guy to him, so there's lots of open ice out there. That's what happened on the goal. He had a lot of eyes on him, and we were able to find some soft ice and get a couple of extra whacks at it."
The Bruins will have the day off on Friday before making their freeway stops in Los Angeles and Anaheim on Saturday and Sunday. After more in-game adjustments, Montgomery may have another round of changes in store for the top six. Yet he shouldn't need to alter the van Riemsdyk-Coyle-Frederic trio following their first outing together.
Johnny Beecher is proving his worth.
Poitras garnered attention with his impressive start to his young career. But the youngster hit a roadblock on Thursday even as he initiated a setup for Marchand's marker late in the first period.
With the puck in the attacking end, Beecher hopped over the boards to begin his shift as Poitras skated to the bench for a change. Before that, Poitras got the puck in deep, prompting a timely pinch from Derek Forbort deep in Boston's attacking end. Beecher regained possession of the puck at the blue line before sliding the puck to Marchand for a scoring chance.
Marchand delivered a top-shelf snipe for his first of the season and simultaneously gave Beecher his first career NHL point.
Boston's trust in Beecher continued as Montgomery trotted the second-year pro out for pivotal faceoffs and penalty kills. The former Michigan Wolverine didn't take an offensive zone faceoff, but still went 7-for-11 from the dot and won both of his draws in shorthanded situations.
"It's huge knowing that they have that trust in me," Beecher told reporters. "It takes a lot of ownership by myself just to get the job done. This league can humble you pretty quick. So you're just making sure you cross your T's and dot your I's when you're out there and you're doing the little things right. But, it feels awesome to be able to be put out there."
Like Poitras, Beecher earned his spot in the lineup with a solid preseason. He may not have as much offensive upside as Poitras, but Beecher's energy and work ethic suit him well as a potential long-term option in the middle of the bottom six.
The 3-0 Bruins are improving and learning on the fly.
With a four-day layoff between games and travel mixed in, the Bruins likely expected some lulls to kick off their first road trip of the season. But a matchup with the rebuilding Sharks allowed them to improve and learn on the fly.
Montgomery didn't get the cleanest effort from his club after calling his team out earlier in the morning. But the defensive effort didn't drop off from their first two games, and the extensive puck possession in the attacking end led to an uptick in scoring chances along the high-danger areas.
The Sharks provided some pushback in spurts. The Bruins struggled at times countering their initial looks, but prevented San Jose from generating secondary chances against Ullmark.
Indeed, the Bruins will need a more well-rounded effort come Saturday for their first So. Cal stop in Los Angeles. But they'll gladly take the two points amid their search for consistency.
"Well, there's enough to like, but also, enough to teach from," Montgomery told NESN's Andy Brickley. "We just need to get more consistent in how we want to play in certain areas of our game…but it's hard to get two points in this league and we've won three in a row now. It's a good start to the season."
Sign up for Bruins updates🏒
Get breaking news and analysis delivered to your inbox during hockey season.