Bruins
Bruins-Blackhawks takeaways: 'We're starting to see our identity'
The Bruins played heavy hockey in a 3-0 win over the Blackhawks in Chicago Tuesday.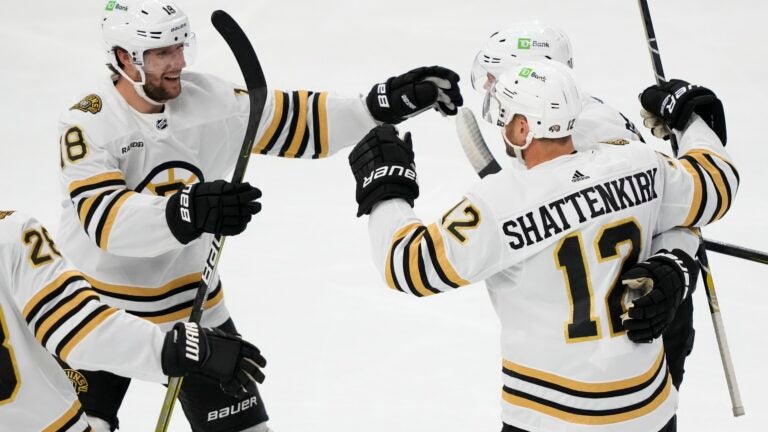 COMMENTARY
Through six games, the Boston Bruins haven't hit their stride. Yet, they're getting the desired results.
Jim Montgomery's club improved to 6-0 following Tuesday's 3-0 win over the Chicago Blackhawks. But the second-year Boston bench boss still sees areas for significant improvements from the power play and secondary scoring.
As they attempt to fine-tune their strengths and work on their weaknesses, the Bruins still witnessed plenty of encouraging developments during their second and final matchup of the season against Connor Bedard and company.
The Bruins received some luck in the opening period after Bedard seemingly took advantage of an ill-timed turnover from Charlie Coyle and beat Jeremy Swayman clean over the shoulder. An offside review wiped away Bedard's marker to keep things tied at 0-0.
Beyond that, the Bruins didn't need much luck. They established stingy layers in the defensive end, giving Jeremy Swayman plenty of clean looks at shooting lanes for a 23-save shutout. Offensively, they remained assertive in puck pursuit and generated heavy traffic in front of Petr Mrazek.
Pavel Zacha's second-period tip on Kevin Shattenkirk's shot got the Bruins off and running.
Matthew Poitras and Trent Frederic provided insurance early in the third, scoring 56 seconds apart for further breathing room.
Here's what we learned as the Bruins earned their first 6-0 start since the 1937-38 campaign.
Matthew Poitras is a keeper.
Poitras has three games remaining before the Bruins decide whether to keep him or return him to his junior club in Guelph. Frankly, Sweeney may have already chosen his fate.
After notching his first two career goals in the third period of Boston's 3-1 win in Anaheim less than 48 hours prior, Poitras delivered yet another timely moment for his third NHL tally.
Poitras used his hockey I.Q. to find space in front of the net for his two tallies against the Ducks. Against the Blackhawks, he used his blazing speed to convert his first breakaway attempt.
Poitras encountered his first setback at the start of the road trip in San Jose, resulting in a decreased role during the second and third periods of Boston's 3-1 win over the Sharks. But Poitras never caved. Instead, he showcased significant growth with a resounding response in Anaheim and Chicago.
"I felt like I got better as it went on," Poitras said to the media of his performance on the road trip. "It's a good sign. It helps me be better on the ice and feel better shift by shift. So yeah, the confidence level is pretty high."
Poitras should feel confident. He's proven his worth since the start of training camp, earning a second audition after securing a third line role on opening night.
At this rate, Poitras won't need to book a one-way ticket back to Guelph.
"He's making it hard on us, isn't he?" Montgomery said of Poitras during his postgame presser.
"You see a guy that not only believes that he is in the NHL but can play and play well."
The Bruins are starting to see their identity.
Boston's 6-0 start marks an improvement from last year's 5-1 stretch through the first six games.
Last year's record-breaking regular season serves as a cautionary tale following the bitter first-round loss to the Panthers. This year's version won't come anywhere close to 65 wins and 135 points.
Frankly, there are several noticeable differences from last year, primarily with Patrice Bergeron and David Krejci retired. The overall offensive production from the forward group remains a work in progress as the Bruins work through different line combinations amid their transitional start to the campaign.
The Bruins sensed the potential scoring issue during the off-season. But they positioned themselves well to offset some of the offensive concerns.
Boston's league-best goaltending tandem of Swayman and reigning Vezina winner Linus Ullmark picked up where they left off. They added some size in the off-season with Milan Lucic's return and James van Riemsdyk joining the fold. Between that and the stingy defensive work, the Bruins' identity for their centennial season is starting to take shape.
"Loved the results. Loved the goaltending," Montgomery said. "We're starting to see our identity build. I think the L.A. game and this game tonight, you're starting to see us become a heavy grinding team, which is what I think we're going to have to be."
Given the travel and time change from Pacific to Central Time, the Bruins could've deviated from the heavy, grinding brand of hockey. The circumstances didn't hinder them one bit.
Swayman encountered a relatively lighter workload for his first shutout of the season. The tight-checking setup resulted in 14 blocked shots, a smoother counterattack, and a trio of pivotal tallies.
It isn't necessarily pretty, but the Bruins will only benefit from their grinding formula.
"That's important, especially on a longer of a road trip, and these guys took attention to detail and played the game plan perfectly," Swayman said to the press inside of the visiting dressing room at United Center. "That's something special to see as a goalie…to see these guys working their butts off to backcheck, take away lanes, obviously blocking shots and scoring some big goals in a timely manner. So, that's a huge momentum win for us, and I think it's going to help us moving forward."
Jakub Lauko dodges another bullet.
To date, the Bruins only had some minor setbacks on the injury report. On Tuesday, Jakub Lauko avoided near catastrophe.
The third-period sequence started with Jarred Tinordi delivering a clean, physical hit to Lauko in Boston's attacking end. As he attempted to return to his feet, Jason Dickinson's skate caught Lauko near the eye, causing the fourth-liner to bleed profusely.
A bloody Lauko skated off the ice, shielding his face with a towel. He remained in the dressing room for stitches and further treatment during the final 9:16. Montgomery told the assembled media in Chicago that Lauko would be "OK" and that Dickinson's skate didn't touch Lauko's eyeball.
This isn't Lauko's first scary encounter. Back in 2019 — during his first season in Providence — a reverse hit from Justin Bailey near the bench resulted in Lauko being stretchered off the ice.
The Prague-born winger persevered through some growing pains over the course of three seasons, eventually earning his promotion to Boston last season. Lauko settled into a spot role on the bottom six, tallying seven points on four goals and three assists in 23 games.
With Nick Foligno, Tomas Nosek and Garnet Hathaway all finding new homes in the off-season, Lauko took advantage of his training camp opportunity after securing the right-wing vacancy on Boston's fourth line.
Sign up for Bruins updates🏒
Get breaking news and analysis delivered to your inbox during hockey season.