Bruins
Bruins hold moment of silence, announce fundraising efforts following Lewiston shootings
The Boston Bruins Foundation has already pledged a minimum of $100,000 to help those affected.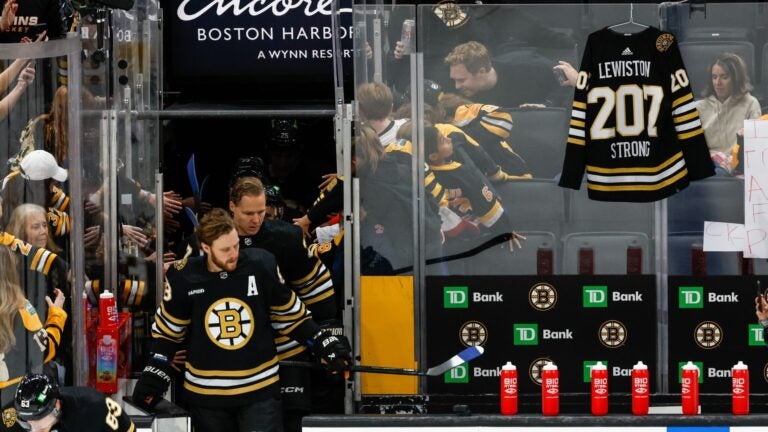 In the wake Wednesday's mass shootings in Lewiston, Maine that killed 18 people and wounded 13 others, the Boston Bruins paid tribute to those impacted — both on the ice and through a series of fundraising efforts.
Ahead of Thursday's matchup against the Anaheim Ducks, the Bruins held a moment of silence in remembrance of those killed.
Ahead of warmups, Bruins goalie Jeremy Swayman — who played three seasons at the University of Maine — placed a customized Bruins sweater behind Boston's bench. The jersey, embossed with the Maine area code of 207, read: "Lewiston Strong".
As a tribute to the Maine state flag, both the Bruins and Ducks taped their sticks blue on Thursday night. Both teams will auction their player-signed sticks to benefit the families of those impacted by Wednesday's events.
The Bruins also played on Thursday with a special sticker on the back of their helmets displaying an outline of the state of Maine.
Earlier on Thursday, the Bruins announced that the Boston Bruins Foundation was creating a fund to support the families who have been affected by the tragedy.
"The Boston Bruins and the Boston Bruins Foundation are heartbroken by the tragic and horrifying events in Lewiston, Maine, on October 25," the Bruins said in a release. "Maine is a special part of the Bruins family and our hearts are with those affected by this terrible tragedy."
The Boston Bruins Foundation has already pledged a minimum of $100,000 to help those affected, as well as establishing several other fundraising efforts.
Those interested in donating can give directly to TheMaineFund.org, and Thursday's 50/50 Raffle during the Bruins' game against the Ducks at TD Garden will also benefit families in Lewiston.
Those looking to participate in these fundraising efforts can visit the Bruins' website for more information.
Following Thursday's morning skate, Bruins head coach Jim Montgomery — who also played college hockey at the University of Maine from 1989-93 — opened his press conference with a statement on the tragedy.
"I want to start out by recognizing a horrific and tragic event that happened in Lewiston, Maine yesterday," Montgomery said. "The Boston Bruins offer our sympathy and condolences to the victims and families that suffered.
"I personally spent four wonderful years at the University of Maine. And I know how great the culture is in that state. And I know how great the people are. My heartfelt sympathies to everybody that's impacted."
Newsletter Signup
Stay up to date on all the latest news from Boston.com