Bruins
2 takeaways as Bruins blow a 3-1 lead and lose to Ducks in overtime
The Bruins' first loss of the season came in a game they should've won.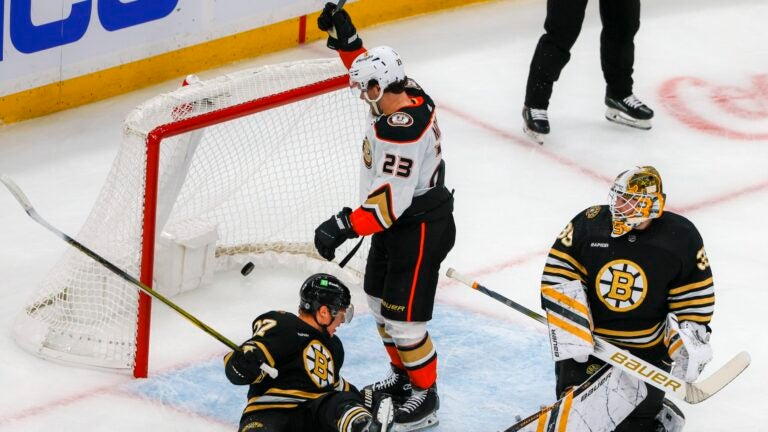 When the Boston Bruins needed a timely clear, they couldn't get it.
Even with Patrick Brown's penalty late in the third period, the Bruins remained in prime position for two points. Their penalty kill kept Anaheim in check for two minutes.
Brown joined an exhausted PK shortly after his penalty expired. The desperate Ducks took advantage, pulling within one on Leo Carlsson's second goal of the season with 1:55 left in regulation.
The Bruins failed to establish possession on the ensuing shift. The Ducks pounced again with a little over 14 ticks remaining after Troy Terry tipped Sam Carrick's wrist shot past Linus Ullmark for the equalizer to force overtime.
Jim Montgomery's club overcame a slow opening 20 minutes of play, taking a 3-1 lead after 40 behind Charlie Coyle's power-play tip, Matt Grzelcyk's one-timer, and a David Pastrnak tap-in. But they could only salvage one point for their effort.
After giving Anaheim the 1-0 lead earlier in the night, Mason McTavish bookended Anaheim's 4-3 comeback victory with his game-winner in the 3-on-3 extra session.
The Bruins encountered multiple scoring bids and clear attempts to put Thursday's tilt out of reach. Instead, they left TD Garden scratching their heads.
"It's inexcusable," Montgomery said after the Bruins dropped to 6-0-1. "You can't be up 3-1 with five minutes left and then give up the tying goal to go into overtime."
Here's what we learned from Boston's collapse against the Ducks.
The Bruins opted for finesse in crunch time.
The last overtime ending on Causeway Street before Thursday also didn't pan out well for the Bruins. And like that collapse against Florida nearly six months ago, the failure to alleviate the pressure in the defensive zone and the inability to extend leads came back to haunt the Bruins.
Indeed, a seventh game of a regular season doesn't match the stakes of a Game 7 of any playoff series. But in this instance, they'll have an opportunity to assess the damage through film and practice.
"We just needed to get one clear and bear down a little bit," Grzelcyk said. It wasn't for a lack of effort, but [we needed] better execution for a chance to get a breather and make them regroup a bit and set up on them and make it tough on them. But we weren't able to do that, and it's obviously unfortunate."
It's not as if the Bruins didn't encounter success this year closing out games in crunch time. They've netted a pair of empty netters over their first seven games, with their most recent insurance tally coming against the Ducks four nights ago.
The Bruins received timely clears in the past. But Thursday also presented a learning lesson, specifically when it comes to shooting for the empty net.
More often than not, Montgomery's bunch opted for plays along the walls and in open ice to get the puck out of their defensive end in the last five minutes. A young and skilled Ducks squad kept attacking, providing limited space for the Bruins to play the puck high on the glass for easier clearing attempts or skate out of the zone and into center ice for a more quality look at the open cage.
"Before the red line, if you have no play and you're pressured, you might as well go for the empty net and get an icing because that's what usually happens," Montgomery said. "If you try to finesse it, it's going to stay in our end. And I thought we tried to finesse it a couple of times, and they just kept it in the blue line."
The Bruins hardly finessed their way to a 3-1 lead in the second. But they couldn't put Thursday's contest out of reach.
Boston's offense failed to extend the lead beyond 3-1.
After a slow opening 20, the Bruins found their skating legs and established a healthy attacking zone rhythm.
Coyle's power play tap-in – right after Pastrnak whiffed on a one-timer – got the Bruins off and running just 1:41 into the middle frame.
The Bruins took a 2-1 lead a mere 1:20 later on Matt Grzlecyk's one-timer during a 4v4 sequence. Matthew Poitras' puck possession prowess and Charlie McAvoy's feed promptly led to Boston receiving its first goal of the season from a defenseman.
Pastrnak capped off the three-goal second after scoring on his own rebound at the 16:40 mark.
But the Bruins could've scored more. They fired 24 of their 30 shots on goal over the final 40 minutes of play. Between the multiple bids by Pastrnak, the extended chances to capitalize on odd-man rushes, and Johnny Beecher hitting the post in the second on an open net, the Bruins couldn't extend their lead during pivotal moments.
"We could've extended the lead to 4-1 or 5-1," Montgomery said. "We had many opportunities to do it and we didn't finish the game."
Perhaps the Bruins got a little complacent. After all, they came from behind in the third behind Poitras' breakthrough outing to down the Ducks four nights prior.
"I think we did sit back a little bit and got a little too comfortable there," Grzelcyk said. "They have a lot of skill – especially on the top two lines – so they're going to keep coming no matter what."
Or maybe this is another sign that Boston's scoring production remains a work in progress.
For a team in transition, the Bruins fared pretty well over their first seven games — all against the Western Conference. But they'll face a difficult slate with an improved Red Wings bunch, a pesky Panthers squad, and the powered Leafs coming to TD Garden over the next week.
Indeed, the "work in progress" offense will need to showcase a little more improvement during the three-game stretch.
"Scoring in general I think is going to be a little bit of a work in progress," Montgomery said. "Defensively, we've been pretty good. Offensively we're getting better. You see it coming, but it's clearly … off the rush especially, we're not where we need to be."