Bruins
Bruins' Jakub Lauko shares gnarly photo after taking skate to face
"Modeling career defo in jeopardy but let's just say I was very very lucky."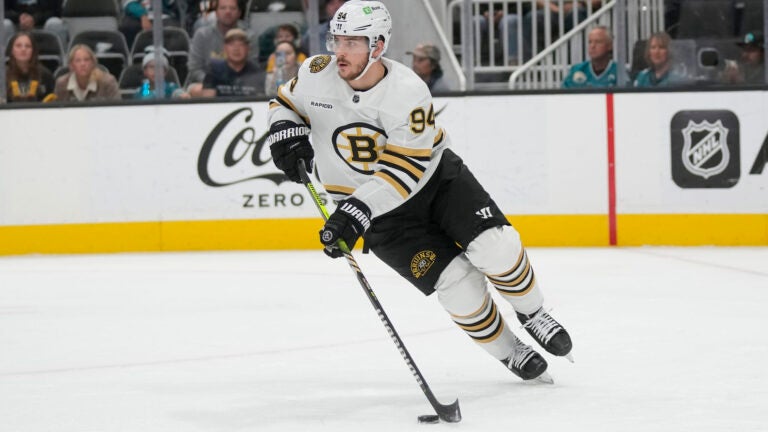 Speaking on Thursday morning, Bruins head coach Jim Montgomery acknowledged that forward Jakub Lauko was going to miss at least a week of action after taking a skate blade to the face against Chicago earlier this week.
Upon seeing the actual damage doled out to the Bruins winger, it's an impressive accomplishment in its own right that Lauko could be back in just seven days.
Just three days after Blackhawks forward Jason Dickinson inadvertently fileted part of his face, Lauko shared a grisly update on his condition Friday afternoon in a social media post.
"Modeling career defo in jeopardy but let's just say I was very very lucky," Lauko posted, showcasing his black eye and several stitches going from the bridge of his nose to the very edge of his left eye.
Montgomery also revealed on Thursday that Lauko is dealing with a fracture as a result of the play, standing as the primary cause for his expected week-long absence.
Lauko suffered the injury in the third period of Tuesday's 3-0 win over the Blackhawks, with Dickinson's skate catching him while the Bruins winger was trying to get back up from the ice following a battle along the boards.
Lauko quickly made his way off the ice with a towel pressed against his face to stop the bleeding, but his eye avoided any damage on the play.
As frightening as the optics were from his injury, Lauko has clearly not lost his sense of humor in the wake of Tuesday's incident.
The afternoon after Boston's win in Chicago, Lauko posted a photo on social media comparing himself to Gothmog, the unsightly Orc general from "The Lord of the Rings: Return of the King".
Sign up for Bruins updates🏒
Get breaking news and analysis delivered to your inbox during hockey season.