Bruins
Watch: Charlie McAvoy channels his inner Bobby Orr with crease diving goal
The Bruins are honoring the early years of their franchise on Saturday night, but McAvoy traveled to 1970 for this highlight reel goal.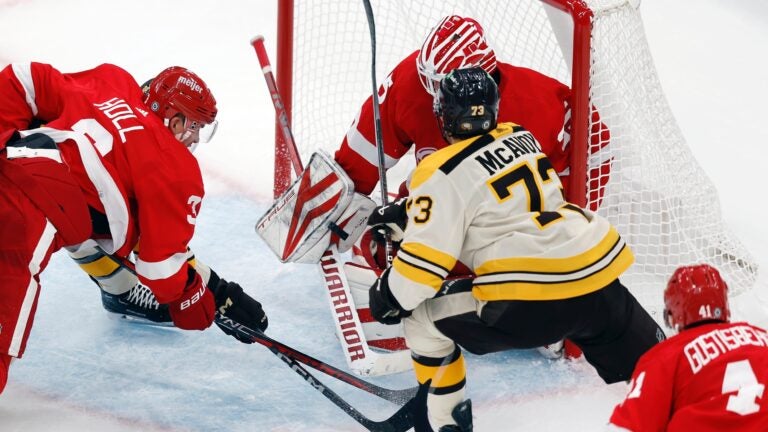 Bruins star defenseman Charlie McAvoy took a page out of Boston's best with his goal on Saturday night.
In the first period of the Bruins' clash against the Detroit Red Wings, McAvoy jumped up in the offensive zone, drove to the net, and tucked a goal between the legs of Ville Husso before taking a dive through the crease.
The play was awfully reminiscent of Bobby Orr's famous 'flying goal' in the 1970 Stanley Cup final.
Saturday night marked the first of Boston's "Centennial Era Night" celebrations. The first night celebrates the early years of the Bruins, outlined as 1924-1959, featuring an Original Six matchup no less.
Boston's players, along with Jim Montgomery, came dressed for the occasion, sporting throwback looks heading into the rink and donning uniforms inspired by the Bruins' long NHL history.
McAvoy looked the part skating around in the throwback sweater, but his on-ice play was off by about 11 years; the Boston will celebrate the 1970s later on. Still, his goal was a fitting, albeit unintentional, tribute to the Bruins' centennial season.
The goal was McAvoy's first of the season, though he's been active in the offensive zone lately. On Thursday in Boston's loss to the Anaheim Ducks, the alternate captain tallied three assists. McAvoy is up to seven points (1G, 6A) this season.
The Bruins are relying on McAvoy not only to be their best defenseman, but also to be a leader. The 26-year-old is in his seventh NHL season and was named alternate captain alongside David Pastrňák this offseason. He will help anchor Boston's leadership group in its first season since Patrice Bergeron's retirement.