Bruins
Takeaways: Bruins bounce back to clip Red Wings
Here's what we learned from Boston's first Atlantic Division matchup of the 2023-24 campaign.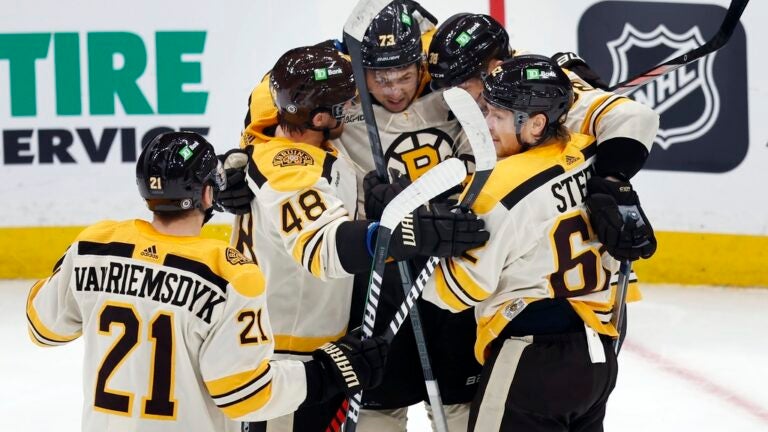 It didn't take long for the Boston Bruins to deliver a solid bounce-back effort.
Fresh off a third-period collapse against the Anaheim Ducks two nights prior, Saturday's 4-1 win over the Detroit Red Wings provided a handful of highlights, including a Bobby Orr-like tally from Charlie McAvoy in the first period and another penalty shot marker from David Pastrnak during the final frame.
Aside from a hiccup on Joe Veleno's tally, Boston's D established multiple layers in front of Jeremy Swayman during crunch time, receiving timely clears and putting the game out of reach on Pastrnak's cue-shot empty-netter with 2:19 left in regulation.
"It was our first [divisional game] of the season," forward Pavel Zacha told the media after notching his second goal of the season. "I think it was good for us to win a game like this, especially being good in the third period after last game before that. So it was good to have a really good third period, and it was obviously good to win."
The Bruins improved to 7-0-1, matching the 1937-38 squad for the best eight-game run to start a season. Here's what we learned from Boston's first Atlantic Division matchup of the 2023-24 campaign.
Pastrnak's creativity has no limits.
A handful of top-tier players around the league become a threat to score every time they touch the puck. But very few have a chance to create magic with every shift.
That's where Pastrnak's creativity comes in. And the Bruins needed every bit of that during the first month of the season.
"His creativity I think is the thing that sets him apart from a lot of people," McAvoy told reporters of Pastrnak. "He thinks the game at an elite level, and he's not afraid to try things. You're excited to see what he's going to do. I know he had the move where he sort of shows [the puck] and then shoots it. He had a penalty shot goal on that, so it sort of looked like he was going to do that and then altered to the deke. It's a great move. He's a very special hockey player."
The first penalty shot McAvoy alluded to came in the second game of the season against Nashville. His European handball-inspired penalty shot came at a pivotal point in the second period of a 1-1 game.
Exactly two weeks later, Pastrnak earned his second attempt at the most exciting play in hockey. Again, the Bruins needed a lift after the Red Wings pushed for the equalizer past the midway point of the final frame, and again, Pastrnak delivered another top-shelf marker after deking out Detroit netminder Ville Husso.
"I had about five thoughts [before the shot]," Pastrnak told reporters. "I was going to do something different, and then I touched the puck, then a thought came so I went with it."
Pastrnak wasn't done. He used his unique instincts again in an empty-net situation.
This time, he was merely trying to get the puck out of the zone in the closing moments, an area the Bruins struggled with during the final minutes against Anaheim. He never intended to deliver a corner-pocket-like cue shot off the boards.
Nonetheless, Pastrnak earned his bounce into the empty cage to secure Boston's seventh win.
"I bet you he doesn't know geometry," head coach Jim Montgomery said of Pastrnak's empty-netter. "But he probably knows it in pool halls, and he definitely knows it on the ice."
Bruins neutralize Detroit's up-tempo offense.
Several pundits throughout hockey expected the Red Wings' rebuilding phase to extend for at least one more season. But their explosive offensive provided some early noise around the league.
Detroit possesses a top trio of Alex DeBrincat, Dylan Larkin and Lucas Raymond worthy of upper-echelon status. Its 12 power-play goals sit tied for first with the Devils.
On Saturday, the Bruins neutralized Detroit's top weapons.
Through two periods, the Bruins held the Wings to a mere 13 shots on net. The DeBrincat-Larkin-Raymond trio generated looks, but Boston's tight checking and shot blocking prevented the three from garnering many quality scoring chances in high-danger areas.
In its stiffest test yet, Boston's top-rank penalty kill kept Detroit's dynamic power play in check, allowing just two shots on net in four attempts. The Bruins power play also chipped in, showcasing more urgency in moving the puck within their setup en route to Zacha's first-period marker.
"I thought we neutralized their speed through our rush attack, and I thought we protected our house from the back of the net and the passes through the slot," Montgomery said to reporters. "It's a real gifted offensive team there, the Red Wings are. I thought our focus on defense and our focus on offense, both of them…the game plan, the players went out and executed it great."
The Bruins needed that execution coming off their only loss of the season. Now they have a solid foundation to build on as their difficult stretch against the Atlantic continues Monday in a first-round rematch with Florida.
"We circled this one on the calendar this week, and we wanted to send a statement," Swayman said to the press. "In [these] division games, we want to make sure we're staying dominant. That's a big momentum piece for us moving forward coming out strong and finishing strong as well."
Boston wins one for Lewiston
The tight-knit community in Lewiston witnessed a heinous shooting of 18 people over the week. As the support for those affected by the tragedy grew, a couple of Bruins who called Maine home at one point in their life weighed in.
Before Thursday's game, Montgomery, who spent his collegiate playing days at the University of Maine in Orono, opened his press conference from the morning skate with his heartfelt words.
The Bruins honored Lewiston with a moment of silence before the puck drop against the Ducks. The team also announced a minimum pledge of $100,000 from the Boston Bruins Foundation to those affected by the tragedy.
The support from the Bruins continued when they hung a custom-made 207 sweater over the bench. A handful of players donned Maine paraphernalia over the last few days, including Swayman.
The younger half of Boston's dynamic goaltending duo spent three seasons at UMaine before turning pro. On Saturday, following his first start since the events, Swayman ended his postgame interview with NESN's Andrew Raycroft appropriately.
"That was a special win for the Lewiston local community. My heart reaches out to all those affected," Swayman said. "I consider myself a Mainer, and the people up there did not deserve anything like that. I just hope they understand that they're not alone, and we're thinking of them and we love them."
Newsletter Signup
Stay up to date on all the latest news from Boston.com