Bruins
Bruins coach Jim Montgomery reflects on Adam Johnson's death, neck guards in hockey
"I remember going to his funeral and how hard it was on all of us at such a young age."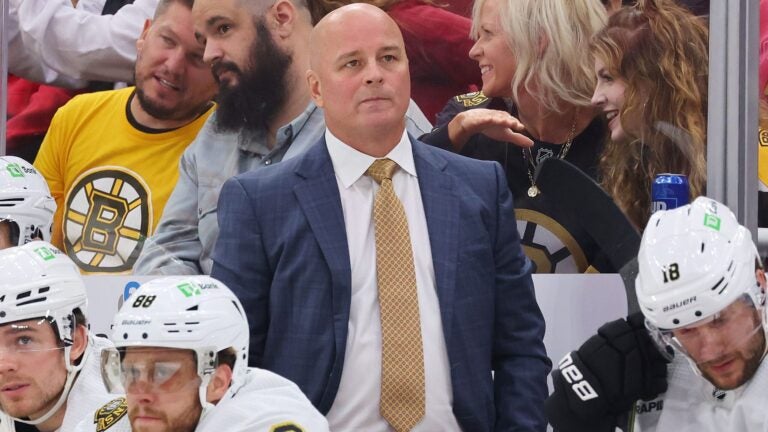 The hockey world was struck by tragedy over the weekend, as former NHLer Adam Johnson passed away after his neck was cut by a skate blade during a game in England.
Johnson, who hailed from Minnesota and played 13 total games with the Pittsburgh Penguins in 2019 and 2020, was just 29 years old.
The forward was playing for the Nottingham Panthers in a Challenge Cup game against the Sheffield Steelers when a "freak accident" resulted in his fatal injury during the second period of the Elite Ice Hockey League game at Sheffield's Utilita Arena.
The news hit close to home for Bruins head coach Jim Montgomery, who lost a fellow hockey player to a similar injury while growing up in Montreal.
"It is awful, and it's tragic," Montgomery said Monday at Warrior Ice Arena. "The neck guards — a kid I played with when I was 14, Jamie Lechman, back in Montreal, I think was the first player to pass because of the same thing. … Just hearing the story and it's very similar.
"Skate accidentally hits someone … And it was horrific. I remember going to his funeral and how hard it was on all of us at such a young age. And then Adam Johnson, I coached against him in college. And so, when you're close — I wasn't close to Adam — but you just feel awful."
Johnson's passing has also raised the discourse over neck guards in hockey and whether or not they should be mandated, especially in the pro game.
On Monday, the English Ice Hockey Association announced that it is making neck guards mandatory for all players during on-ice activities starting Dec. 31.
As rare as incidents like the one on Saturday are, they have led to tragic results out on the ice over the years.
Back in January 2022, Teddy Balkind, a sophomore on the junior varsity team at St. Luke's School in New Canaan, Connecticut, died during a game against Brunswick School in Greenwich due to a similar injury.
Other life-threatening neck injuries involving skate blades in the NHL ranks include Florida forward Richard Zednik in 2008 and Buffalo goalie Clint Malarchuk in 1989.
Several players on the Providence Bruins wore neck guards during Sunday's home game against the Springfield Thunderbirds, although it was not mandated by the team and was a personal preference of each skater.
Montgomery echoed a similar sentiment to Providence's approach on Sunday — noting that the decision to wear a neck guard will ultimately be determined by the player hopping over the boards.
"It is hard to get used to it and I think it's a personal choice if you want to do it," Montgomery said of wearing a neck guard. "Because as soon as I got out of Quebec and got to college hockey, I took it off. Just because I felt it restrained me from breathing the way I wanted to or whatever — it's a nuisance, giving you a little rug burn there. So I think it's a personal choice.
"It's obviously something that can help you. But the thing is, the thing moves up and down. Maybe it's not protecting you right where you need to be protected anyways. And if you're gonna put it firmly there, well then it really starts to restrict your breathing as you're playing. It's tragic. It's horrific and it's happened, I think, three or four times now in the last 30 years, maybe 40 years. I think it's a personal choice."
Sign up for Bruins updates🏒
Get breaking news and analysis delivered to your inbox during hockey season.