Bruins
Rather than dwell on a painful past, the 8-0-1 Bruins look to the future after taking down Panthers
"We're trying to build something totally different than last year."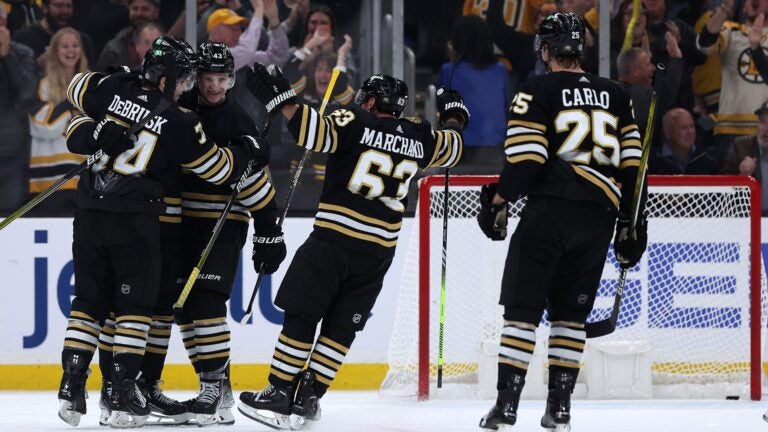 COMMENTARY
Jim Montgomery called an audible on Monday morning at Warrior Ice Arena.
Rather than dismiss Boston's anticipated rematch against the Florida Panthers later that night as just another scheduled tilt on an 82-game docket, he ditched the cliches for some candid musings.
"It's not 1 of 82," Boston's bench boss noted. "I mean, they ended our season. They went all the way to the Finals. Our summers were miserable until the Finals were over. And that's because they beat us. So yeah, this means more."
The Bruins players who saw last year's storybook ending ripped from the spine of its carefully crafted tome opted to not follow a similar script — even after Pavel Zacha's OT tally capped a 3-2 comeback win on Monday night.
A regular-season triumph before the calendar even flips to November will not assuage the pain felt nearly six months earlier, when Carter Verhaeghe found twine with a quick wrist shot in the same barn.
It won't reverse the painful course Boston needed to chart this past summer, where retirements, trades and free-agent departures sapped the team of franchise stalwarts and key contributors.
For Brad Marchand and a reworked Bruins roster in the midst of an 8-0-1 start, Monday's win doesn't revolve around hollow vengeance. Rather, it offers hope for a brighter ending next spring.
"It just doesn't change anything," Marchand noted. "It's always nice to win a game but it's two points. It's not going to change the outcome of last year … We have a much different group, a lot of new guys and we're trying to build something totally different than last year.
"Obviously there's a foundation, this team has been built long before this year, which is something we're gonna continue to improve upon."
Monday's 3-2 win over the Panthers might as well be a microcosm of this overhauled 2023-24 Bruins team.
Unlike last season's record-setting club, this team's avenue toward piling on points in the standings stands to be a bit rougher around the edges.
Rather than rely on a stacked lineup to extend leads and put teams away, this crew's best odds for two points hinge on elite goaltending, a stout defense and grinding away in the offensive zone.
Linus Ullmark held up his end of the bargain with a 35-save performance. A shorthanded D corps remained afloat, even after losing Matt Grzlecyk for most of Monday's game and Charlie McAvoy following a match penalty in the third period.
Led by Hampus Lindholm's 28:06 of ice time, Boston's D-zone structure didn't budge — killing off all five minutes of McAvoy's penalty and standing tall down the stretch against the likes of Matthew Tkachuk, Aleksander Barkov and others who accelerated their offseason itineraries last April.
And after finding themselves on the ropes against Florida's bruising forecheck for most of the opening 20 minutes, Boston eventually managed to land a few counter-punches as it clawed out of a two-goal deficit.
Franchise fixtures in Marchand and McAvoy lit the lamp to force overtime, while one of Boston's new top-six pivots in Zacha ended things with a blistering wrist shot at 3:36 in the extra period.
But new faces have left their fingerprints all over this 8-0-1 start, be it a new netfront specialist like James van Riemsdyk, a pair of bruising fourth-line forwards in Johnny Beecher and Jakub Lauko, and a 19-year-old top-six center in Matthew Poitras — who likely won't be packing his bags for Guelph any time soon.
"What happened last year, happened last year," Ullmark said postgame of Monday's win. "There's no reason to dwell on the past for me. It doesn't matter now, obviously. The only thing that matters for me it's the next puck."
The 2023-24 Bruins still have a long way to go toward atoning for last season's early exit.
Monday's comeback win stands as another step in the right direction. But as Marchand noted, there's only one way for Boston to fully put last season in the rearview mirror.
"At the end of the day, Florida ended up in the exact same spot we did, just a month later," Marchand said. "Only one team wins. Doesn't matter if you lose in the fourth round or in the first round. Unless you win a Cup, you don't achieve your goal."
Sign up for Bruins updates🏒
Get breaking news and analysis delivered to your inbox during hockey season.