Bruins
Why a puck from Charlie Coyle meant so much to one Bruins fan on Hockey Fights Cancer Night
"I definitely think she was there last night."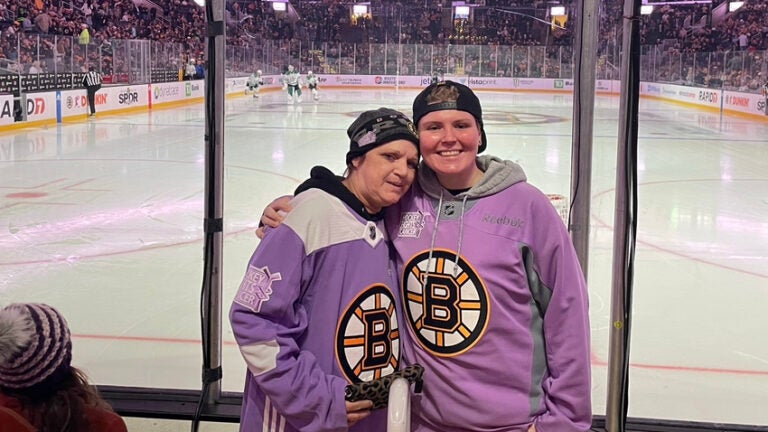 It was in a sea of over 19,000 fans draped in black-and-gold sweaters where Hannah Carpenter and her mother, Shannon McCarthy, often felt the closest.
Amid a cacophony of cheers, goal-horn salvos, and the familiar soundtrack of Kernkraft 400, an unbreakable bond was forged — with treks to TD Garden added to the duo's docket during birthdays, holidays, and after a stellar showing on Carpenter's report card.
"I fell in love the first moment I stepped into TD Garden," Carpenter told Boston.com. "It was the most insane thing ever. And after that first game, I was like, 'This is what we're going to do together. We're surrounded by people all the time. But when we're in the Garden together, it's me and you.'"
Hockey Fights Cancer Night soon became a staple of both Carpenter and McCarthy's in-arena appearances.
After McCarthy was initially diagnosed with breast cancer in 2017, both she and Carpenter were regulars at the annual event, with McCarthy showcasing her lavender-and-white Bruins sweater and cheering on her favorite team.
On Monday — seven months after McCarthy passed away after a hard-fought battle with pancreatic cancer — Carpenter returned to Causeway Street for Hockey Fights Cancer Night, clad in her mother's Bruins sweater and displaying a custom sign in memory of the person who first sparked her love for hockey.
Her heart was heavy, but Carpenter believed there was no better place to be on Monday — nor a more fitting way to honor her mother — than standing up against the glass in the Bruins' home barn.
Her favorite Bruins player, Charlie Coyle, agreed with such sentiment.
"I know her pretty well," Coyle said of Carpenter. "And I know she's had a tough stretch with a few different things and with her mom passing. I talked to her a little while ago and I knew she said she was going to try to get to that game. She knew it was going to be a big one and her mom would want her there. And of course when she talked to me about it, I encouraged her."
So when Coyle spotted Carpenter up along the glass during warmups, the stars seemed to align.
Tapping the glass where her sign rested, Coyle tossed a puck over the barrier that Carpenter snagged out of the air. She fist-bumped the glass in appreciation and then began to cry in a moment that has since gone viral after it was captured by NESN cameras.
It was a fitting moment on a night that has meant so much to a mother-daughter duo united by their love for the Bruins.
"This is what my mom lived for — this game, this team and city and she knew how much Coyle meant to me. And it was just all of this emotion coming at once," Carpenter said. "I didn't expect it to get caught on camera. I was like, 'This is crazy.'
"But it was just one of those things where everything came together at once. It was the emotion of missing my mom, but being really excited to honor her in a way that I think she really would have appreciated. It was just so special."
———
It was all but inevitable that Carpenter would be ingratiated into the ranks of Bruins fandom, especially with McCarthy leading the charge.
Initially a Red Sox fan, Carpenter was hooked after going to her first Bruins game with her mom during the 2011 Stanley Cup Playoffs. One of her earliest memories was waiting outside in the rain to meet Shawn Thornton — McCarthy's favorite Bruins player — after Boston hoisted the Cup.
Aside from her Hockey Fights Cancer sweater, one of McCarthy's go-to wardrobe options for a Bruins game was a custom jersey with No. 22 across the back — Thornton's number — with the word "FIGHTER" etched along the nameplate following her cancer diagnosis.
"It ended up being the most amazing bond that I think you could have with your parents — to have something so much bigger than the two of you but also feel like you're the only two people there," the 29-year-old Stoughton, Mass. native noted.
Both Carpenter and McCarthy tried to make it to as many games as possible, both within the friendly confines of TD Garden and on the road.
After her final chemotherapy session was completed to help treat her breast cancer in 2018, McCarthy and Carpenter hopped on a plane to Chicago and made it in time to see the Bruins take on the Blackhawks in the 2019 Winter Classic at Notre Dame Stadium.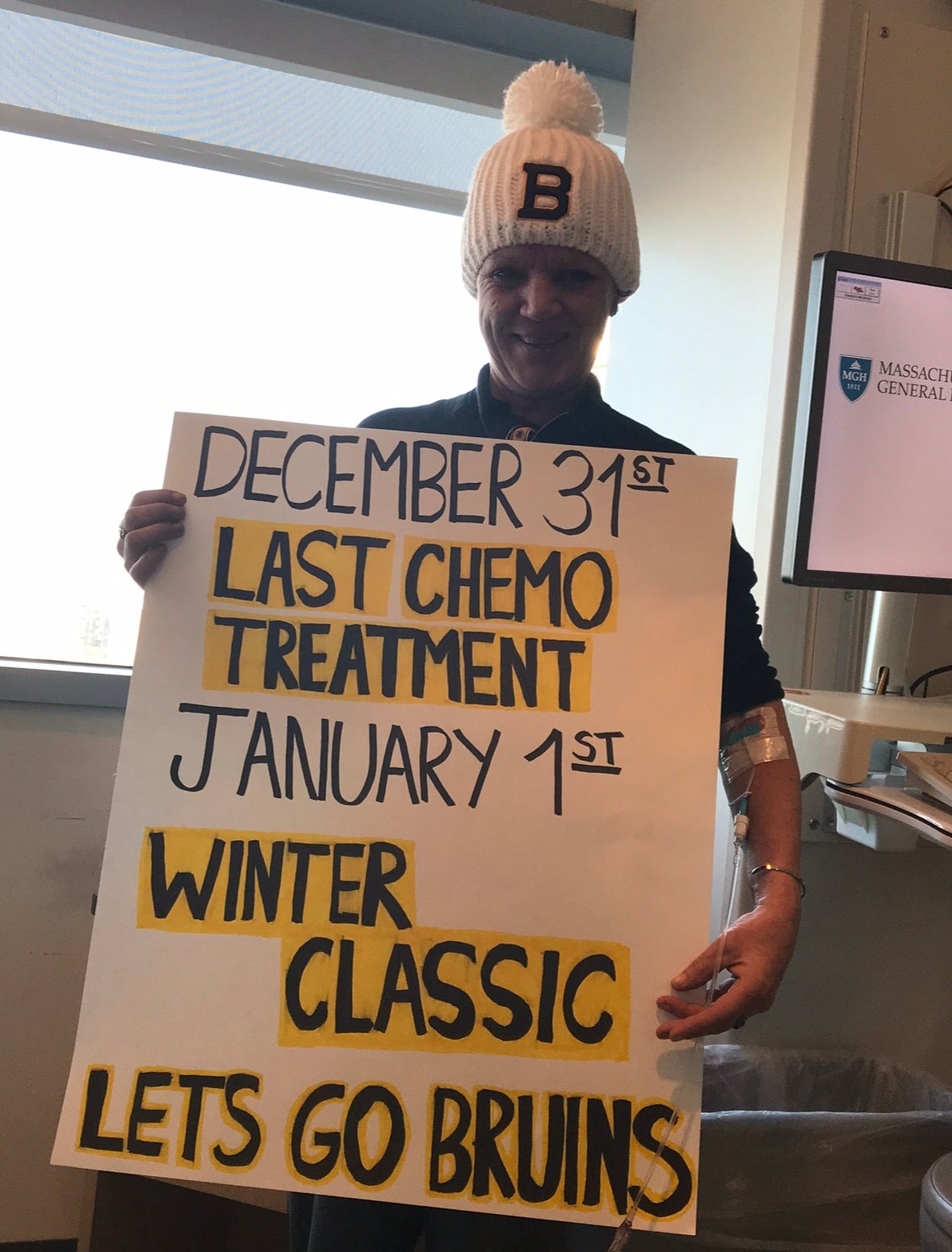 When they weren't cheering on their favorite team from the stands, the duo rooted from McCarthy's bedroom — described as a "Bruins Cave" by McCarthy that would make even the most dedicated hockey fan jealous.
With two TVs in place and years and years of Bruins memorabilia and trinkets adorning the walls, it offered the ideal viewing experience as both the two watched games from McCarthy's bed.
That is, until things started going south for the hometown team.
"If they started doing bad, she would be like 'Bye-bye, go sit on the couch over there.' And then if it got real bad, she was like, 'I don't know what to tell you — we're not watching this together anymore. You've gotta go upstairs,'" Carpenter said. "She was like, 'We have to cleanse this.'"
"And honestly I'm like, 'Are you serious? You can't kick me out.' And she was like, 'You have to go'. And I have to be honest. They won a lot of games that way. So she was doing something right."
Those in-home broadcasts became common, especially after McCarthy was diagnosed with pancreatic cancer in 2019. But her physical battle with the disease never sapped her spirit, nor did it extinguish her burning passion for the Bruins and the bond she shared with her daughter.
Even after her second cancer diagnosis, McCarthy made it to another playoff game in 2019, waving one of the team flags ahead of puck drop — her "FIGHTER" sweater on display for all to see.
"She could have been upset that she couldn't go and she tried her hardest to get to as many games," Carpenter said of her mother. "If nothing else, she made it to Hockey Fights Cancer Night every year, no matter how much it took out of her. … I feel like it's so easy to get wrapped up in 'I don't feel good' and 'this sucks.' But she looked forward to every game."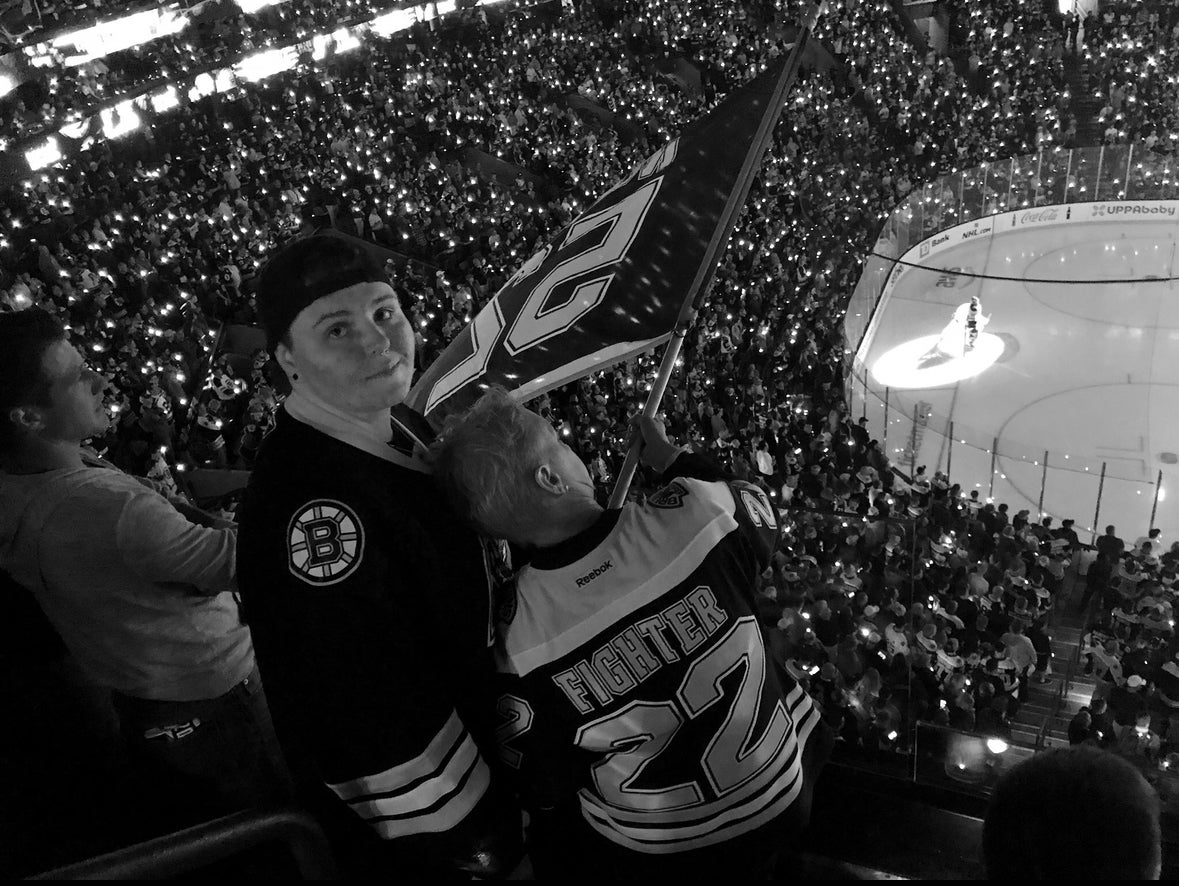 ———
Coyle's on-ice meeting with Carpenter might have only lasted a few seconds. But those fleeting interactions with fans resonate deeply with the Weymouth native — who remembers taking in the sights and sounds of warmups from the other side of the glass at the Garden while growing up.
"It means a lot that they're there. And they get to share that experience and knowing her mom would love to be there and I know her mom was happy that she was there. We're all fans of the game, we all love hockey and she shares that bond," Coyle said of Carpenter. "She shared that with her mom, being a Bruins fan and going to games. That's just how you're brought up, really. You just try to pass that on and be a good person and it just makes its way around."
Hockey Fights Cancer Night stands as a special event for Coyle as well.
Back in 2019, Coyle took part in a pre-game ceremony on Hockey Fights Cancer Night alongside three-year-old Quinn "The Mighty Quinn" Waters — a fellow Weymouth native who was diagnosed with a brain tumor earlier that year.
After promising Quinn that he'd score a goal for him, Coyle found the back of the net in what was a 5-1 win over the Sharks.
On Monday night against the Florida Panthers, Coyle delivered once again.
"He really made my night, but it was just one of those things where I guess all the stars aligned," Carpenter said. "So big shoutout to my mom. It was a really special way to honor her. I definitely think she was there last night and I think she helped them grind out that win."
———
The more things change, the more they stay the same.
One of those 19,000 seats may no longer be occupied by a cheering Shannon McCarthy, but that love shared between her and her daughter endures.
Along with making it to every Hockey Fights Cancer Night, McCarthy and Carpenter set a goal to see the Bruins in all 31 road arenas across North America. McCarthy was not able to see such a venture through. But Carpenter plans on finishing the task, bringing her mother's "FIGHTER" jersey at every new stop.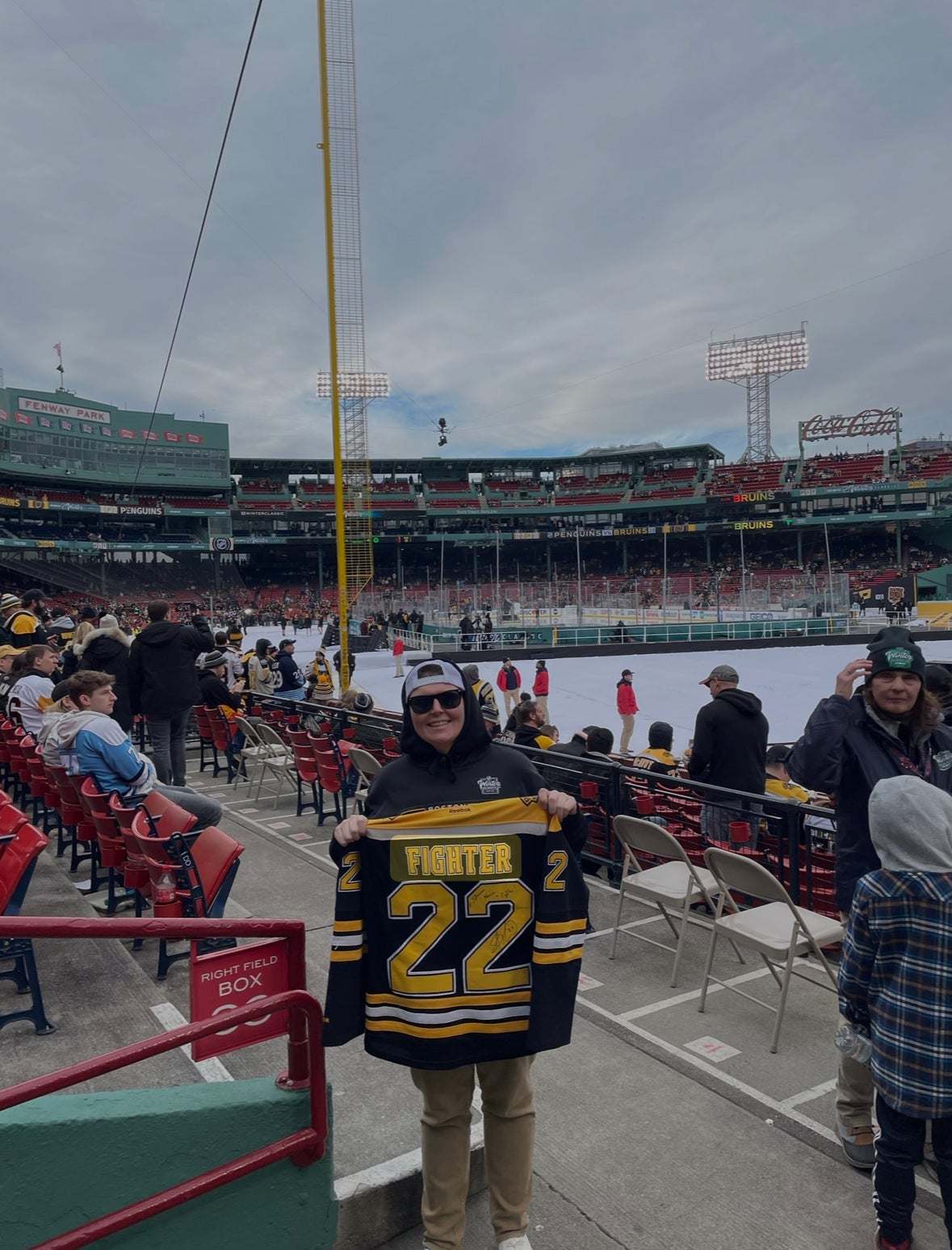 And at home, the "Bruins Cave" now belongs to Carpenter, who doesn't plan on straying far from her mother's winning routine.
"I think I'll keep the tradition with whoever comes over," Carpenter said. "If they're losing? You gotta go."
What better way to honor McCarthy within her Bruins shrine — a space crafted through a life filled with love, laughs, and hockey.
A space where a certain puck has found a cherished new home.
Sign up for Bruins updates🏒
Get breaking news and analysis delivered to your inbox during hockey season.