Bruins
3 takeaways as shorthanded Bruins beat Maple Leafs in shootout
The Bruins were able to withstand blowing a two-goal lead, holding on to win in a shootout.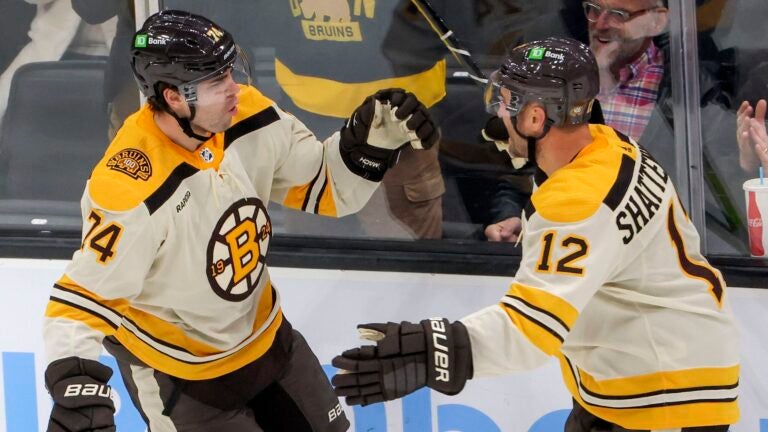 The Boston Bruins entered their first matchup of the season with the Toronto Maple Leafs at 8-0-1. Yet, they faced one of the stiffest challenges of their centennial campaign, specifically on the back end.
Charlie McAvoy began serving his four-game suspension. Matt Grzelcyk started his stint on long-term injured reserve. Derek Forbort remains day-to-day.
Against a Leafs squad possessing lethal talent like Auston Matthews, John Tavares, Mitch Marner and William Nylander, the shorthanded Bruins never wavered.
Still, the Bruins struggled to defend their net and were a step slow transitioning the puck up ice. Even with a 2-0 lead on the heels of Pavel Zacha's late opening-period tally and Jake DeBrusk's first goal of the season early in the middle frame, the turnovers and sloppy possessions came back to haunt the Bruins.
In a 63-second span, Marner and Matthews erased a 2-0 deficit to even things up at 2-2.
Amid the frantic back-and-forth pace, Jeremy Swayman and Ilya Samsonov delivered standout performances. Thursday's starters notched 33 saves each through 60 minutes, with Samsonov's glove save on David Pastrnak in the third and Swayman's highway robbery on John Tavares standing out.
Swayman hardly saw any action in the 3-on-3 overtime. Samsonov stopped all five shots he faced in the 5:00 extra session, including a pair on Boston's 4-on-3 power play attempt.
After numerous chances to take care of business in the third period and overtime, the Bruins finally earned their 3-2 win in the shootout. DeBrusk and Charlie Coyle notched tallies in the glorified skills competition as Swayman denied Nylander and Matthews to continue Boston's early-season roll.
"That was a pretty good hockey game, wasn't it?" head coach Jim Montgomery said.
Here's what we learned after the Bruins earned their ninth win in the first 10 games for the second consecutive season.
Mason Lohrei was "dynamite" in his debut.
Making a debut without three reliable defensemen may seem like a tall order. But the highly-touted Lohrei used a straightforward approach against an up-tempo Leafs bunch.
After all, the coaching staff preached the simple method to Lohrei upon his arrival from Providence.
"Just to keep it simple, play fast, use my poise, and make plays when I can," Lohrei said of the advice from Montgomery and his assistants.
Well, Lohrei flashed his brilliance in his 21:28 of ice time during his NHL debut.
The 2020 second-round selection notched his first NHL point, setting up Brandon Carlo for a mini-skating tour along the walls following a diving keep-in from Danton Heinen. Carlo promptly found Zacha in the slot for a tip-in to give the Bruins the 1-0 lead with 1:09 left in the opening frame.
The Bruins utilized Lohrei in both of Boston's shorthanded situations in the middle frame. Indeed, his assertiveness suited him well during pivotal moments.
"He was dynamite," Montgomery said of Lohrei. "He played really well. His poise with the puck in all three zones is very noticeable, and he made a lot of intelligent plays."
Forbort's day-to-day status and McAvoy's upcoming return from suspension a week from Saturday likely won't affect Lohrei's status in Boston in the short term. But the Bruins await another tough decision whenever they activate Grzelcyk from LTIR.
Lohrei's first impression suits him well for an increased role when McAvoy returns. He'll either remain with Carlo in a second-pairing spot or encounter top-pairing minutes with McAvoy come a week from Saturday in Montreal.
In the meantime, the Bruins won't hesitate to utilize Lohrei wherever they deem fit.
"It feels good obviously," Lohrei said. "You feel pretty comfortable, and it's just good for your confidence when they keep calling your number."
DeBrusk snaps his goal drought.
The Bruins called DeBrusk's number a handful of times during Montgomery's time behind the bench. But a nine-game drought to start the season had slightly weighed on DeBrusk heading into Thursday.
DeBrusk tallied just one assist in eight October games. He even missed a game after arriving late to a team meeting during Boston's four-game trip out west.
Despite the setbacks, DeBrusk hardly looked out of place. He still created scoring chances with his speed and net-front presence. He remained assertive pursuing the puck in the open ice and along the walls.
It all came together Thursday against a Leafs team he's all too familiar with. DeBrusk finally lit the lamp for his first goal of the season after burying a rebound on Brad Marchand's initial shot past Samsonov to give the Bruins the 2-0 lead a mere 1:36 into the middle stanza.
"It was good to get the win," DeBrusk said. "And it was a sense of relief, to be honest with you."
DeBrusk encountered more close calls in the latter stages of Thursday's contest. He ended the night with four shots on net and logged 21:08 time on ice, third most among Boston forwards.
Come shootout time, DeBrusk pulled a move from his arsenal, firing a crafty wrist shot over Samsonov's blocker.
"I think it gives goalies fits because you come in with speed, and when you're coming in from the left side to the right, there's an option to go backhand," DeBrusk said of his shootout marker. "If my bread and butter is there, I'm going to get it, and if not, I have enough time to switch."
DeBrusk became a streaky scorer under Bruce Cassidy. In Montgomery's first season, he finally showcased offensive consistency, resulting in a career year (27 goals and 23 assists in 64 games played).
Thursday provided a starting point for DeBrusk. Perhaps a scoring uptick will follow.
"I thought he was humming all night long," Montgomery said of DeBrusk. "I thought it was the JD that we saw a lot of nights last year. Sometimes it takes the first one to go in, and then it gets your monkey off your back and you just play like the player that you are. I just felt he was playing well before he got the goal, but I felt he found another gear after it."
Pastrnak sets an unlikely physical tone.
By looking at the hit totals and offensive production alone, some outsiders may confuse Pastrnak with a bonafide power forward. Of course, he's anything but that.
Yet, his physical presence has opened some eyes within the Boston locker room.
Or perhaps Pastrnak felt he needed to throw his weight around as Milan Lucic nurses a lower-body injury.
"I think him and Looch have been hanging around too much," Marchand joked.
The Bruins pay Pastrnak to light the lamp. They brought in Lucic for some added muscle on the bottom six after the Panthers overwhelmed Boston's checking setup in the final three games of the first-round series this past spring.
Even so, Pastrnak is taking it upon himself to set a physical tone, leading the team in hits with 18 through 10 games. He added three more against Toronto, including an impactful collision with Morgan Reilly during the first period.
"He's laid some guys out," DeBrusk said of Pastrnak's physical presence. "I think he's one of those players where if guys are throwing hits around pretty good that guys don't necessarily expect to finish you. But when he does, he's a hard hitter. He had a pretty good one on [Reilly] in the first period, and it gets the crowd into it and it's another way where he can impact the game."
Preferably, the Bruins want Pastrnak to play to his offensive strengths. But without two of the heavier hitters out of the lineup in McAvoy and Lucic, Montgomery certainly doesn't mind when Pastrnak leads by example.
"I thought he's been physical the last couple of games," Montgomery said. "I like it better when the puck is on his stick, but I like the fact that he's trying to lead us by playing the right way."
Sign up for Bruins updates🏒
Get breaking news and analysis delivered to your inbox during hockey season.