Bruins
'What Chaos!' allows Pete Blackburn and DJ Bean to 'be weird' about the NHL
This opportunity — the chance to do a hockey show the way they want, with an emphasis on humor and personalities — is one they have discussed for a long time.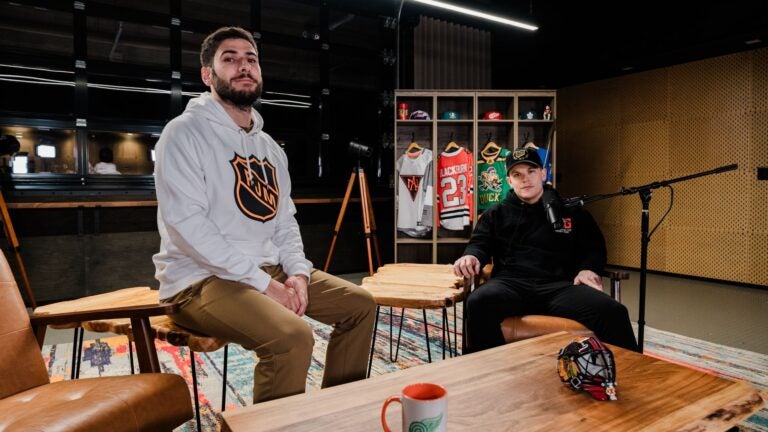 On Wednesday, AllCity Network, an upstart digital sports media operation that had initially focused on establishing live streaming programming in a handful of local markets, announced a lineup of national shows featuring some familiar names.
Its NBA program will be led by ESPN analyst Tim Legler. Its NFL version will spotlight NFL Network analyst Brian Baldinger. But its NHL show, featuring a pair of friends with Boston bona fides who have a history of taking their work but not themselves seriously, is the most intriguing.
Titled "What Chaos!" the show is hosted by Pete Blackburn and DJ Bean. New episodes, generally 45 minutes to an hour long, will stream on YouTube from their Somerville set Monday through Thursday each week, and also are available in podcast form. Their first episode checked in as the No. 2-rated hockey podcast on Apple Podcasts, behind only Barstool's hugely popular "Spittin' Chiclets."
Blackburn, a Waltham native who has more than 137,000 followers on X/Twitter, was one of the first hockey media personalities to grasp and maximize the power of social media. Bean's social media following is smaller (he has 28,800 X/Twitter followers), but the Belmont native is well-known in the Boston market from his time at WEEI.com and NBC Sports Boston.
Blackburn and Bean, who became great friends initially through social media more than a decade ago, share similar sensibilities. They appreciate the quirky angles, have deep knowledge of pop culture, and seek the humorous side in just about everything.
They have worked together before, first on WEEI's weekend hockey program, and then with the popular ongoing podcast "Listen To Brunch," which features conversation about music, movies, and anything else that comes to mind in a given moment.
But this opportunity — the chance to do a hockey show the way they want, with an emphasis on humor and personalities — is one they have discussed for a long time.
"I want to do something that is more indicative to who I am, on Twitter and in real life," said Blackburn. "The more traditional media stuff that I have done is lovely, but I think that this is more my speed and gives me and DJ a chance to spread our wings and be weird and have the best time with it."
Said Bean: "It's a show that Pete and I had been planning forever just given, A) that we love hockey and each other and everything, and B) wanted to dispel that idea that hockey players don't have much personality."
The first episode, featuring Bruins captain Brad Marchand, delivers on the humor and personality front. Marchand was totally game, which won't surprise his local fans but may stun fans in other markets who perceive him as some sort of dirty, rotten hockey scoundrel.
"The first interview with Marchand, we just come out of the gate with short jokes. He plays along. A lot of these people will play along," said Bean. "As we talk to teams, we'll send along stuff we've done and say, 'You tell us. Who is going to [goof] around with us?' They have guys who they know are funny and have all these other interests, and we can help show who they really are."
Last week, Blackburn and Bean were in Chicago to talk to rookie sensation Connor Bedard, among other Blackhawks. Their mission quickly became obvious.
"We showed [former Bruin and current Blackhawk] Nick Foligno a clip of Marchand, and he was like, 'Yes, do that.' He told us that we wouldn't be able to make Connor Bedard laugh," said Bean. "When we interviewed him, all we could think about was, 'This episode is about how we need to make Connor Bedard laugh.
"Spoiler alert," added Bean, deadpan. "We did. Hardest thing we've ever done in our lives."
Tuning out
World Series games on Fox averaged 9.1 million viewers, making the Rangers' victory in five games over the Diamondbacks the lowest-rated Fall Classic ever. The previous low was the 2020 Series between the Dodgers and Rays during the COVID-19 pandemic, which averaged 9.8 million viewers. The low final numbers were no surprise considering that Game 3 was the least-watched World Series game on record . . . The most interesting baseball ratings note of the past few weeks is this: NESN's Red Sox broadcasts finished with a 2.67 local rating this season, the same rating as in 2022 . . . In the latest evidence that Chris Curtis's mouth functions much faster than his brain synapses, the WEEI producer and morning show personality "joked" on Monday's show that he "wanted a skate to the neck" after watching Mac Jones's interception against the Dolphins on Sunday. The comment wasn't funny on its own, but it was even worse coming immediately after a conversation about the death of hockey player Adam Johnson, who had been cut by an opponent's skate blade. Unfunny and tasteless is one pathetic brand.
Sign up for Bruins updates🏒
Get breaking news and analysis delivered to your inbox during hockey season.