Bruins
Former Bruins captain Zdeno Chara just completed his fifth marathon in last six months
Chara completed the 2023 New York City Marathon with a time of 3:19:19.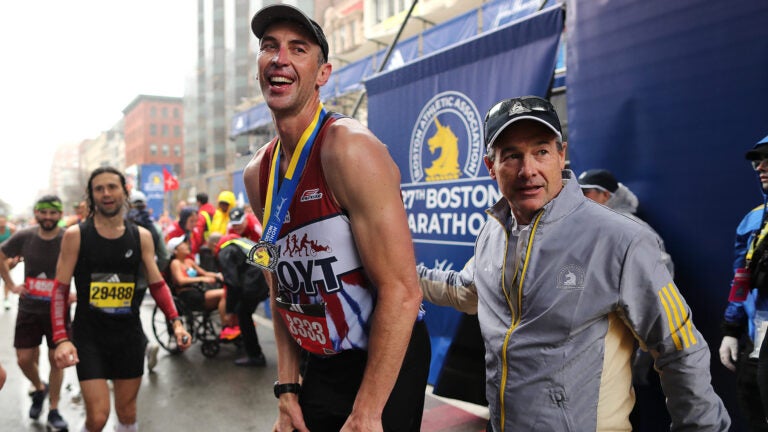 Ex-Bruins captain Zdeno Chara was one of the most feared players to ever stop on the ice during his 24-year NHL career.
Turns out the 46-year-old former defenseman is also turning into an elite distance runner.
Since announcing his retirement from hockey in September 2022, Chara has not spent much time putting his feet up and relaxing. Rather, he's traded in his skates for sneakers and has turned his attention to marathons.
On Sunday, the future Hall of Famer completed the New York City Marathon with a time of just 3:19:19 — marking the fifth marathon that Chara has finished since April.
Despite that heavy workload, Chara has made significant strides in his performance — shaving nearly 20 minutes off of the 3:38:23 time that he posted during the 2023 Boston Marathon.
"Thank you NYC Marathon and New Balance for hospitality and such a well organized marathon major," Chara posted on Instagram Sunday night. "Thank you to my pacers @beccapizzi and @sphyland for your amazing support."
Chara first announced his plans to take part in marathon competition ahead of the 2023 Boston Marathon — with the longtime Bruins captain running the race in support of the Thomas E. Smith Foundation and the Hoyt Foundation.
But Chara has remained busy since crossing the finish line on Boylston Street back in mid-April.
On Sept. 23, Chara ran in the Jackson Hole Marathon in Wyoming before completing the Maine Marathon just eight days later. Less than two weeks later, Chara was at it again, finishing the Baystate Marathon in Lowell with a new personal record of 3:16.
It doesn't seem like Chara has any intention of slowing down.
During an interview with the New York Post in September, Chara said he plans on taking part in the other "major" marathons beyond Boston and New York City — which include London, Tokyo, Berlin, and Chicago.
Newsletter Signup
Stay up to date on all the latest news from Boston.com