Bruins
The Bruins' impromptu embrace of a youth movement is paying major dividends this season
"The potential on both those guys are through the roof."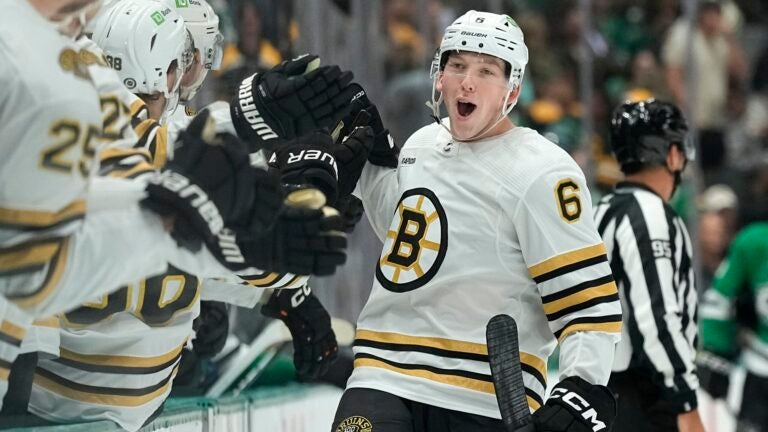 Bruins fans had every right to fret over the state of their hometown team following an offseason of change.
After all, those fears had loomed over the Original Six franchise for several seasons — and were rooted in years of tangible evidence.
Yes, it was to be expected for Boston to take a step back following the departures of franchise fixtures in Patrice Bergeron and David Krejci — coupled with the exits of key cogs like Taylor Hall, Tyler Bertuzzi, Dmitry Orlov, Nick Foligno, and others.
But a dearth of blue-chip prospects — especially those capable of stepping into immediate roles this fall — offered little in terms of optimism that a still-talented Boston roster was going to be supplemented by the next wave of Bruins stalwarts.
With a drop-off from contention status sitting on the horizon, the Bruins have been in desperate need of a stretch like 2016-17 — when an influx of young names like Charlie McAvoy, Brandon Carlo, Jake DeBrusk, Matt Grzelcyk all played into vital spots across Boston's lineup.
Such a scenario seemed unlikely in 2023-24, not with Boston tabbed with the worst prospect pipeline in the NHL — according to The Athletic.
But through the three-plus weeks of the new season, it's been the team with that projected barren farm system that has seen several young talents all pull on the rope.
The 10-1-1 Bruins' scorching start to the 2023-24 season has primarily been a byproduct of an elite goaltending tandem of Jeremy Swayman and Linus Ullmark, coupled with a stout defensive structure in front of them and an elite offensive talent in David Pastrnak (17 points in 12 games).
But the contributions of rookies in Matt Poitras, Mason Lohrei, and Johnny Beecher have all loomed large on a reworked roster in desperate need of impact (and affordable) players across the depth chart.
Monday's 3-2 road win over the Dallas Stars stood as the latest matchup where Boston's youth movement pulled their weight en route to two points.
Swayman's standout showing between the pipes (35 saves) sealed Boston's 10th win of the year, but it was a pair of career-first tallies from Beecher and Lohrei in the opening period of play that put the Bruins on the path towards another victory.
"You get excited. And it's good to have that depth," Brad Marchand said postgame. "They're continuing to establish themselves and build the foundation of their game and their careers and it's always exciting to see … The potential on both those guys are through the roof."
Given the deluge of veteran signings that Don Sweeney inked in July, the Bruins didn't necessarily expect games like Monday were going to be a regular occurrence.
The hope was that a Beecher could make a strong push for NHL reps during training camp after 76 total games in the AHL ranks.
But with Lohrei playing all eight games with the P-Bruins last spring, coupled with Poitras' likely return to junior hockey, the expectation was that Boston's next grouping of top prospects was still at least a year away from steady NHL reps.
It's taken that trio just a few weeks to each get opportunities to shine at hockey's highest level.
Poitras has served as a much-needed remedy for concerns regarding Boston's top-six talent down the middle — both this season and the years ahead.
The pivot's playmaking poise, attention to detail and puck-possession habits have all drawn praise from his coach and teammates. His seven points (four goals, three assists) through 12 games is tied with Chicago phenom Connor Bedard — and stands just one point off the league lead for most points among NHL rookies.
Lohrei is not the first defenseman whose profile is that of a poised puck-mover and offensive-zone threat.
But few skaters at his position also measure out at 6-foot-5, 211 pounds — giving Boston a coveted asset on their blue line capable of logging taxing minutes and doling out damage against opposing defenses.
The 2020 second-round selection already has two points (one goal, one assist) in his first three games with Boston, doing his part to keep afloat a Bruins D corps currently trudging ahead without Charlie McAvoy (suspension), Matt Grzelcyk (upper-body injury), and Derek Forbort (undisclosed injury).
"Yeah, had to steal my thunder a little bit, I guess," Beecher said of Lohrei's tally on Monday. "But no, I'm super happy for him. I mean, he's playing amazing. And we needed guys to come up and fill roles and play their game. So he's been great for us and couldn't be happier."
Beecher's role as Boston's fourth-line pivot may not be flashy, but the 2019 first-round selection is establishing himself as a stout defensive forward that is staying afloat against daunting matchups.
During Beecher's 95:31 of 5v5 ice time this season, just seven of his 98 faceoffs have been set in the offensive zone. Despite logging many shifts in Boston's own end, the Bruins have only relinquished three goals over those 95 minutes.
A strong showing at the faceoff dot (55.0%) has helped Beecher limit the amount of time spent pinned in the D-zone, along with his 0-to-60 acceleration that can push the puck through the neutral zone in a hurry.
Monday might have been Beecher's best game as a Bruin, even looking beyond his first-period snipe past Jake Oettinger.
A fourth line of Beecher, Danton Heinen, and Oskar Steen dominated during their reps together, with Boston holding a 4-0 edge in shots on goal over their 8:37 of 5v5 ice time together. Those eight-plus minutes were far from easy, with most of those shifts matched up against Dallas' top forward trio of Roope Hintz, Joe Pavelski, and Jason Robertson.
"That's special. That's something that's gonna get us rolling right off the bat," Swayman said of Boston's rookies. "And those guys work so hard and it's so good to see those guys get rewarded. So I know they're not even close to done yet."
Of course, any youth movement will also present its fair share of bumps in the road.
Those heavy D-zone reps will eventually give way to a few 5v5 tallies against, while Poitras will have to navigate an extended scoreless stretch at some point.
Despite Lohrei's evident offensive talent, he still spent most of the third period on Monday riding the pine following a D-zone gaffe that resulted in a goal against. In Lohrei's 49:10 of 5v5 reps this season, Boston has been outshot, 32-22.
But Boston has the defensive fortitude in place to absolve most of those miscues and growing pains that come with an influx of young talent.
And based on what we've seen so far, the good should far outweigh the bad with Boston's next wave of key contributors — both in 2023-24 and in the years ahead.
Sign up for Bruins updates🏒
Get breaking news and analysis delivered to your inbox during hockey season.