Bruins
Charting out Mason Lohrei's next steps is a looming lineup decision for Bruins
"We don't want to take anything away from his God-given ability to make plays."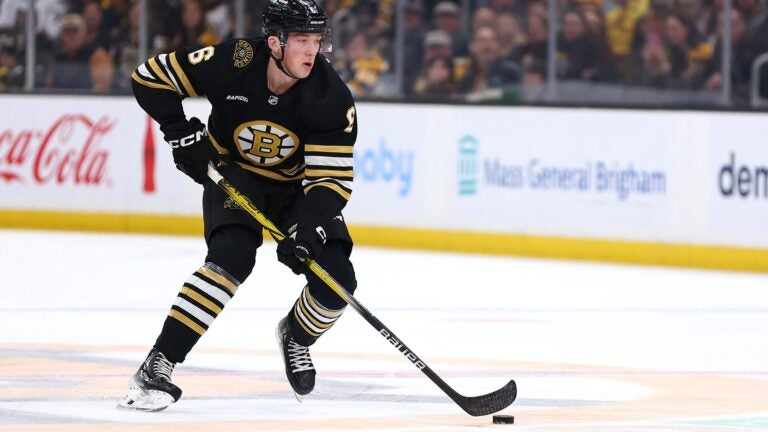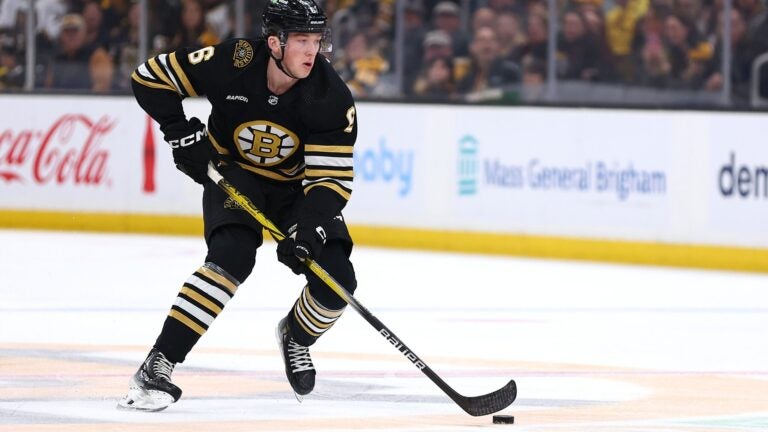 Now a month into the 2023-24 season, Jim Montgomery and the 11-1-1 Bruins are starting to unearth some answers about a reworked roster.
A duo of Charlie Coyle and Trent Frederic are transforming whatever line they're on into a two-way buzzsaw at five-on-five play.
A 50/50 split in reps between Jeremy Swayman and Linus Ullmark remains a winning formula.
And youngsters like Matt Poitras and Johnny Beecher have proven their worth as regular contributors at hockey's highest level.
It remains to be seen if yet another blue-chip prospect will put himself in that same category over the next few weeks.
Through his first four games in the NHL ranks, 22-year-old Mason Lohrei has been as advertised as a playmaking presence operating along the blue line.
Along with lighting the lamp against Dallas on Monday, Lohrei has landed eight shots on goal — just 12 off the lead for most among Bruins D-men (Kevin Shattenkirk).
But with reinforcements on the way for Boston's beleaguered blue line, Montgomery and the Bruins will eventually need to determine whether or not the best path forward for Lohrei lies in the NHL — or more seasoning down in Providence.
"I think it's just part of the learning curve," Montgomery said of navigating the growing pains that come with rookies against NHL competition. "We don't want to take away from a young man's ability to make plays. … You give them a chance to go right back out there. You talk to him about it — but it's a teaching moment, not so much punishment."
With Derek Forbort returning on Thursday against the Islanders and Charlie McAvoy's four-game suspension now lifted, the numbers game is starting to loom over Lohrei and whether or not he can unpack his bags primed for a return to Providence.
Things will likely come to a head in the next few weeks once Matt Grzelcyk is activated from long-term injured reserve.
At first glance, a player with Lohrei's profile seems to be a perfect remedy to Boston's ongoing pursuit of more offensive generation from the D corps.
But with 20+ minutes a night all but guaranteed for Lohrei down in Providence, Montgomery will need to weigh if his D-zone fortitude is up to snuff — along with determining if Boston's most promising prospect can log adequate reps at this level once the roster returns to full strength.
Lohrei, who switched from forward to defense rather late in his developmental timeline, brings an added element of offensive creativity and puck poise from the back end. But that playing style also invites plenty of risk, with some of that expected learning curve resulting in costly miscues in and around Boston's net.
With over 58 percent of Lohrei's starts during 5v5 play set in the offensive zone, the Bruins are making a concerted effort at getting the playmaking skater favorable reps where his skillset can be best utilized.
Still, opponents have landed punches during Lohrei's 66:52 of 5v5 ice time this season. Over that extended stretch, Boston has been outscored, 3-2, and trail in shot attempts, 78-54.
Lohrei learned the hard way of the unforgiving nature of the NHL game against the Stars. In the same game where Lohrei scored his first pro goal, he only logged 15:33 of ice time. He was handed just one shift after a turnover in the third period led to a tally from Dallas forward Wyatt Johnson.
"You're on the road playing a good team. You can't take those chances at the offensive blue line," Montgomery noted. "There's no need to. … We don't want to take anything away from his God-given ability to make plays, because he has that God-given ability.
But you've got to know when you don't have time and you don't need to force offense. … We talked to him and then it's, 'You're gonna go back out there and we need you to be firmer, we need you to be stronger.'"
Much like how a fellow rookie in Poitras has developed a knack for shaking off a quiet night or adventurous period with contributions on the stat sheet, Lohrei bounced back on Thursday against the Islanders.
He logged 18:29 of ice time in Boston's 5-2 win over New York, landing three more shots on goal and recording two blocks. Even with a few D-zone lapses, it's tough to ignore Lohrei's immense potential.
In Lohrei, the Bruins now have a great problem on their hands. The gifted defenseman still has a few more weeks to iron out the finer details of his game in the defensive zone.
And even if another trip down to Providence is the eventual prescription, those heavy minutes down in the AHL should prove their worth once he's ready to stick around in Boston for good.
That full-time role could be determined in a few weeks … or even just a few months down the road.
"Obviously it's the best league in the world and you're playing against the best players in the world," Lohrei said of adjusting to the NHL. "Just the intensity every day and you've got to bring it and be ready."
NOTES
Both Derek Forbort and Pavel Zacha did not skate during Friday's practice at Warrior Ice Arena, but Montgomery noted that it was maintenance and both are expected to play in Saturday's road game against Montreal.
Jakub Lauko is also an "option" to play on Saturday at Bell Centre, per Montgomery. He'll sport a cage, neck guard and a few stitches close to his left eye after taking a skate blade to the face on Oct. 24 against the Blackhawks.
Don't look now, but Charlie Coyle is on pace for 76 points this season after recording his first career hat trick on Thursday against the Islanders. How can Coyle continue to elevate his offensive game? A shot-first mentality stands at the top of the list. "We talk to him — I tease him about it daily," Montgomery said of getting Coyle to put pucks on net. "He's probably annoyed by me. That's my job."