Bruins
Bruins-Sabres takeaways: Charlie McAvoy shines in bounce-back effort
McAvoy extended his point streak to five games.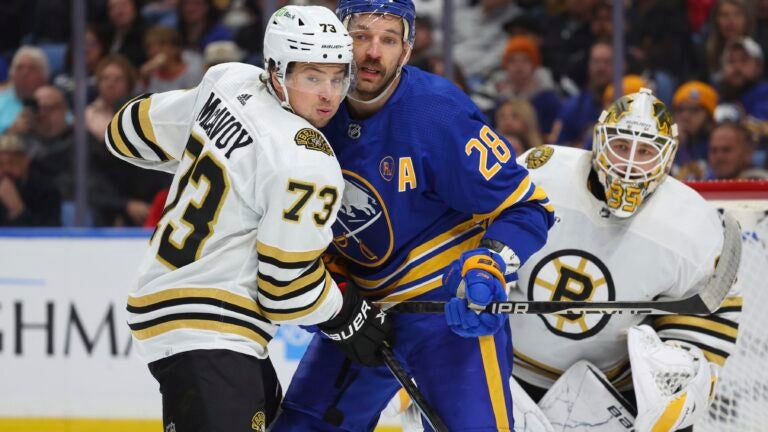 For a team sitting at 11-1-2 entering Tuesday, the Boston Bruins continue their centennial season as a work in progress in the first year without Patrice Bergeron and David Krejci. Their last two games, in particular, provided a glimpse of the recent ups and downs despite the impressive record.
The Bruins looked out of sync against the Canadiens in Montreal on Saturday night. They salvaged a point against their Original Six rivals but hardly deserved anything more than an overtime setback.
Three days removed from their 3-2 loss to their hated rivals and a day after engaging in a bag skate at practice, the Bruins provided a productive bounce-back effort in Buffalo.
Ten different Bruins tallied at least one point in their 5-2 triumph over the Sabres. They put forth one of their well-rounded efforts of the season, yet still sense more room for improvement, especially after Victor Oloffson notched a pair of tallies during the latter half of Tuesday's tilt.
"We started on time and played with a lead, but we've got to work on playing 60 minutes through. So that's something we have to look at," defenseman Charlie McAvoy told NESN's Adam Pellerin. "We were a better team for the majority of this game, but there are still pockets where we have to get better. So, we need to keep growing our game. It's early in the year, and we know we're in a good spot standings-wise, but we know we can be better."
Here's what we learned from Boston's 12th victory of the season.
Four different Bruins notched their first goals of the season.
Between Jim Montgomery's in-game lineup changes and recent injuries to Milan Lucic and Morgan Geekie, the transitional Bruins haven't received as much secondary scoring as last season.
The Bruins relied heavily on David Pastrnak, Pavel Zacha and Brad Marchand for offensive production through the first month of the season. The trio each notched a point in the victory, highlighted by Pastrnak's goal and two assists.
Boston's top line received some help along the way.
A quartet of Bruins notched their first goal of the season, beginning with Danton Heinen. The veteran winger notched his first goal in a Bruins uniform since Jan. 2020 after burying a rebound on Charlie McAvoy's shot attempt past former Northeastern netminder Devon Levi at 3:01 of the opening frame.
Another member of Boston's bottom six found the back of the net at 4:07 of the middle stanza. A game removed from an interference challenge wiping away a pivotal early third-period equalizer in Montreal, Oskar Steen took advantage of an unforced Buffalo turnover, promptly firing a top-shelf marker over Levi's blocker side to give the Bruins a 4-0 lead.
"Our depth is definitely one of our biggest attributes," McAvoy added in his postgame interview with Pellerin. "When everybody is playing well, we're a much better team."
Brandon Carlo notched his first of the season in between Pastrnak's one-timer tally and Steen's marker. Fellow defensive partner Hampus Lindholm earned his first of the season to extend Boston's cushion to 5-0 with a power play tally, highlighting a productive offensive night from the back end.
Boston's blue-line produces a scoring uptick in transition.
Like the forward group, Boston's back end also encountered some transition, specifically in the last few weeks.
Even with Mason Lohrei providing a bit of a spark during his first callup, the Bruins encountered some rough patches within their counterattack setup during a four-game stretch without McAvoy and Matt Grzelcyk. As the latter inches closer to returning from injury, the former picked up where he left off since returning following his four-game suspension.
McAvoy extended his point streak to five games after notching three assists over his last two games, including his pair of first-period helpers against Buffalo. Between his puck-moving instincts and physical presence, McAvoy once again set the tone for another productive night out of the back end.
Entering Tuesday, Boston's blue line only accounted for four goals and 25 assists. Against the Sabres, the Bruins' back end complemented their forwards in transition for multiple quality scoring chances. The six defensemen accounted for 17 shot attempts — 10 landing on net — and four points behind McAvoy's pair of helpers and the Carlo and Lindholm tallies.
"I think there have been some times where we've been getting in the rush and getting some good looks. I saw a couple opportunities for most of our defensemen tonight that could've ended up in the back of the net," Carlo told reporters.
"As long as we're fluent in our transition from our D zone and then working our way out from the neutral zone that enables us to be able to be that second layer of offense. That's what we're trying to do is to get a little bit cleaner with that, and I think you'll start to see more of those plays develop."
An unlikely offensive contributor in his own right, Carlo's tally developed from an unusual source who's known more for assisting his teammates as the last line of defense.
Ullmark's poke check highlights another stout outing.
Aside from the save figures, Ullmark's name didn't appear on the postgame stat sheet. Yet, the reigning Vezina winner provided a helping hand in Boston's transition game.
Channeling his inner Dominik Hasek, the former Sabre delivered a timely aggressive poke check during a 4-on-4 sequence in the first period, preventing a Buffalo breakaway attempt. With numbers up ice, the Bruins quickly generated a 3-on-1 opportunity, with Carlo joining Pastrnak and Zacha. A surprised Carlo had a clear shooting lane off Pastrnak's drop pass and promptly put the Bruins ahead 3-0.
Without Ullmark's poke check near the hash mark, the Sabres would've had a golden opportunity to cut Boston's lead in half. Instead, the Bruins extended their cushion behind Ullmark's aggressive decision to leave the crease and play the puck.
"I was in full panic mode," Ullmark told reporters. "I was coming out and had momentum with me, so I just went with it. The things that went through my mind is if you go full poke check or half poke check, and as soon as I did that, I was like 'Oh boy, here we go,' because all of a sudden the puck just disappears in the chaos. But luckily, Brando [Carlo] just picked it up and he went down there and scored."
Luckily for the Bruins, Ullmark had his 'A' game from the get-go. The Swede notched his second win in a row following Tuesday's 32-save outing.
With a comfortable lead intact, the Bruins encountered a few hiccups in the second and third stanzas. The Sabres pounced on the counterattack generating a handful of looks on odd-man rushes during the final 30 minutes of play.
The Bruins still limited Buffalo from generating multiple high-danger scoring bids. But even with Ullmark remaining dialed in, the issues with their defensive zone coverage still popped up.
"The singular reason why we have the record we have is because of our goaltenders," Montgomery said to reporters. "We're still giving up way too much off the rush — even tonight in the last 30 minutes — and that's an area that we have to significantly improve."
Sign up for Bruins updates🏒
Get breaking news and analysis delivered to your inbox during hockey season.