Bruins
A goalie rotation in the playoffs? Bruins' Jim Montgomery has no qualms over it
"They're a luxury that allows us to be an elite team."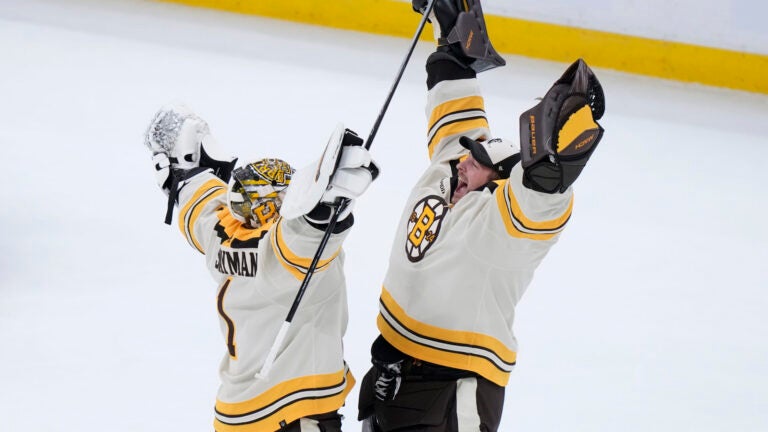 The Bruins boasted the best 1-2 punch between the pipes in Linus Ullmark and Jeremy Swayman during their record-setting 2022-23 regular season.
The 2023 Stanley Cup Playoffs were a different story.
After opting for a nearly even allocation of reps for both netminders over the final months of the regular season, Montgomery and goalie coach Bob Essensa deviated from the script under the bright lights of the playoffs.
The results were disastrous. Be it injury, fatigue, or regression from his Vezina-caliber play, a mortal Ullmark earned the nod in net for Boston's first six contests against the Panthers. By the time Boston reached Game 7, the weight of a crushing first-round exit fell on the shoulders of Swayman — who went over two weeks between starts.
The 2023-24 Bruins have a ways to go before they brace themselves for another postseason gauntlet. But if Boston's sterling 12-1-2 start leads to another playoff push, Montgomery has no issue with adhering to rigid goalie rotation when the calendar flips to spring.
"For sure," Montgomery said Friday when posed said question about keeping a platoon in place for the playoffs.
So far, Montgomery has had little reason to deviate from a 50/50 split this season.
Through the first 15 games of the regular season, neither Swayman nor Ullmark have logged back-to-back starts. Even with Boston staring at a stretch of six games in 10 days, Montgomery doesn't expect that even distribution of starts to be altered for the foreseeable future.
"If it ain't broke" has been the mantra for Boston's bench boss this season, especially with both Swayman (6-0-1, .944 save percentage) and Ullmark (6-1-1, .928 save percentage) trading stellar starts.
As unconventional as it might be to trade off starts between netminders over an 82-game regular season, it's nearly unheard of during postseason play.
Yes, injuries and lackluster results have routinely forced coaches to dismantle their best-laid plans in net during their pursuit of a Cup.
Bruce Cassidy and the Vegas Golden Knights hoisted hockey's top prize in June with their fourth-string netminder in Adin Hill.
After opening their 2018 Cup run with Philipp Grubauer in net, the Capitals swapped him out for Braden Holtby after two straight losses to Columbus in the first round. Holtby finished with a .922 save percentage over 23 playoff games en route to a title.
But to keep swapping out starters when both goalies are healthy?
The Bruins did deploy a successful postseason platoon in net … 51 years ago, when Gerry Cheevers (eight starts) and Eddie Johnston (seven starts) both led the way for Boston during their march to a second Cup in three years.
Of course, it's one thing to preach the perks of a steady rotation in mid-November. It's another endeavor entirely to carry that plan out in April and May — especially if one netminder posts a substandard performance in goal for one game.
But with the pain of last year's shocking exit against Florida still lingering, Montgomery has more concrete conviction to draw from when things inevitably go awry later this season.
"I think it's a comfort zone," Montgomery said. "I think as long as our lines of communication [are open], like when Goalie Bob and I met with the goalies at the start of this year. They're a luxury that allows us to be an elite team. That's why we, in my opinion, had such a great record last year. It's surely why we're having a great regular season this year.
"And we just tell them upfront that we're going to be alternating. You guys are both integral parts of why our team can be really good, and it's bearing out that way. And the fact that they support each other so well, really it's the best outward example of why our culture is so good."
As expected, Swayman isn't fretting over any postseason reps — not with 67 regular-season contests still left on Boston's docket.
"We can't think about playoffs until we get there," Swayman said. "That's the biggest thing — is just getting to the playoffs right now."
Newsletter Signup
Stay up to date on all the latest news from Boston.com