Bruins
'Big Bad Bruins' legends finally raise Cup banners to Garden rafters
"When you look at the Boston Bruins, you're seeing the city of Boston and the people of Boston."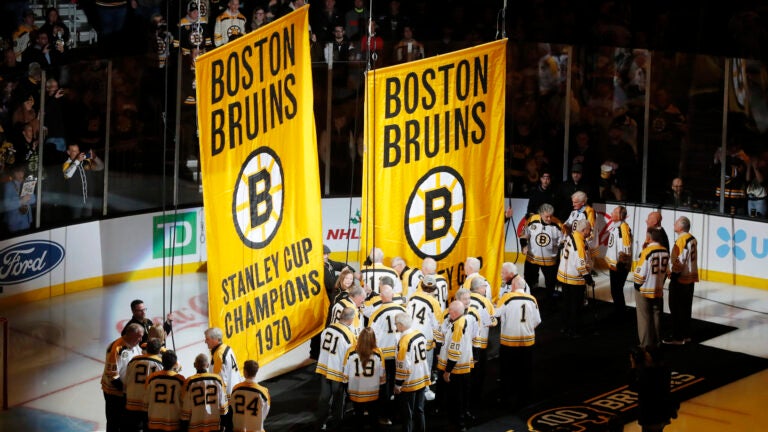 The "Big Bad Bruins" left their mark on hockey history in several ways.
Not only did they stamp their names on Lord Stanley's Cup twice in three years, they wove themselves into the very fabric of the spoked-B that they represented every time they took to the ice.
As Phil Esposito routinely lit the lamp and Bobby Orr shattered the perception of what offensive wizardry rested in the skates of blueliners, the bruising play of beloved players like Johnny "Pie" McKenzie, Wayne Cashman, and Derek Sanderson elicited cheers from the hometown crowd with each thunderous check delivered against the old Boston Garden boards.
There was little that such a fruitful era in Bruins history failed to accomplish during their time together on the ice.
But on Saturday night — over 51 years since that group last hoisted the Stanley Cup together — two championship rosters forged another memory together on Causeway Street.
For the first time together, players from both of Boston's 1970 and 1972 championship squads raised their respective championship banners into the TD Garden rafters as part of the opening festivities on "Big Bad Bruins Night."
"It's been a while," former blueliner Dallas Smith said of what went through his mind while helping his teammates raise those banners. "You just think, 'Well I'm lucky enough to be part of a winner.' It's nice to be able to do that."
The decision to raise the banners as part of the latest centennial-season celebration in Boston was an easy call for Bruins president Cam Neely.
"Back in the day, they just showed up the next year — the banner was already in the rafters," Neely noted, adding: "I didn't realize it until a few months ago that they never raised the banner. So it was kind of cool to be able to get that experience."
Before the Bruins faced off against the Habs in a spirited Original Six showdown at TD Garden, over 20 Bruins alumni took part in the pregame ceremony — with legends like Orr, Esposito, Johnny Bucyk, Gerry Cheevers, and other franchise pillars helping their former teammates hoist their banners high above the frozen sheet.
"Seeing it done in other cities and how they went about it meant a lot to our guys," Cashman said. "You really feel the championship and how you strive to win it when you get to raise the flag. We had never done it before we did today. Now we know what it's like to raise a banner in front of a great town, great city and great people."
The significance of Saturday's pregame ceremony was not lost on the current Bruins taking in the festivities from the bench, especially those who know what it's like to mark a Stanley Cup championship alongside their teammates.
"We have a real appreciation and respect for those guys," Brad Marchand said after Boston's 5-2 win over Montreal. "It was incredible to sit and listen to them earlier and hear some stories and talk about the differences in the game. … It really was a special moment to see them lift the banners.
"You don't realize how fortunate you are to go through each and everything that comes with winning the Cup, and one of those things is raising the banner. Those days are over just as quick as they happen. It's a blur as you're going through it. And for those guys to miss out on that back then and have that opportunity — it was special to be a part of and special to see and I'm very happy for them."
Plenty has changed since the last time these former Bruins took the ice together. The barn they once called home was shut down 28 years ago. Even the familiar surroundings of Causeway Street have been blanketed amid wave after wave of construction and urban overhaul.
"I don't think I could go outside the building for four feet, I'd be lost," Cashman said with a smile.
But Saturday's ceremony offered a rare opportunity for old memories to be rekindled around a group of hockey players who penned a cherished chapter in this city's history.
"It's about life. It's what we did," Cashman said of the past memories shared during this reunion. "We came here and represented a city, a town, a people. … The Bruins team [is] what Boston is. When you look at the Boston Bruins, you're seeing the city of Boston and the people of Boston. That's the way they are, they care about each other, they bind together and they have success."
And even though none of the Bruins who took to the ice against the Habs on Saturday can glean any first-hand knowledge of those "Big Bad Bruins", their impact is not lost on a group of players looking to forge a similar legacy in Boston.
"That's a motivator that I've always had is to etch history," Jeremy Swayman said postgame. "And to be able to be at the level to do that now is something that I'm excited about. And I know that it's a huge motivator for myself and I would love to be in their shoes one day, doing the same thing."
Sign up for Bruins updates🏒
Get breaking news and analysis delivered to your inbox during hockey season.