Bruins
Bruins' Linus Ullmark honors Gerry Cheevers with new stitched goalie mask
Ullmark's new mask will debut as part of Boston's "Big Bad Bruins Night" on Saturday.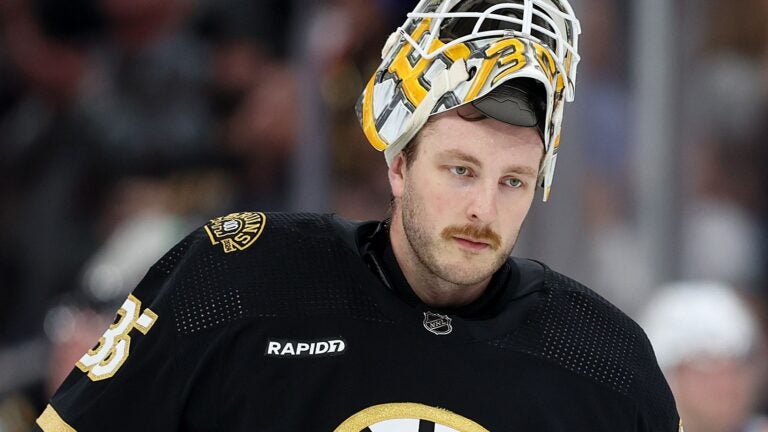 With Gerry Cheevers and several other legends from the "Big Bad Bruins" era on site for Saturday's showdown by Boston and Montreal, Linus Ullmark paid tribute to the Hall-of-Fame netminder with a new custom goalie mask.
Cheevers, who helped Boston clinch two Stanley Cup titles in 1970 and 1972, etched himself into hockey history with his trademark mask — with the stitches representing all of the damage the tenacious netminder would have taken without that extra layer of defense covering his visage.
Ullmark also has the names of several other Bruins legends from that chapter of team history inscribed on his helmet. Cheevers and his former goalie partner, Eddie Johnston, were on hand to take a photo with Ullmark, Jeremy Swayman and that custom mask on Saturday.
Saturday stands as the second of the five "Era Nights" that the Bruins will hold this season part of their 100th-season festivities. Boston's showdown with Montreal will honor the legendary players and teams from 1960-76, along with several contests and themes representing an impressive stretch of success for Boston.
Cheevers was named as one of the two goalies on the Bruins' All-Century Team last month, along with fellow Hall of Famer Frank Brimsek.
Despite showcasing his new gear, Ullmark is not expected to start on Saturday against Montreal. Boston kept its 50/50 goalie rotation going at TD Garden, with Swayman earning the starting nod against Boston's long standing foe.
Ullmark is no stranger to showcasing some flashy new hardware for special occasions.
Earlier this year, Ullmark donned a custom mask that included a photo of Patrice Bergeron celebrating his Game 7 OT winner against the Maple Leafs during the 2013 Stanley Cup Playoffs.
The opposite side of the same mask featured the famous picture of a soaring Bobby Orr after clinching Boston's Cup triumph over the Blues in 1970.