Bruins
Bruins' hopes of Pavel Zacha's ascension as a top-six center are being realized
"Very much similar to what Bergy used to do."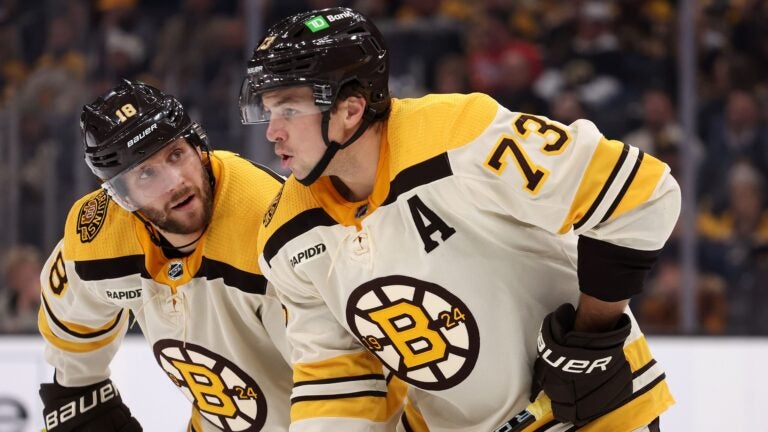 As easy as it might be to chalk up the Bruins' 13-1-2 start this season to their elite goaltending, such steady success can't be attributed to just one segment of the roster.
Star players like David Pastrnak and Charlie McAvoy have delivered under heavy minutes. An impromptu youth movement has injected a much-needed spark on the ice.
And Don Sweeney's free-agent spending spree in the clearance section has yielded strong returns in players like James van Riemsdyk (12 points in 16 games).
But if Boston was going to have any hope of replicating some of the success it achieved during last season's record-setting run, it was going to need two veterans to pull their weight at the center position.
Following in the footsteps of two franchise pillars in Patrice Bergeron and David Krejci was an unenviable exercise for both Charlie Coyle and Pavel Zacha — given the lofty expectations saddled on their shoulders.
But through the first month of the 2023-24 season, Brad Marchand and the Bruins haven't noticed much of a drop-off between the high standards set by the old guard and the new top-six duo.
"Pav, he's such a gifted player — very similar mind to Bergy in the way that he plays and defends and an extremely dangerous threat in the offensive zone," Marchand said after Boston's 5-2 win over Montreal on Saturday. "So he's feeling very comfortable in that middle spot there now and it's great to see him thrive."
Coyle's stout defensive game and the impressive chemistry forged next to Trent Frederic last season has carried over into 2023-24 — with the 31-year-old forward (five goals, nine assists) on pace for the first 70-point season of his 12-year NHL career.
But not to be outdone, Zacha has held up his end of the bargain as both a Swiss Army Knife in Jim Montgomery's forward corps — as well as a potent play-driver on a top line with Marchand and David Pastrnak.
Following his one-timer tally against the Habs on Saturday, Zacha is on pace for 31 goals and 67 total points this season — both career-highs.
Only Marchand (19:15) has logged more ice time per game among Bruins forwards than Zacha (19:11), who ranks fourth on the team in average power-play reps (3:41 per game) and second among Boston forwards in penalty-kill minutes (2:10 per game).
Zacha's ability to elevate his play into a featured role within Boston's lineup has been needed, given the turnover up front over the summer.
But it hasn't necessarily been a surprise for Montgomery and the rest of the Bruins, especially after the promise that the 26-year-old pivot showcased in his first season with Boston.
Once viewed as a potential middle-six contributor when Boston plucked him from New Jersey in a one-for-one swap for Erik Haula, Zacha quickly developed into a second-line stalwart next to Krejci and Pastrnak.
After posting a career-high 36 points in 2021-22 with the Devils, Zacha surpassed that scoring mark by 21 points the following year with Boston (57 points in 82 games). In 12 games where Zacha slotted over at center in place of either Bergeron or Krejci, he scored four goals and posted 10 points.
"We saw him take a huge step in his confidence in November [2022]," Montgomery said earlier this year of when he knew Zacha could hold his own as a top-six center. "Just in his belief to fight through stuff. Then we saw him when we started using him at center because of Bergy and Krech. … He really relished the opportunity to play more minutes.
"And then there was a game in Carolina where he was really dominant. We didn't have either one [Bergeron and Krejci] of them playing. There was a game at home against Tampa Bay. It was the first game I thought we had where it was real close to playoff intensity. And he rebounded in that game. I think he found another level of intensity within himself. And that carried — we played the next night in Carolina and it carried over."
Montgomery's most recent lineup reshuffle has planted Zacha in the middle of a top-heavy forward group along both Marchand and Pastrnak. And even though his supporting cast is impressive in their own right, Zacha has not looked out of place.
In the 79 minutes of 5-on-5 ice time that the Marchand-Zacha-Pastrnak line has logged together, the Bruins are outscoring opponents, 7-2. But beyond the tangible production that Zacha is churning out, Montgomery believes that the 6-foot-4 forward's defensive game is also making strides.
"He plays the most minutes of any forward because of how we use him in every situation," Montgomery said Saturday. "And he plays hard minutes. He's a glue guy that connects — especially when he's playing with Marchy and Pasta.
"He does a lot of work coming back and getting pucks up to them — very much similar to what Bergy used to do and it went unnoticed and I think what Pav is doing is going unnoticed."
The finer details of Zacha's game might be flying under the radar at this stage of the season.
But it's getting tougher and tougher to ignore the tangible production being generated every time Zacha hops over the boards.
The Bruins have no qualms about that.
Newsletter Signup
Stay up to date on all the latest news from Boston.com