Local
Brad Stevens expects Celtics rookie Aaron Nesmith to pick things up 'very quickly'
"He's a good shooter, he's a smart kid, I think he'll pick things up very quickly."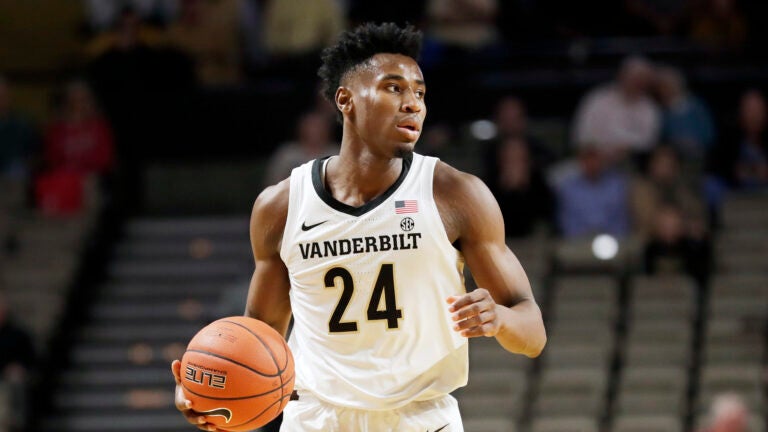 Most rookies entering the NBA have the benefit of Summer League practices, Summer League games, and months of targeted preparation with assistant coaches before training camp begins.
Aaron Nesmith will have none of that. The former Vanderbilt wing learned he was headed to Boston when the Celtics selected him with the 14th pick in the 2020 NBA Draft on Nov. 18. Training camp began two weeks later. Next week, he will suit up for his first preseason game, and a week later, he could see his first real minutes when the Celtics open their season against the Milwaukee Bucks on Dec. 23.
The last year has been a whirlwind for everyone in the NBA, but the steepest learning curve lies in front of the rookies.
"In the live section of practice, [Nesmith] may have five total shots thus far," Celtics coach Brad Stevens said on a conference call with reporters Monday. "I think it's more about, we haven't played very much obviously up and down so there's not a lot of possessions there."
Even if he isn't getting many attempts in scrimmages, shooting is Nesmith's strong suit. He made 52.2 percent of his 3-pointers on 8.2 attempts per game as a sophomore before suffering a stress fracture in his foot that ended his season. Shortly after being selected by the Celtics on draft night, Nesmith drew chuckles referring to himself as an "absolute sniper" when asked to describe his game, but he seemed to understand what his role will be on this year's Celtics team.
"A guy who's going to make life easier for the creators of the offense — Jayson Tatum, Jaylen Brown, Kemba Walker," Nesmith said. "A guy that is always going to be there and work hard and earn his stripes and do it on both sides of the floor.
"I want to be great. I want to be the best player I can be, and so that includes defense. I'm going to give my all and the best effort I have to that side of the floor, and with my size, length and athleticism, being able to guard multiple positions."
Defending multiple positions is important, especially to Brad Stevens, but doing so is difficult even for players with years of experience. Other challenges will crop up as well: The 3-point line is deeper at the next level, and Nesmith will face sophisticated defenses run by adult players, who are much more talented and athletic.
To further complicate matters, Nesmith might be asked to play a major role early. Gordon Hayward's departure threw Boston's roster into flux, and while Danny Ainge signed Tristan Thompson and Jeff Teague to shore up the center and point-guard positions, the Celtics have little experience at the wing aside from their stars. With Romeo Langford out indefinitely and Marcus Smart likely slotted into the starting lineup, the Celtics might find themselves leaning uncomfortably on a rookie with even less experience than usual.
Stevens recognizes that Nesmith might have a lot of catching up to do in other areas of his game.
"I'm not worried about his shot at all," Stevens said. "I think everything else is what needs to — he just needs to learn as quickly as possible. He's a good shooter, he's a smart kid, I think he'll pick things up very quickly. But there's a lot to pick up, and making shots at the college level is much different than making shots at the professional level. Not just the line, not just the longer game — the speed of the game, the shot challenges, all that stuff."
Still, if the shot translates, Nesmith will have a chance to find his way onto the floor. Predictably, a player who refers to himself as an "absolute sniper" believes in himself.
"For me, nothing changes," Nesmith said last month. "My warm-up doesn't change, my form doesn't change, my footwork doesn't change. So as long as I continue to work on those things, continue to perfect those attributes to my game, there's no reason for my shot not to translate from one level to the next."
Get Boston.com's browser alerts:
Enable breaking news notifications straight to your internet browser.