Celtics
Brandon Bass, Celtics agree on three-year deal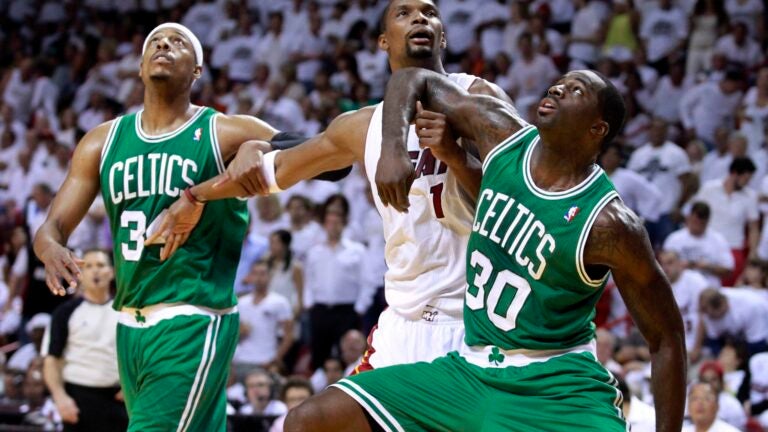 Brandon Bass opting out of his contract was a formality. He wanted the security of a long-term deal and he wanted to remain with the Celtics.
The Celtics obliged, agreeing to a three-year deal Thursday with the power forward, adding depth to an already impressive lineup.
The 27-year-old Bass, who was scheduled earn $4.25 million in the final year of the contract he signed with the Magic in 2009, cannot sign his new deal until July 11, so the Celtics had no official comment. But Bass's agent, Tony Dutt, said his client is relieved.
"You always love meeting [with teams as a free agent] and he'll be out there at some point down the road,'' Dutt said. "He's relatively young, he's got basketball left. This is something he really wanted.''
Bass submitted a solid first season with the Celtics after being acquired from Orlando last December for Glen Davis and Von Wafer. Bass opted out of the final year of his deal after this past season, but the Celtics were focused on bringing him back.
Bass averaged 12.5 points and 6.2 rebounds, both career highs, this past season in 59 games, 39 as a starter. Because of his work ethic, Bass blended well with Kevin Garnett, who was moved to center after the All-Star break.
Bass enjoyed his best performance as a Celtic in Game 5 of the Eastern Conference semifinals against the 76ers, scoring 27 points, 18 in the third quarter, in a 101-85 victory. He had limited chances in the conference finals against the Heat, but shot 50 percent in the series and scored 16 points in the Game 7 loss.
"When you are as good as Boston's been, the key is to try to bring the show back,'' Dutt said. "It was a little give or take on every deal and every situation, so it's not like one or two guys are way overpaid. What Danny [Ainge, president of basketball operations] is trying to do is fit everybody in at a fair number.''
The Celtics are still waiting on word from free agent shooting guard Ray Allen, who met Thursday with the Heat. Allen is not likely to start with Miami and would receive only half of the $6 million the Celtics are offering.
The Clippers were also on Allen's radar, but interest cooled after they signed Jamal Crawford.
The Celtics are making "good progress'' with Jeff Green and a deal should be done by Wednesday, sources close to the negotiations said. Green missed all of this past season after surgery to repair a heart condition.