Celtics
Boston Celtics fall to Philadelphia 76ers, 106-100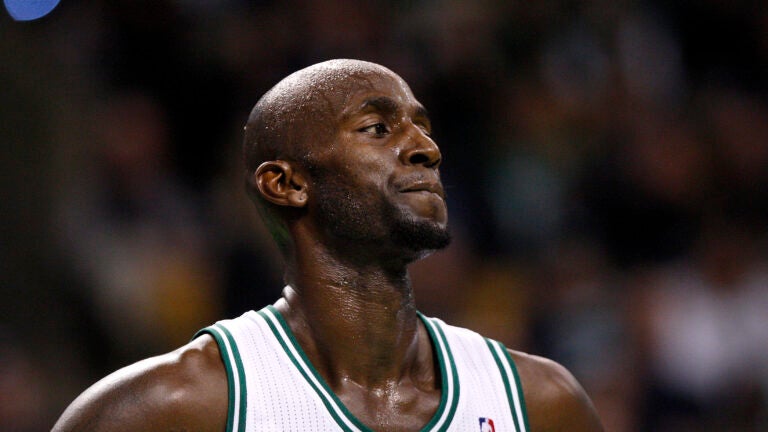 The Celtics' search for an identity could land them on a therapist's couch this season. After five games, they seem to be developing a split personality: a winning one with Kevin Garnett in the lineup and a confused one without him.
After getting off to a strong start against the Philadelphia 76ers on Friday night, the Celtics faded and faltered, rallying too late in a 106-100 loss at TD Garden.
Coach Doc Rivers blamed the team's lack of transition defense, and that failing coincided with the absence of Garnett.
"They beat us in transition,'' Rivers said. "I think it's pretty simple. They got a lot of secondary early breaks and they just beat us down the floor and they attacked.''
The Sixers (3-2) were credited with 26 fast-break points, but actually produced 42 points on 18 transition possessions.
The Celtics set the tone, getting off to an 8-3 start as Philadelphia went 1 for 10 from the field. Garnett departed 4:04 into the game and by the time he returned, the Sixers had a 19-14 advantage. With Garnett watching, Philadelphia took an 11-10 lead as Jrue Holiday dunked after blocking a Rajon Rondo shot. It never trailed again.
The Sixers closed the opening quarter by shooting 9 for 13 over the final 7:29, then shot 59.7 percent (13 for 22) in a 34-point second quarter. Royal Ivey's free throws upped Philadelphia's edge to 57-41 with 47 seconds left in the half.
The Celtics (2-3), winless in regulation in three home contests, never recovered.
But, as they did in a 100-94 overtime win over Washington Wednesday, the Celtics displayed positive signs in the late going — for a while.
After trailing by as many as 15 points in the third quarter, the Celtics rallied but hurt themselves with offensive blunders, which the Sixers exploited on a 10-0 run over a 1:43 span early in the final quarter.
Jason Terry's 3-pointer got the Celtics within 83-79 with 10:42 remaining. But the Celtics then lost possession, Lavoy Allen dunking in transition, then tipping in a Holiday drive to make it 87-79 with 9:28 to go.
The Celtics mishandled passes on their next two possessions, Evan Turner hitting a 3-pointer and Thaddeus Young getting a 3-point play in transition for a 93-79 Sixer edge with 8:21 to play.
But Paul Pierce (24 points) hit a 3-pointer and jumper, and Terry a one-hander to cut the deficit to 93-86 with 6:53 remaining.
Philadelphia ran it up to 100-88 on a Holiday baseline move with 4:19 left. The Celtics scored the next 6 points, Garnett and Pierce missing free throws over a 1:24 span.
Young made it 102-94 with a hook shot out of a timeout with 1:38 left. The Sixers then swatted a Rondo entry pass, but failed to score in transition. Pierce's scoop shot pulled the Celtics within 6 with 1:05 left, then Turner missed two free throws. Pierce drove to cut the deficit to 4, then Turner was fouled intentionally. He made both free throws, and then dunked off a Celtics turnover.
"If I had to point out one thing, and it has been these last five games, it is probably our transition defense,'' Pierce said. "We're playing well, I thought, halfcourt-wise. When you give a team that many layups it's really disturbing — we've got to look at the film and address that. We've got to do a better job getting back on defense and limit those easy opportunities — we give ourselves a chance.
"I'm very patient. Understand it's a process. We're only five games in.
"Even though we lost today, we're down, there were some positive things that come from that. It's still a long season. Still got to get some things together — maybe a road trip like this, against two pretty good teams [Milwaukee Saturday, Chicago Monday] can solve it. So, we'll see.
"The thing is, you've just got to talk it out. You know, young teams, they get impatient with one another, they start pointing the finger, and you can't do that. That's a losing team, losing genetics, and we don't have that in here. We're going to try to solve it by talking to one another and figure out what we've got to do to get better, and go from there.''