Celtics
Consistent problems
Rivers: Team must be pushed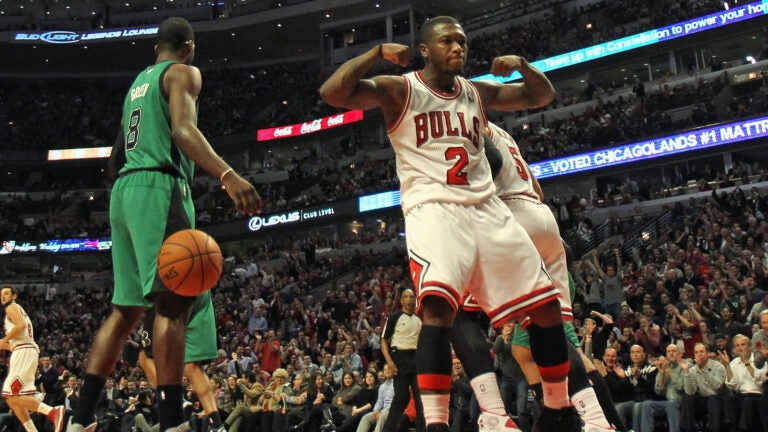 CHICAGO — The consensus feeling
in the Celtics locker room is that this team is talented enough to compete in the Eastern Conference. The issue is focus and coach Doc Rivers has challenged his players to be more consistent.
A listless 100-89 loss to the Bulls Tuesday night only added to their maddening inconsistency. The first 24 games have been unpredictable and the Celtics have dropped three straight, disappointing losses to Houston, San Antonio, and Chicago, in which they sparkled in one quarter and wilted the next.
With another game Wednesday against the Cleveland Cavaliers, forward Kevin Garnett had a message for his teammates.
"Sense of urgency man,'' he said after the loss to the Bulls. "No time to be messing around, playing around. I know we're in December but games are games and you gotta win them, man. We gotta figure out what we're going to do and be consistent with it.''
After a positive practice Monday at United Center, Rivers was encouraged but hardly satisfied. And that practice meant little after their performance against the Bulls.
"Yeah we did [well], but I want to see it for a month,'' he said. "One or two days is great [but] people know when the coach wants you to do something for an hour. But it's gotta be part of our fabric and our habits. We're not there yet but we want to get there and the guys want to get there. They have to be pushed more.''
Captain Paul Pierce said the approach has to be better in practice.
"It's got to be mental,'' he said. "It has to be the consistency in what we do out here in practice, too. We talk about we have our schemes, we just need to do them right on a consistent basis and we wouldn't be inconsistent.''
The players have a growing sense of urgency after six weeks of mediocrity.
"You've got to focus on [the little things],'' guard Courtney Lee said.
"Whether we're up 20 or down 20, we have to make the right plays, make the right passes and execute the set that [Rivers] is calling. Now is where it's at. We've got to get to it right now, can't wait any longer.''
Bradley passes test
Avery Bradley said he has no injury issues coming out of his first full-contact practice in seven months, but he remains unsure when he will return to the Celtics lineup. Bradley went through the full 90-minute workout but added he is unlikely to play in a game this calendar year.
"My legs are a little sore but my [surgically-repaired] shoulders feel great,'' he said. "We're going to try to get a few weeks of practice under my belt before I think about playing any games, so right now we're just taking it day by day. As of right now, I feel great. I feel like practice was good [Monday]. No setbacks.
"We're going to see how many practices I can get in and if I feel good enough to play in a game, maybe I won't need to go to [a rehab stint] in the D-League.''
The Celtics have no timetable on Bradley's return. He last played May 18 in Game 4 of the Eastern Conference semifinals.
"Yeah he looked good; he practiced great, I thought he had a great practice, he didn't need a lot of rest,'' Rivers said. "The good thing about a shoulder injury is your legs can stay in shape. It's not like he couldn't run and condition. You can see that he's been doing a lot of the work.''
Rivers said the workout had no effect on Bradley's return date.
"I think [head trainer] Eddie [Lacerte] will tell us when he's ready; he looked ready yesterday,'' Rivers said. "But it's one practice. You don't know how his body is going to respond. Again, I completely stay out of that. I know for certain Lacerte knows more than me.''
Terry stays flexible
Rivers said Monday that Lee would remain the team's starting shooting guard, perhaps until Bradley returns to action. That means Jason Terry will return to his bench role after starting 16 of the first 23 games.
In the past three games, Terry totaled 32 points and seems more comfortable as a reserve.
Entering Tuesday, Terry was averaging 11.5 points and 36 percent 3-point shooting in 31.9 minutes as a starter and 12.1 points and 42.4 percent 3-point shooting in 26.5 minutes off the bench.
"I don't know anything yet, I don't know what we're going to do but I am ready to do what the team needs,'' Terry said. "I've been like that my whole entire career, can't anticipate anything at this point but as a bench player, I'm established.
"I know my role. It's very clear. So I'm able to do so. But if he needs me to start again, I'll be ready to do that. Whatever he needs.''
After a 4-for-18 skid on 3-pointers over the previous three games, Terry is 8 for 17 on the road trip. He did not shoot a 3-pointer Tuesday.
"I'm a rhythm player, this year has taken longer than usual for me to get there,'' he said. "Obviously the reason why is I am in a new situation.
"The looks are the same as when I was in Dallas. Once I perfect it, I'll start to play in a much better flow. But of late, I'm definitely feeling a little more comfortable.''