Celtics
Celtics rout Nets in Christmas matinee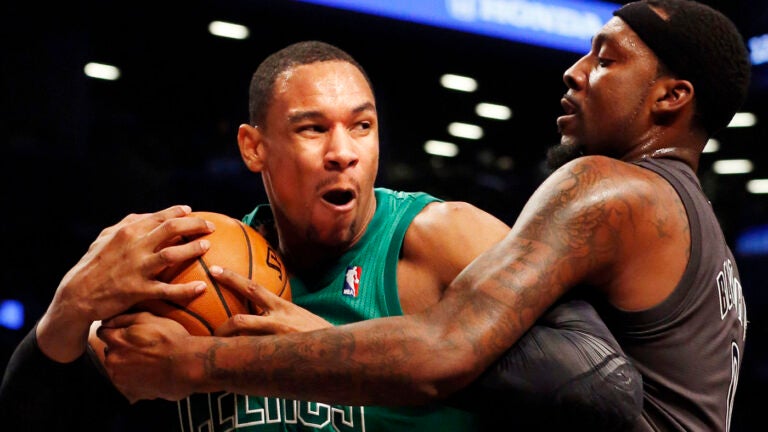 NEW YORK — While the Celtics usually downplay the importance of regular-season games, especially in December, they considered their Christmas Day matchup with the Brooklyn Nets as critical for several reasons.
They desperately needed a signature road win; they wanted to play well in front of a national television audience; they wanted to establish confidence as they began what could be a season-defining four-game road trip; and they wanted to exact revenge on the Nets after two frustrating losses to Brooklyn in November.
On Tuesday at the Barclays Center, the Celtics proved to themselves that they are capable of playing a complete game, even when Paul Pierce and Kevin Garnett are not piling up the points. They blended strong defense with balanced scoring in a big second quarter and spent the rest of the afternoon staving off Brooklyn runs for a 93-76 win.
Perhaps as rewarding as the victory was the fact that the Celtics didn't need a mammoth night from Pierce, who had scored 75 points in the previous two games. He tallied just 8 on 3-of-10 shooting in 31 minutes while Garnett also scored 8.
Rajon Rondo was at his best in his matchup with All-Star Deron Williams, leading Boston with 19 points, while adding 5 assists, 6 rebounds, and 3 steals as the Celtics shot 49.4 percent and led by as many as 21.
Rarely this season have the Celtics (14-13) been able to build a lead and maintain it, but this was perhaps their best overall performance.
"I told our guys that I didn't think we had a unit on the floor where someone didn't do something good for us,'' said coach Doc Rivers. "I really thought it was a really good team effort.
"I think we're getting better. I think we're very, very close to becoming a good team but we're not yet. Our record says we're not.''
Rookie Jared Sullinger was stellar in his first Christmas Day game, scoring 16 points with 7 rebounds. Rivers kept Sullinger on the floor for a season-high 33 minutes, a testament to the coach's trust in the first-round pick. Sullinger converted six of seven shots and also played strong defense on the much taller Brook Lopez.
"Jared Sullinger was wonderful, just such a smart player,'' Rivers said. "When you watch him, you don't see a rookie, you see a big fat guy playing basketball. He's terrific.''
The Celtics were battered twice previously by the Nets, including a fight-marred 95-83 loss Nov. 28 at TD Garden. Rondo was suspended two games for fighting with Kris Humphries in that loss, but there was no risk of retaliation because Humphries was out with a strained abdominal muscle.
After falling behind by 6 points in the first quarter, the Celtics sliced the deficit to 2 by quarter's end (24-22) and then began the second with a 27-10 run to take control. Pierce and Garnett combined for just 6 points during that rally but Pierce played distributor. He finished with a season-high 10 assists with just two turnovers.
"For the most part, we did a good job of making extra passes, we kept a good tempo, found the open man when they trapped,'' said Pierce. "It was fun to be out there.
"I really didn't have to rely on my scoring. They trapped me a lot, so I had to find the open man a lot. Rondo was in his scoring mode. The way the scoring went today, when you have balanced scoring like that, it's fun to play that way.''
The second-period run provided a 56-42 halftime lead, but unlike recent games against Cleveland and Milwaukee in which the Celtics relinquished large leads in the second half, they withstood a furious 15-2 Brooklyn run in the third quarter that was fueled by the long-range shooting of Joe Johnson.
Johnson's free throw sliced the Celtics' lead to 66-58.
But Rondo was offensively aggressive, and with the Celtics leading, 70-58, he launched an uncharacteristic 3-pointer off a fast break that swished for a 73-58 lead at the end of the third quarter.
The Celtics would lead by double digits the rest of the way.
"We played well as a team, we moved the ball, we rebounded the ball,'' Rondo said. "We did an exceptional job on the glass taking care of the defensive rebounds and we got stops.''
The game did not conclude without some chippiness. Gerald Wallace got into a fourth-quarter dust-up with Garnett that resulted in double technical fouls, and Sullinger was assessed a flagrant foul on Wallace just a few moments later.
This time, however, the Celtics walked away with the win, and Rivers called his team anything but "soft'' as he did after the previous meeting.
Now the Celtics embark for the West Coast and three more critical games.
"They lived the first two games in the paint,'' Rivers said. "Our goal was to clog the paint and make them take contested [shots]. This beats the other way, losing and going out West. It has to help us.''