Celtics
Dreadful second-half performances dooming Celtics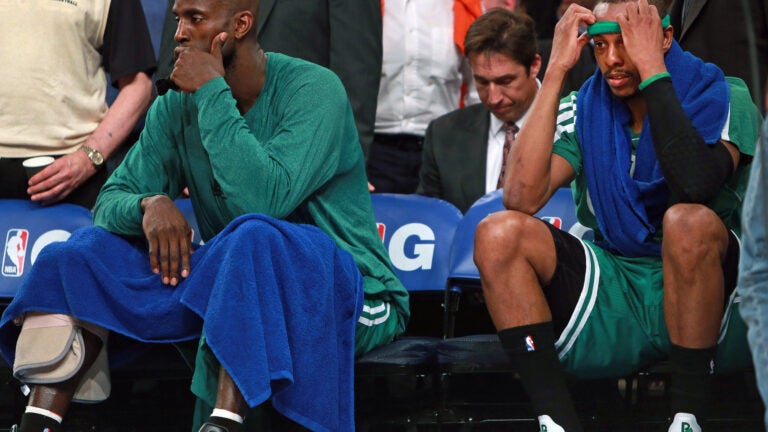 The film rolled, the mistakes played out again on the screen, but the solutions didn't just magically appear when the lights went up.
This isn't the movies, after all.
It's basketball, and the Celtics still aren't sure exactly why they have collapsed in the second half of their two first-round playoff losses against the New York Knicks.
They don't have much time to figure out an answer, either. The clock is ticking, and the Celtics are staring at an 0-2 hole in this best-of-seven series.
After Tuesday's 87-71 loss, they returned to Boston, where they will play Game 3 Friday at TD Garden, and reviewed film. Then Doc Rivers spoke with reporters on a conference call, offering up as few answers as he did the night before.
"Listen, we have to do something,'' the coach said in reference to the two second halves, in which his team has scored a combined 48 points — an average of 12 per quarter.
"We have to do something because we've come out flat, period. We've done all the other stuff, but we've come out flat [after] back-to-back halftimes.
"As a coach, that's an alarm and I don't know what it is. But we have two days to figure out what it was.''
Perhaps Rivers should ready a rousing halftime speech to rally the troops.
"If it's going to come to that, we're in trouble,'' he said, laughing.
The Celtics shot a combined 14 for 62 (22.6 percent) after halftime in the two games.
And according to the Elias Sports Bureau, the Celtics are the first team in the shot-clock era to score 25 or fewer second-half points in consecutive games either during the regular season or the postseason.
Also, the Celtics' 23 second-half points in Game 2 set a dubious team mark; it was the lowest output in franchise history in the postseason.
"The game, it's not as difficult as we make it at times,'' Rivers said.
But Carmelo Anthony has also made it rough on Boston after intermission. The Knicks star scored 17 second-half points in Game 1, just 8 fewer than Boston's entire lineup. In Game 2, he scored 19 points in the second half, just 4 fewer than the Celtics.
The second loss was more disappointing because of how well the Celtics played in the first half, using runs of 13-2 and 16-3 to take control and build a lead as large as 9 points.
Rivers pointed to defense, noting that the Celtics were getting stops that led to transition baskets; they ultimately outscored New York in fast-break points, 17-2.
"It's what I said since [Rajon] Rondo's gone down, that's how we have to score,'' he said. "For us to score, though, we have to be even a better defensive team, and we were in the first half. In the second half, the third quarter, we gave up 32 points.''
Everything changed then.
And the Knicks started to play more aggressive defense, attacking the Celtics.
"You know, the Knicks, they're a much better defensive team, but they still get their energy from threes and made baskets, and we allowed them to get their energy back defensively because we allowed them to score offensively,'' Rivers said. "That was huge.''
The Celtics have over-relied on Paul Pierce more than once since Rondo was lost to a season-ending knee injury. Pierce has scored 19 total points in the two second halves; his teammates have combined to score 29. Fatigue is a factor, Rivers said, but it shouldn't be one in the third quarter.
"We cannot be outplayed in the effort department, in the desperation department,'' he said. "I really thought the second half of that game, the Knicks played like their season was on the line. And I didn't think we answered it.''
Rivers was asked if he was surprised by the lapses in the third quarter considering how mentally tough his teams typically are. He wasn't sure.
"This group has been mentally tough this year — at times,'' he said. "You know, you're on the road, things aren't going your way, and I just didn't think we handled it very well as a group.''
Several Celtics are brand new or relatively new to the playoffs. , and Rivers conceded that might be an issue. , that his players might be wide-eyed on this grand stage.
"For a lot of them, this is their first shot at it,'' Rivers said. "Put yourself in that spot. Your first time playing in the playoffs is at Madison Square Garden, that's expected in some ways. But listen, now we've gone through it, so maybe they're ready.''
The Celtics are finally home, where they'll play for the first time since April 10 against Brooklyn. Their April 16 regular-season home finale against Indiana was canceled in the aftermath of the deadly Marathon bombings.
Rivers believes playing in front of the hometown crowd should help.
"First of all, it's just good to be back in Boston, period,'' Rivers said. "Second, it will feel great and be great to be back in the Garden, playing in front of our fans.
"But we have to play better. We have to play harder. I thought, clearly, the Knicks came out in the second half and acted far more desperate than we did. And I thought it showed in the way they played.''
Now, the Celtics are the ones who are desperate. — for improvement and a win.