Celtics
Kevin Garnett suffers minor hip injury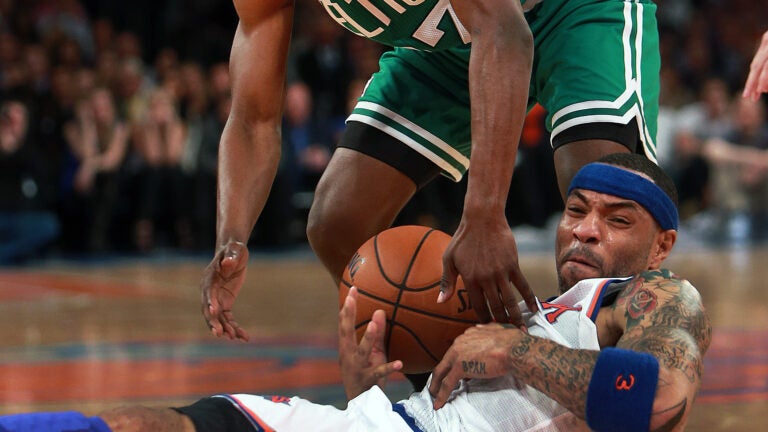 Kevin Garnett suffered a hip injury during the Celtics' 87-71 loss to the Knicks in Game 2 of their Eastern Conference first-round series Tuesday in New York, Doc Rivers said in a conference call Wednesday.
Rivers said the injury is not serious and that Garnett should practice Thursday and play in Game 3 Friday at TD Garden. The Knicks lead the best-of-seven series, 2-0.
Garnett missed 10 of the final 13 games of the regular season with ankle inflammation, but the Celtics have also tried to rest the 36-year-old for a postseason run.
Rivers expounded on the injury that Garnett suffered against the Knicks, saying, "It was very similar to having a hip pointer in football, I guess. And it was affecting him. I was concerned that he had done something else, because where he was grabbing his hip, but I thought it was his stomach, where you pull a stomach muscle or something. That's why I think in a couple timeouts, I kept asking him, was he OK. And he is, he's good.''
Garnett finished with 12 points and 11 rebounds, but played just 24 minutes because of foul trouble. The Celtics had looked to involve Garnett more after their Game 1 loss, but that didn't happen.
"That hurt us,'' Rivers said. "And it was clear. Listen, if Carmelo [Anthony] gets in foul trouble, it's going to have a huge impact on the game for them. It did for us, no doubt.''
Rivers criticized the officials after Tuesday's game, calling some of the fouls called against Garnett "horrendous.'' One of the calls appeared to be a clear flop by Knicks guard Pablo Prigioni, but Rivers didn't want to comment too much on that one.
"I can't say anything. Even [Tuesday], I didn't think I said much — and that could be problem,'' Rivers said, a hint that the league might be upset with his public comments. "Because all I basically said was Kevin getting into foul trouble had a huge impact on the game. That's not criticizing officials. So, I've just got to make sure I focus on our stuff.''
Coach's decision
The decision to play Jordan Crawford 25 minutes off the bench and
Courtney Lee
just 4 minutes in Game 2 was, in part, because of Crawford's scoring ability.
"Offensively, he gives you a better shot at it,'' Rivers said of Crawford, who scored 10 points.
Rivers said he talked to Lee about the decision, and that in general, reserve players just have to be ready in the postseason, no matter how many minutes they're going to get.
"You can't have any excuses or anything like that,'' Rivers said. "Every team shortens their bench [in the playoffs]. Some guys play more minutes, some guys play less, the starters play more, everybody else plays less. You've just got to be bought into the team and if you [play] four minutes you have to be ready, and if you [play] 20 minutes you have to be ready.
"That's what winning teams do.''
Back in the pack
Avery Bradley finished 12th in the voting for Defensive Player of the Year, which was awarded to Memphis center Marc Gasol
on Wednesday.
Bradley, who is known for guarding opponents the length of the court, received two first-place votes, a second-place vote, and two third-place votes, earning 15 points.
Gasol received 212 points, including 30 first-place votes, to win the award ahead of Miami's LeBron James (149 points, 18 first-place votes).