Celtics
Martin has been paying off for Knicks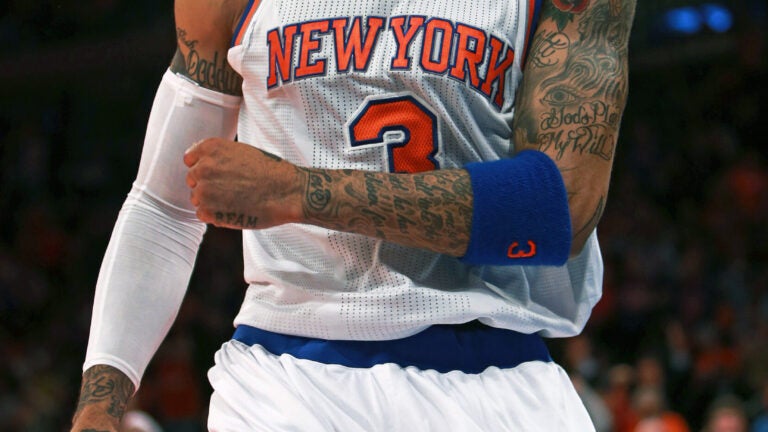 NEW YORK — The Celtics could have had him. Kenyon Martin was there for the taking, adrift on the open market. And yet it was the Knicks who scooped him up, a move that has proven crucial in their first-round series against the Celtics.
It was only one month ago when Martin told ESPNBoston's Jackie MacMullan that he was "going to make them pay. I'm going to make all the teams that passed on me pay.''
He's certainly doing that, at least to Boston.
Martin has scored 13 points in the first two games (both Knicks wins), with his presence truly being felt on defense and the boards. Martin collected nine rebounds in Game 1 and 11 more in Game 2, plus four blocks. He was a force, and one the Celtics certainly could have used on their side.
Instead of having Martin on their bench, the Celtics have Shavlik Randolph.
"It was never about basketball, so they might be kicking themselves now. But I'm a Knick and I'm going to make the best of the situation,'' Martin said on Tuesday.
The 35-year-old Martin was signed initially because the Knicks had lost Rasheed Wallace, as New York took a chance on a player with a problematic reputation. So far, that part doesn't seem to have mattered.
His play on the court, on the other hand? That has mattered.
"He's been great,'' Celtics coach Doc Rivers said of Martin after Game 2. "He's been fantastic, not just his presence in the middle. He's just been really good with his hands. He's switching on guards. He's another veteran.
"We talked about it before the series, but every time they bring in another guy, the guy gets older and older and better and better.''
Rivers said that the major difference in the second half of Game 2, when the Knicks took over, and shoved the Celtics aside, was "intensity.''
A significant part of that was Martin, who had seven rebounds and all four blocks in the second half. The four blocks, in fact, all came in the fourth quarter. Martin played a major role in holding the Celtics to 23 second-half points and in getting his team a 2-0 lead in the series.
Martin has helped make up for the ineffective play of Tyson Chandler, who has admitted his conditioning is subpar since coming back from a bulging disk in his neck that cost him the last six games of the regular season.
While Chandler, last season's Defensive Player of the Year, has been on the court in the first two games, he has not played like himself and has been relegated to the bench in crucial moments. Martin took all 12 of the fourth-quarter minutes in Game 1, and played 12 minutes to Chandler's eight in the second half on Tuesday.
"There's no doubt he was rusty in Game 1,'' coach Mike Woodson said of Chandler, adding that the center has lost weight. "We expected that because he hadn't played, and his energy level was really low. He just didn't have much juice in him.
"I thought he was much better in [Tuesday] night's game in terms of his movement and his pop, but he's still not there yet . . . We've got to get him back up to speed.''
While Woodson said he believes Chandler will improve, will return to the kind of defensive presence he has been all season, that isn't the case yet. In the meantime, the Knicks have benefited immensely from the late-season decision they made — and the Celtics didn't — to add Martin.
Martin also missed games down the stretch, because of an ankle injury. But that doesn't seem to have affected him.
Instead, Martin has been able to do exactly what he vowed after signing with the Knicks, make other teams (for now, the Celtics) regret not picking him up when they had the chance.
As Woodson said on Wednesday, "Kenyon coming over late has been fantastic.''
He has teamed with a number of other veterans, including Jason Kidd and Marcus Camby. Those players have lent their voices on the court and around the team, voices Woodson expects to be an influence on the younger players, especially as the series shifts to Boston for the next two games.
And while he won't feel quite the same love in Boston, Martin got an ovation on Tuesday at Madison Square Garden, heard the fans cheer for the dirty work he has done, for the position he's put the Knicks in with Game 3 set for Friday. Asked about it, Martin played his answer close.
"It's not the first time,'' he deadpanned.
He waited a beat.
"No,'' he acknowledged, "it's a great feeling.''