Celtics
Leonard's career night lifts Spurs, 111-92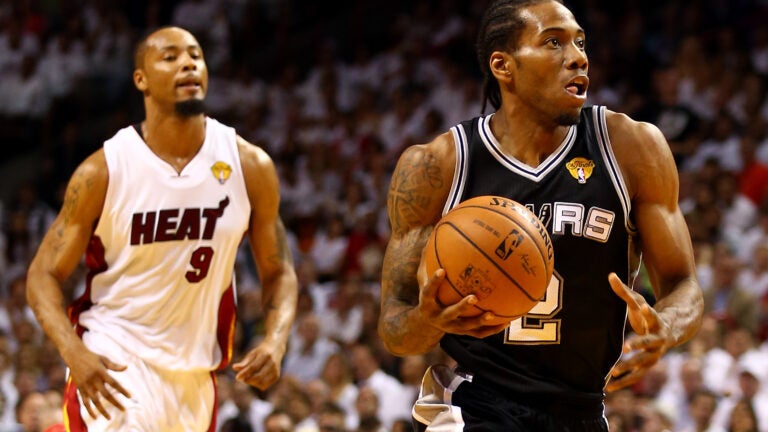 MIAMI — The last time Kawhi Leonard scored this many points in a real basketball game, he was starring at Martin Luther King High School in Riverside, California.
Never in college.
Never in the NBA, either.
Until Tuesday night, that is.
And on the same floor where he missed a free throw that could have cost the San Antonio Spurs the title a year ago, he more than atoned in Game 3 of these NBA Finals. Leonard scored 29 points, his highest total since those high school days, to lead a display of offensive wizardry that carried the Spurs to a 111-92 win over the Miami Heat.
The Spurs lead the series 2-1, with Game 4 in Miami on Thursday.
''The series is not over yet,'' Leonard said. ''That's one game. I have to keep going and, you know, help the team.''
That's about as wild as Leonard gets in his quote game. His on-court game is far more exciting, and the Spurs prefer it that way. He made 10 of 13 shots, scored 16 of his points in a historic first quarter that gave San Antonio total control, and added nine more in the fourth to ensure that the Spurs wouldn't let this one slip away.
San Antonio shot 76 percent in the first half to set a finals record, took a 71-50 lead at the break for the highest-scoring opening 24 minutes the title series had seen in 27 years, and scored more points in the first period of a finals game than anyone since 1967.
''It's a simple game,'' Spurs coach Gregg Popovich said.
Danny Green and Tony Parker each scored 15 for the Spurs, and Tim Duncan added 14. The Spurs led by as many as 25 in the second quarter, matching the biggest lead any visitor has had in Miami since LeBron James, Chris Bosh and Dwyane Wade teamed up four years ago.
James and Wade each scored 22 for the Heat, who lost at home for the first time this postseason. And some numbers suggested the Heat didn't play all that badly offensively — they shot 52 percent and made 10 3-pointers. But they also had 20 turnovers that led to 23 Spurs points, and allowed San Antonio to make a staggering 19 of its first 21 shots.
Yes, 19 of 21. The Spurs were shooting 91 percent at one point in the second quarter.
''All the easy baskets they got, the continuous miscues that we had on defense,'' Bosh said. ''It continued to go. Guys just weren't focused. We were not focused at all. Our rotations were late. We gave up a bunch of touches in the paint and we were surprised that they were being aggressive. We can't do that. It's the finals.
''We did it to ourselves,'' Bosh added. ''With all due respect to them, it's nothing that they did.''
Leonard scored nine points in each of the first two finals games, and the Spurs were hoping to get more from their star-in-waiting.
By the midpoint of the first quarter of Game 3, he already had 10 points, and the Spurs were rolling. If the most memorable moment of his career was missing the free throw on the possession before Ray Allen made the tying 3-pointer in Game 6 of last year's title series, it may have been replaced by the totality of his performance in this one.
''I know Pop talked to him,'' the Spurs' Manu Ginobili said.
And what did Pop say?
''That's family business,'' the longtime San Antonio coach said.
Whatever it was, it worked.
''He just came out extremely aggressive,'' Heat coach Erik Spoelstra said. ''And that's what happens in the playoffs often at times. They've been beaten up a little bit in the media for a couple days and he had a great response.''
San Antonio inserted Boris Diaw into the starting lineup, countering Miami's small lineup and creating more ball movement that clearly helped Leonard. The game got off to a crisp start, with the Spurs making their first five shots and Miami making its first four.
The Heat cooled off.
The Spurs never really did.
''It's just one of those games that it was going in,'' Parker said.
The Heat finally got into it in the third, running off 10 straight points to cut a 17-point deficit to 81-74 on a drive by Norris Cole, who had replaced an ineffective Mario Chalmers.
That was as close as Miami would get, as the Spurs pulled away in the fourth, with Leonard leading the charge.
''We will get better from tonight,'' James said. ''We hate the performance that we put on. But it's 2-1. It's not 4-1. It's 2-1, and we have to make some adjustments, come in and learn from our mistakes as we always do after a loss.''
NOTES: Miami had won 11 straight playoff home games dating to last season. … Wade appeared in his 150th postseason game. … The Spurs are now 19-6 when Diaw starts this season. … Allen made two 3-pointers, pulling him within four of tying Robert Horry (56) for the all-time finals lead.