Celtics
Magic Johnson, LeBron James … and Johnny McCarthy?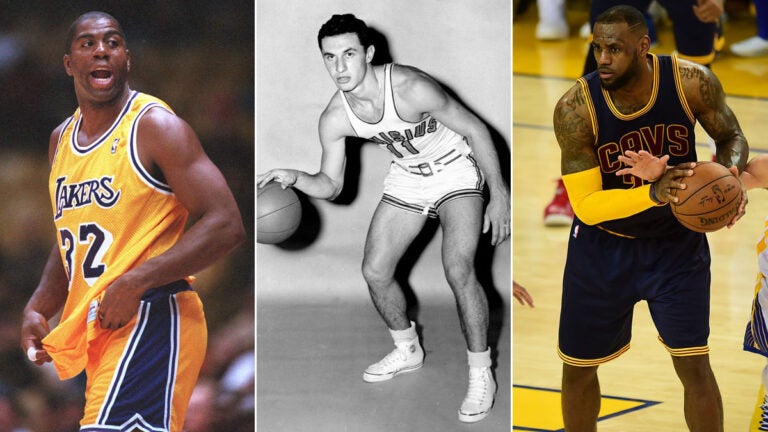 If you're looking to stump your friends on Trivia Night, throw this one out there.
What NBA feat has only been accomplished by three players: Magic Johnson, LeBron James, and Johnny McCarthy?
Unless you Googled the answer, you'd probably never guess what these three players — and only these three players — have pulled off.
OK, give up yet?
Magic, LeBron, and McCarthy are the only three players in the history of the NBA to record a triple-double in their postseason debut.
And McCarthy didn't even know this fact until 2006, when 21-year-old LeBron James — playing in his first career playoff game — finished with a triple-double of 32 points, 11 rebounds, and 11 assists against the Washington Wizards.
The performance sent the statisticians running for the record books which led them to discover that no one had accomplished the feat since Magic put up 13 points, 11 rebounds, and 11 assists against the Phoenix Suns in his first playoff debut in 1980.
Digging back further, there was one other time that a postseason rookie put up a triple-double in his first playoff game.
You had to go back to the 1960 playoffs, when McCarthy — playing guard for the St. Louis Hawks — put up 13 points, 11 rebounds, and 11 assists against the Minneapolis Lakers in 1960.
"I don't think it came up until LeBron,'' McCarthy said from his home in upstate New York. "The first time I heard about it, I was in Florida and I was reading the St. Petersburg Times and if you recall there were some quotes and clips in there about Charles Barkley wagering $40,000 on casino gambling, then they had that little clip in there about the triple-double.''
A 'triple-double' is recorded when a player records 10 or more in three of the following categories: points, assists, rebounds, steals, or blocked shots. Typically players break into double digits in points, assists, and rebounds to achieve the feat. Prior to the 1973-74 season, the NBA did not record steals and blocked shots.
"It wasn't an issue I don't think,'' McCarthy said. "The statistics we looked at back then involved single things like rebounds and points but there was no such thing as a triple-double.''
Now McCarthy's children refer to him as "Triple-Double.''
The 1956 Canisius product made his NBA debut with the Rochester Royals and was later traded to the Hawks where he played alongside Providence College alum Lenny Wilkins.
At the end of his career, McCarthy played with Tommy Heinsohn, John Havlicek, K.C. Jones, Sam Jones, and Frank Ramsey on the 1964 Celtics team that won the NBA championship.
"I hurt my knee in 1962 and I was limping around and I tried out with Red [Auerbach] and he put me on the team,'' McCarthy said. "I didn't play a lot of minutes. It was my last year playing and was pretty much disabled all year. Of course I played with Heinsohn, [Bill] Russell, Satch Sanders, [John] Havlicek. [Bob] Cousy retired the year before, but I used to play against him more than anything else.''
As far as the players McCarthy shares this triple-double distinction with, he could not be more in awe.
"The talent today is amazing,'' McCarthy said. "The depth of some of these teams, they've got seven, eight, ten all-stars. Of course the teams that win are the teams that play together. It's the same issue back when we were playing. The teams that played together were the teams that won. But the talent today is absolutely amazing. But it's still a team game and you're finding out why LeBron is so versatile. He plays offense, he plays defense, he rebounds, he drives, he does everything.
"I watched Magic a little bit when he came in and he was a great team player, too. There's a guy 6-foot-9 that played terrific back court, he could play any position and when they won the championship he was even playing the post.''
For his career, McCarthy averaged 7.8 points, 3.7 assists, and 3.6 rebounds per game, all below triple-double numbers in the three big categories. Meanwhile the superstars he's in company with put up monster numbers on a nightly basis, with Magic scoring 19.5 points per game, 11.2 assists, and 7.2 rebounds over his career while LeBron has averaged 27.3 points per game, 6.9 assists, and 7.1 rebounds over the course of his 12-year NBA career.
Johnson remains the all-time leader with 30 career playoff triple-doubles.
With his 12th triple-double against the Hawks in the Eastern Conference Finals last month, James broke a three-way tie with Larry Bird and Jason Kidd and is now second on the all-time list behind Magic.
McCarthy retired having accomplished the feat only once.
But that one time landed him in some pretty special company.
These Celtics made five or more consecutive Finals before LeBron did
[bdc-gallery id="465911″]