Celtics
A frustrated David Lee vents after being dropped from Celtics rotation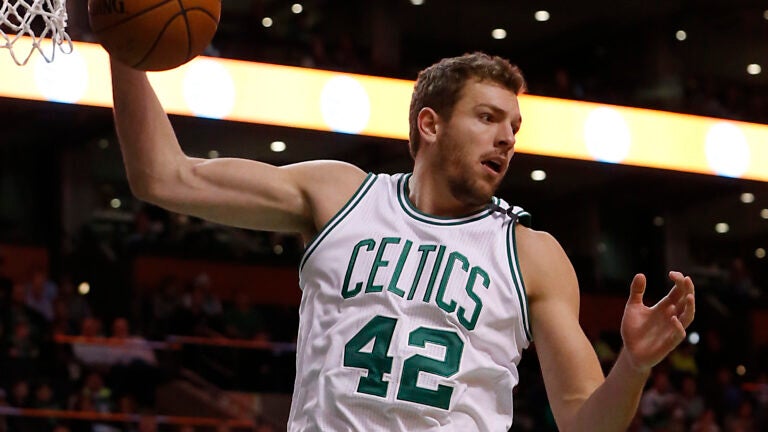 David Lee arrived in Boston this summer in search for additional playing time, but the power forward appears to be the odd man out in a crowded Celtics rotation for the time being.
The 32-year-old logged his second consecutive DNP/coach's decision during Wednesday's 99-94 loss to the Detroit Pistons. Fellow big man Tyler Zeller also sat out as Brad Stevens elected to stay small against Detroit's stretch fours.
Lee talked about his frustration with the benching after the defeat.
"Coach came to me and said we're going to try and go small at the four,'' Lee said, "Which means Kelly [Olynyk] and Jonas [Jerebko]. That's why Sully has been out of the starting lineup. That was his theory on some changes he wanted to make after us losing a couple of games, so I told him while I disagree with it, I also told him he's the coach and can choose to do that.''
The 6-foot-9 forward is the highest paid member of the Celtics ($15.5 million) but has struggled at times after beginning the season in the starting lineup. The two-time All-Star is averaging 7.2 points per game and shooting a career low 47.2 percent from the field. Defensively, Lee has struggled guarding big men who stretch the floor and have more athleticism, resulting in a negative net rating (-2.1) for the team when Lee is on the floor.
"The rotation is something we reassess after every game,'' Brad Stevens said of the decision. "Tyler Zeller has had a few DNPs and got one [Wednesday]. One of those two guys will certainly play [Thursday] night. Chicago is a much bigger team.''
Lee had to deal with losing his starting job to Draymond Green last season with the Warriors, but feels like this year's benching is more upsetting.
"Even last year I didn't accept that, and last year was way different,'' Lee explained. "It was more of an injury-based thing where I got injured to start the year and came back. This situation is a bit more frustrating, and by no means am I accepting of the situation, and that's the first thing that I told Brad. He's the coach, the one making the decisions. I also trust my teammates and want what's best for the team. So we're going to have to see how this plays out. The most important thing is making sure the Celtics get a W in the win column. We've been up and down as a team, so coach is trying to find some consistency.''
Lee says he will try to remain a good solider for the time being as he cheers on his teammates from the bench, but he certainly doesn't sound content with the status quo upon being asked whether he'll look to be traded after the benching.
"We'll see moving forward how permanent this is,'' Lee said. "Obviously, I'm very confident I can help a team win. I hope that's the Boston Celtics. So, no, I haven't spoken about that. I haven't really thought about that yet. Right now it's about continuing to be ready, and if that was talked about it would be between my agent, the Celtics and other teams.''
Lee later added: "I can either choose to be pissed off or I can choose to keep working hard, and I'm going to keep working hard.''
Behind the scenes during Steph Curry's day in Boston
[bdc-gallery id="467162″]