Celtics
Celtics player power rankings: Jae Crowder stars amid skid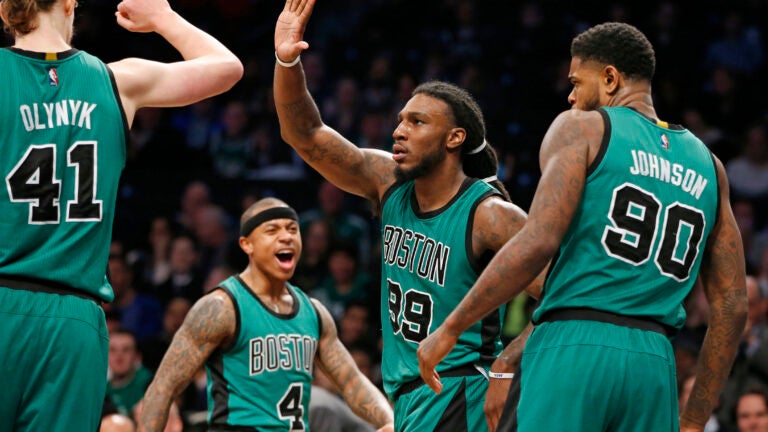 COMMENTARY
The Celtics are a team in search of answers this week after dropping four of their last five games, including a pair of ugly losses to the Lakers and Nets. The offense has been a clear trouble spot in those contests, as Boston has shoot below 44 percent in all four of those defeats.
The stretch has made the team's recent four-game winning streak seem like a distant memory while the race for final playoff positions in the Eastern Conference has tightened up. The shooting struggles have led to a shakeup in the rotation, but the Celtics can't afford to take too much more time to right the ship with five games in seven days starting on Sunday.
Who needs to step up their play in order for the Celtics to get back on track?
Let's explore in this week's edition of the power rankings.
15. Terry Rozier: The first-round draft pick appears to be in store for an extended campaign in Maine with the Red Claws. Despite an injury to Avery Bradley, the team still hasn't recalled him for emergency depth.
14. Jordan Mickey: Brad Stevens admitted he was "curious'' about the 6-foot-8 shot-blocking rookie who continues to post monster numbers with the Maine Red Claws. Unfortunately, the Celtics' head coach also admitted that Mickey getting a chance in the frontcourt will be tough until the veteran logjam is broken.
13. David Lee: Drama is beginning to unfold publicly in the Boston locker room as the highest-paid member of the Celtics is out of the rotation and not happy about it. There hasn't been a request for a trade just yet by Lee, but the 32-year-old has been a relative disappointment on both ends for his new team so far.
11. James Young, R.J. Hunter (TIE): The Celtics desperately need one of these guys to step up and provide some reliable outside shooting, but neither has been up to the task. The pair has shot a combined 6 of 25 from 3-point range in the past 10 games in rotating stints off the bench.
10. Tyler Zeller: The seven-footer has officially moved past David Lee on the depth chart, but the big man is still a shell of himself on the offensive end of the floor. His field-goal percentage has dropped off nine points since last season (46 percent), and his mid-range shooting numbers have regressed to those of his rookie season.
9. Jonas Jerebko: The good news? Jerebko is shooting a team-best 39.4 percent from 3-point range. The bad news? He can't sink any shots consistently inside the arc, hitting just a baffling 35.4 percent of those attempts.
8. Avery Bradley: A hip pointer knocked the veteran out of action for Boston's disappointing week. The shooting guard is aiming for a return to action Sunday in Memphis, and it can't come quickly enough for the Celtics, who are just 2-3 this season when Bradley is missing from the lineup.
7. Marcus Smart: Smart's defensive intensity is back following his knee injury, but his shooting touch remains a bit rusty. In six games since his return to action, Smart is shooting an ugly 29.8 percent from the field and 16.7 percent from 3-point range.
6. Jared Sullinger: A demotion to the bench wasn't necessarily warranted for Sullinger, but his outside shooting woes, combined with Bradley's injury, made it necessary for Stevens to try to spread the floor more. The fourth-year forward has responded well to his new bench role, posting two double-doubles in Boston's last three games.
5. Kelly Olynyk: The seven-footer hasn't exactly impressed in his short stint as a starter. His 3-point shooting (career-high 39.3 percent) is boosting the unit, but he needs to help the Celtics on the glass much more (averaging 6.0 rebounds in his three starts) in order to make his pairing with Amir Johnson more sustainable.
4. Amir Johnson: After being a relative non-factor from a scoring standpoint for Boston in his first two months, Johnson has started to chip in. He's shooting a red-hot 68.6 percent in his last 10 games and has scored in double-digits the last three games, one of the few bright spots for an otherwise floundering Celtics offense.
3. Evan Turner: With Bradley out of action and other bench options reeling, the Celtics have leaned heavily on Turner at both ends of the floor during the past week. He's played at least 36 minutes in his last four games.
2. Isaiah Thomas: While Thomas continues to be the spark plug for the Celtics' offense, various bumps and bruises may be starting to take a toll on the 5-foot-9 point guard. He's shooting an ugly 37.3 percent from the field in his last 10 games, and 24.5 percent from beyond the arc while nursing a sprained wrist.
1. Jae Crowder: The small forward continues to raise his offensive game to another level, and has nearly surpassed Thomas as the team's leading scorer over his last 10 games by averaging 18.1 points per game. That consistency, along with his defensive ability, keeps him on top of the rankings for the second straight week.