Celtics
Marcus Smart apologizes to teammates for late-game blunder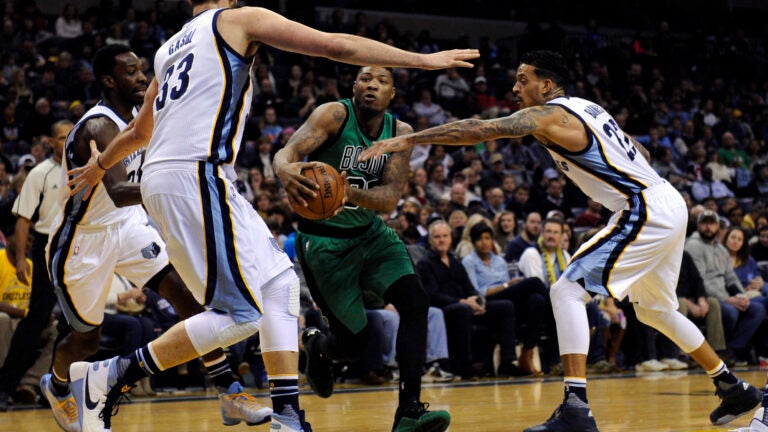 Marcus Smart is known for his aggressiveness on the defensive end of the floor, but that trait cost the Celtics in the closing moments of a 101-98 loss to the Grizzlies on Sunday. The Celtics had already squandered a 21-point second half lead when Smart made a decision he would later apologize for.
With the Celtics trailing by just a point, Grizzlies guard Mario Chalmers was dribbling out clock with approximately 30 seconds remaining in the fourth quarter. Smart's teammates were set on playing solid defense in hopes of getting a stop to set up a chance to re-take the lead, but the second-year guard had other ideas. He went for a steal against Chalmers and was whistled for a foul. His failed gamble visibly irked teammates Isaiah Thomas and Jae Crowder.
[fragment number=0]
After the game, Smart apologized to his teammates in the locker room for the blunder, according to MassLive.com.
"Marcus apologized right when he got in here for that play,'' Thomas said. "We're a family, man. We're going to stick together. We're going to keep fighting. But we somehow have to learn from these mistakes that we're making.''
Smart also addressed the heated interaction he had with Crowder on the court.
"He was just telling me we didn't need to foul there,'' Smart said. "It was heat of the moment, two players, competitors going at it, both mad at each other. I'm mad at myself. He's mad at me because I made a play. But me and Jae are good. That's supposed to happen. I made a bad play.''
Boston has now dropped five of its last six games overall and can't seem to put its best foot forward in tight late-game situations.
[fragment number=1]