Celtics
Celtics Player Power Rankings: Isaiah Thomas strengthens his All-Star case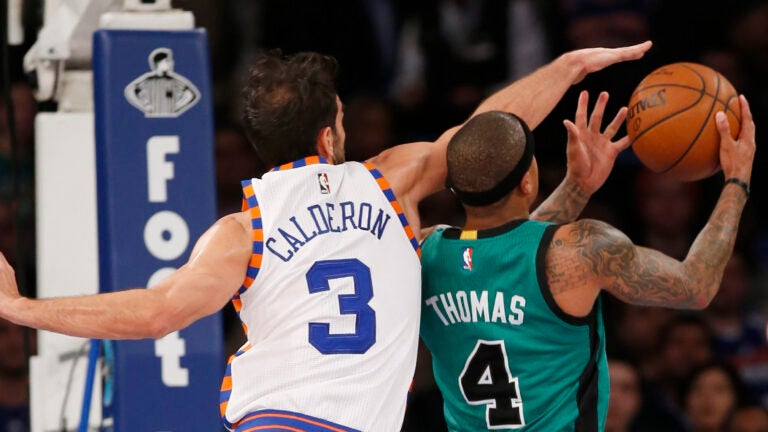 COMMENTARY
The Celtics were facing the prospect of a five-game losing streak on Wednesday night, as they blew yet another second-half lead against the Indiana Pacers and trailed by four in the game's final minutes. Brad Stevens turned to a small-ball lineup during these desperate moments, a move that generally benefits a team's offense by spreading the floor with shooters.
However, it ended up being Boston's small-ball defensive pressure that turned the tide on Wednesday, giving the hosts four straight steals that led to a 102-94 win. The sequence could prove to be a turning point in the Celtics' season, and a shift to small-ball may be here to stay despite the team's logjam in the frontcourt.
Who stands to benefit from this potential shift in philosophy? Let's explore the ramifications in this week's player power rankings
15. Terry Rozier – Only four other healthy first-round picks from the 2015 NBA Draft have played fewer minutes (96) this season than the No. 16 overall selection by the Celtics.
14. James Young – The swingman has yet to make a shot after his four games of action in 2016, but on the plus side he's setting trends with his hair.
[fragment number=0]
13. R.J. Hunter – Brad Stevens may be electing to go with more small-ball lineups, but the rookie shooting guard has not been a beneficiary of the move so far, playing in just one game over the past two weeks.
12. Jordan Mickey – Celtics fans aren't the only ones impressed with the rookie's 13 double-doubles in 19 games with the Maine Red Claws. In front of a plethora of NBA scouts at the D-League Showcase, the 6-foot-8 forward got a strong stamp of approval.
[fragment number=1]
11. Tyler Zeller – The trade winds have not picked up just yet, but with a modest salary and an expiring contract, there may not be a candidate more likely to be dealt next month, especially since Stevens has shown little use for the big man.
10. David Lee – After being told he was out of the rotation last week, Lee was given a second chance against the imposing frontline of the Memphis Grizzlies. The results weren't pretty:
[fragment number=2]
In related news, Lee has not seen action since that woeful performance.
9. Jonas Jerebko – The return to small-ball bodes well for the 6-10 shooter. The 24 minutes he played on Tuesday night against the Knicks was his second highest total of the season. Jerebko's defensive versatility also gives Stevens a lot of options when paired with three guard lineups.
8. Kelly Olynyk – A 1-4 record with Olynyk in the starting lineup has caused Stevens to relegate him back to the bench. The seven-footer's rebounding and defensive issues against opposing starting big men continue to pop up far too frequently.
7. Evan Turner – While the swingman has been mired in a 7-for-29 in recent weeks, his minutes have started to take a sharp dip. Turner has played just 20 minutes in two of his past three games, the lowest totals for him since November.
6. Marcus Smart – The second-year guard added to his career highlight reel with a spectacular finish on Wednesday night:
[fragment number=3]
He has also breathed some life into the Celtics defense with his intensity, but it's clear there is plenty of rust on his shot since recovering from his knee injury. He's hit just 4-of-27 3-point attempts since returning on Dec. 30, dropping his shooting percentage from downtown to a horrific 20.6 percent.
5. Jared Sullinger – The big man returned to the starting five on a successful note Wednesday night against Indiana after a five-game bench stint. He also admitted he's going to start ditching his 3-point shot more in favor of the mid-range, a move that should bode well for his shooting efficiency.
4. Avery Bradley – A speedy return after a hip injury was a pleasant surprise for Bradley, but it's clear that veteran's shot is still not back to 100 percent. The shooting guard has not made a 3-point shot since Dec. 30, going 1-for-20 from beyond the arc in that stretch.
3. Amir Johnson – Season-highs in both rebounds (18) and assists (6) in Wednesday's win against the Pacers highlighted Johnson's best week of games in a Celtics uniform. The 6-foot-9 forward is now shooting 69.6 percent from the field in the month of January, while nearly averaging a double-double per game.
2. Jae Crowder – It might be time to throw Crowder's name in the ring for Most Improved Player consideration as his offensive game continues to grow. He's now tied for second on the team with Avery Bradley in points per game (14.4). "You know he's only been here a year and I told you last year I'm not sure I knew quite all that he could do, and he just keeps adding to it,'' Stevens said of the small forward Wednesday.
1.Isaiah Thomas – The All-Star campaign for the point guard got an impressive boost in the past week, as he posted 97 points over his last three games, putting him among some pretty lofty Celtics company.
[fragment number=4]
The Greatest Boston Celtics of all time
[bdc-gallery id="118766″]