Celtics
John Wall: Celtics' Brad Stevens is 'a hell of a coach'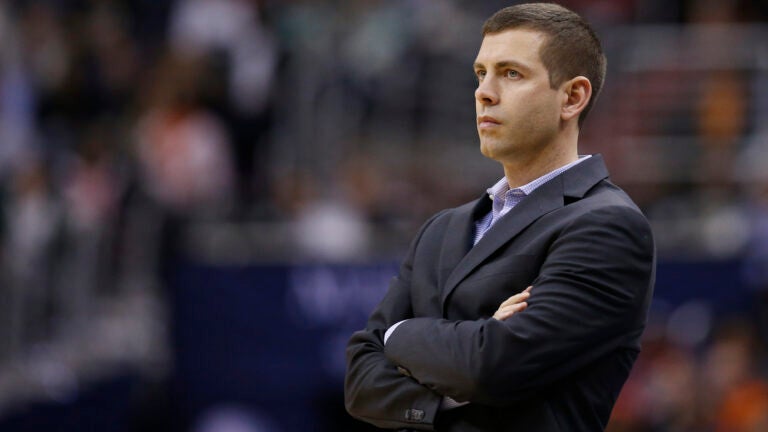 Brad Stevens has been an NBA head coach for only two and a half seasons, but he's already earned plenty of praise from some of the league's most prominent stars.
That trend continued on Saturday night following Boston's thrilling 119-117 win over the Washington Wizards at the Verizon Center. Despite blowing a four-point lead with 22 seconds remaining in the contest, the Celtics managed to escape with the win after Stevens drew up a game-winning play that produced a Jae Crowder layup with 3.9 seconds remaining.
[fragment number=0]
Wizards point guard John Wall scored a game-high 37 points in the defeat, but missed a game-tying layup on the game's final possession.
"He's a hell of a coach, man,'' Wall told reporters in Washington, via ESPN.com. "He's a young coach, but that's one hell of a coach that knows the game real well…He does a heck of a job calling stuff that you wouldn't expect. We all thought it would be a high pick-and-roll to Isaiah Thomas or an [isolation] and he ran a play we weren't expecting [on Crowder's winning layup].''
Crowder was the beneficiary of a terrific lob pass from Marcus Smart and could only thank his head coach for drawing up the play.
"Brad knew exactly how they were going to play it,'' Crowder told The Boston Globe. "I wanted to front on the post to clear the back side for me with no back-side help, and just throw it over the top, and [have] me make a play.''
Successful late-game execution out of timeouts for Boston has been a trademark for Stevens dating back to last season. The Celtics beat the Utah Jazz 85-84 last March when Tyler Zeller successful converted a layup following an inbounds lob pass, a play call that had shades of Saturday's game-winner with plenty of misdirection away from the ball.
[fragment number=1]
With Stevens adding to his collection of his late-game gems on Saturday, the Celtics were able to extend their winning streak to three games ahead of a pair of tough road tests this week in Dallas and Toronto.