Celtics
Is Isaiah Thomas deserving of an All-Star spot?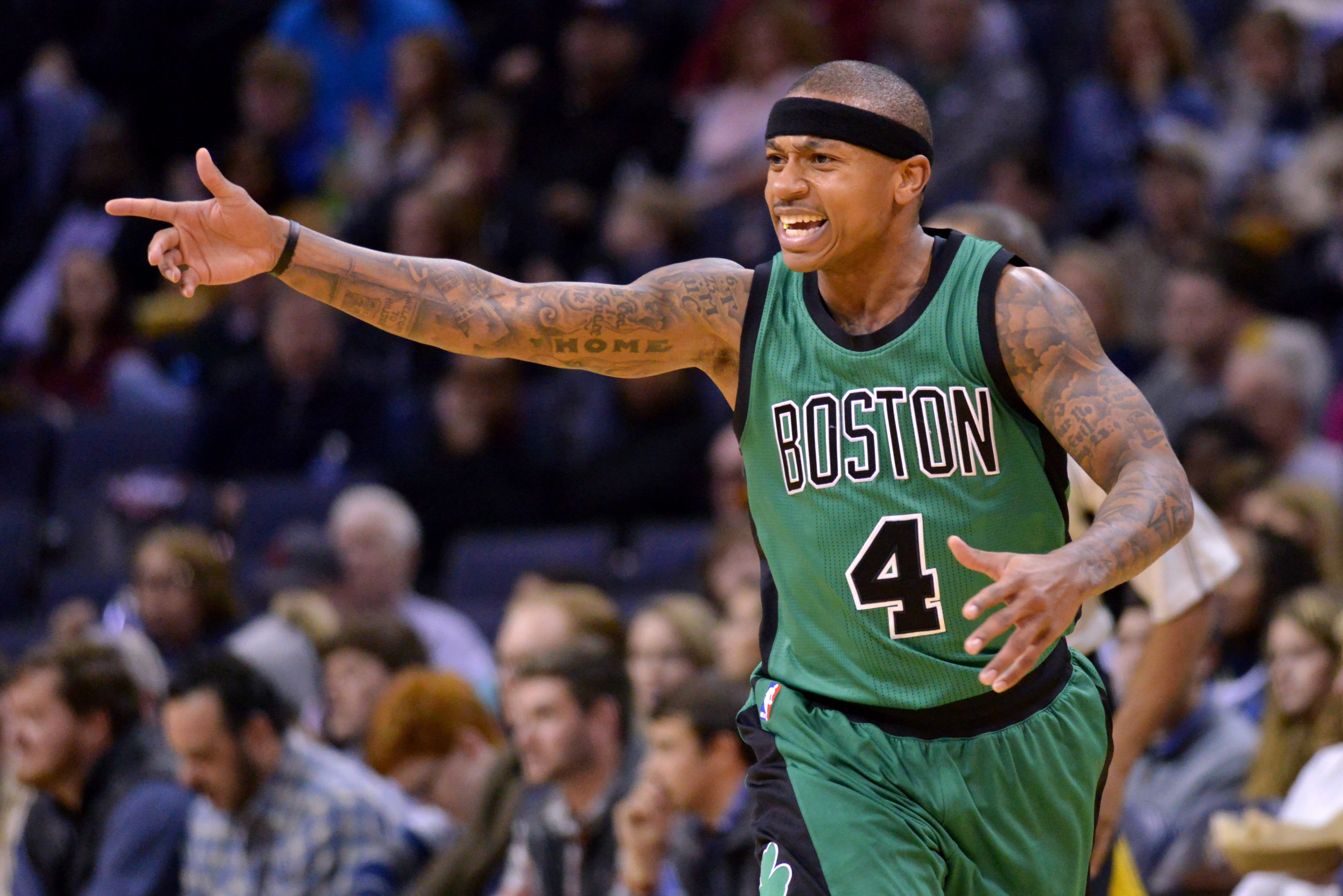 COMMENTARY
Even before the 2015-16 regular season began, Isaiah Thomas had his sights set on being a participant in the 2016 All-Star Game.
"I definitely feel like I can be an All-Star,'' the point guard said during an interview with Sirius XM back in September. "I'm not just saying that. I honestly feel that way. With hard work and dedication and just taking my craft serious. And, with the opportunity given with the Boston Celtics, I feel like I can reach that goal. That's a goal of mine.''
Aided by his insertion into the starting lineup back in November, that lofty goal is close to becoming a reality. The 5-foot-9 speedster is averaging career bests at 21.8 points and 6.6 assists per game while guiding the Celtics to a top-8 spot in an improved Eastern Conference.
That stellar play has earned the 26-year-old serious consideration for one of the 12 Eastern Conference All-Star spots to be handed out this month. The starters for each conference will be announced on Thursday evening (via fan vote), while seven reserve spots will be chosen next week.
It's already safe to say Thomas won't be among the starters voted in by fans. He ranked ninth among East guards with 111,838 votes when results were updated last week, more than 250,000 votes behind the current leaders (Kyrie Irving, Dwyane Wade). Voting for those starter spots closed on Monday night.
Will Thomas be able to squeeze into the fold as a reserve though? Let's take a look at how strong his case is against other Eastern Conference contenders and explore how the starters selected by fans could ended up being a crucial factor in whether Thomas can make the cut.
Spots Available
Even though there will be seven All-Star bench players chosen, you have to reduce that number to four when accounting for potential guard slots. Generally, there will be two reserve guards chosen, three frontcourt players and then two wildcard spots. All Eastern Conference head coaches will vote for those seven spots, but each is not allowed to vote for his own players.
The Competition
The East has a healthy collection of talented guards worthy of consideration. Some players, such as Jimmy Butler, Kyle Lowry, and John Wall should be considered shoo-ins, based on their elite numbers and two-way play. Dwyane Wade is having a borderline All-Star season (18.1 ppg, 4.1 apg) but he's leading the guard fan vote by a considerable margin, so you can pencil him for a starting spot.
It's also a possibility Butler or Lowry will lock up one of the other starting spots via fan vote (each trailed Kyrie Irving by fewer than 42,000 votes for the No. 2 spot as of Jan. 14). Irving has only played 13 games this year due to injury so it's doubtful he will get serious consideration from coaches for a bench spot if fans don't vote him in.
Here's the remainder of the guard competition that Thomas will be battling for the one or two leftover reserve spots.
DeMar DeRozan: 23.1 ppg, 4.5 rpg, 4.2 apg, 36.6 mpg, 8.3 FTA per game
Reggie Jackson: 19.4 ppg, 3.9 rpg, 6.6 apg, 31 mpg, 4.3 FTA per game
Isaiah Thomas: 21.7 ppg, 3.0 rpg, 6.7 apg, 32.7 mpg, 6.4 FTA per game
Kemba Walker: 19.9 ppg, 4.1 rpg, 4.9 apg, 35.5 mpg, 4.9 FTA per game
Analysis
DeRozan has to be given a bit of an edge for one of the spots when you consider that he's playing for one of the East's best teams, and he's more of a wing than a guard. With Wall, Lowry and potentially Irving (if he's voted in by fans) taking up East backcourt slots, the coaches may see DeRozan's scoring numbers and elect to go with him, instead of making the roster point-guard heavy.
Both Jackson and Thomas are neck-and-neck when looking at their offensive stats and the standings of both their respective teams (Detroit is one game ahead of Boston). However, that duo is a cut above Walker and DeRozan when you dive deeper into their impact while on the court.
The Celtics' offense is 11.5 points better per 100 possessions when Isaiah Thomas is on the court, one of the best splits for a point guard in the NBA and a clear indication that he is a crucial spark to the team's success. Per NBA.com, Jackson has similar peripherals as the Pistons score 9.7 points more per 100 possessions when he's on the floor. In contrast, Walker (+1.0) and DeRozan (+2.3) have far less impressive net ratings per 100 possessions, indicating that Thomas and Jackson could be considered far more vital to their team's respective offenses.
From a defensive standpoint, DeRozan is the best of the bunch and his ability to defend tough scorers on the wing puts his value on this end above the other point guard contenders. Jackson, Thomas and Walker aren't considered plus-defenders, but Thomas is actually improving considerably on this end for one of the NBA's top-ranked defenses, as Brad Stevens explained last week.
"Right when we got him I heard he was probably a little bit better defending than people had thought,'' Stevens said. "As I watch him now on film vs. our March or April games, he's really improved on that end of the floor. And then he's got real comfortable with his opportunities at the other end for us. He's a dynamic scorer as we all know. But he makes a lot of other plays for us too.''
The numbers back up that assessment, as the Celtics' defensive rating with Thomas on the floor is even with Jackson's for the Pistons and better than Charlotte lineups with Walker. Thomas isn't a stopper like Avery Bradley or Jae Crowder, but the numbers show he is holding his own among these candidates.
Verdict
While the numbers say Thomas is worthy of a spot, the cruel reality for the fifth-year guard is that his fate is likely going to be directly tied to the fan vote. If Irving and Wade get voted in, the guess here is Thomas gets snubbed with Butler, DeRozan, Lowry and Wall getting the bench nods. However, if Lowry or Butler passes Irving and gets a starting spot alongside Wade, that would open up one more bench spot. As the point guard explained earlier this week, he would be the best choice for that final spot.
"Put my numbers up against anybody in the NBA and they're right there,'' Thomas told reporters this week. "It's only questionable because I'm 5-9. Like I keep saying, that's the only question about it. If I was 6-foot, there wouldn't be no consideration about how I'd be in there. But I'm going to do my part.''
Thomas has one more week to strengthen his case, with reserves to be announced on Jan. 28.
The Greatest Boston Celtics of all time
[bdc-gallery id="118766″]