Celtics
Celtics player power rankings: Perfect setup to continue winning ways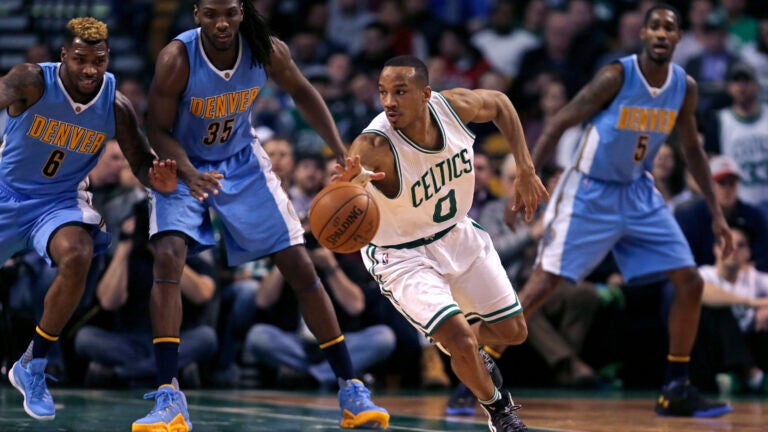 Positive vibes are abundant for the Celtics in this week's edition of the player power rankings. Not only is the team riding a four-game winning streak that has pushed them into the No. 5 seed in the Eastern Conference playoff picture, but there were a pair of individual honors handed out to team's personnel this week as well.
Marcus Smart was selected to the Rising Stars Challenge on Wednesday, and fellow guard Isaiah Thomas earned the nod from East coaches for the All-Star Game in Toronto next month.
Whether the good vibes will last remains to be seen, but Boston's upcoming schedule has them positioned well to go on a bit of a run here. Only two of the team's next seven opponents have records over .500.
15. Terry Rozier – A pair of blowout wins for Boston this week meant a couple of playing opportunities in garbage time for the rookie. He scored two points in those games, helping him inch closer out of negative PER territory (-0.18) in his 106 minutes of action this season.
14. Jordan Mickey – Rehab appears to be going well for the big man after suffering a sprained ankle last week. The 6-foot-8 forward was spotted taking part in some light drills with his Celtic teammates on Thursday. He should return to action with the Maine Red Claws within the next two weeks.
13. R.J. Hunter – Shooting is supposed to be the rookie's strong suit, but Hunter's hit a bit of a rough patch during his latest stint with the Red Claws, going 7-for-28 from the field in a pair of games last weekend. He's now shooting 33.8 percent in the D-League in five games on the year.
12. James Young – The 20-year-old scored his first five points of 2016 in Monday's blowout win over the Wizards. Young also got his first taste of Red Claws action in more than a month last Saturday, scoring just eight points in a loss to the Fort Wayne Mad Ants.
11. David Lee – The Celtics have played 16 games since the start of 2016 and Lee has seen playing time in just two of them, including ten straight DNP-CDs.
10. Tyler Zeller – While Brad Stevens has turned to small-ball more and more lately, he's giving his fourth-year center more of a shot in recent weeks. Zeller's played in Boston's last five games, which is the first time since November he's received minutes in five consecutive contests.
9. Jonas Jerebko – Slowly but surely, Jerebko's 2-point shooting percentage (37.2%) is coming closer to matching his 3-point shooting accuracy (40.8%).
8. Jared Sullinger – The Ohio State product still remains Boston's top rebounder, but his minutes have been on the decline in recent weeks with the emergence of Kelly Olynyk. Sullinger's played under 20 minutes in three of Boston's past five games.
7. Amir Johnson – Wednesday's win over Denver marked one of his best all-around performances of the year with nine points, 13 rebounds and six assists. The outing capped a terrific January that has easily been Johnson's best month of the season. He's posting season-highs in points (9.1), rebounds (7.8), assists (2.6) and shooting percentage (64%) during that stretch.
6. Evan Turner – For one week, Turner failed to give his critics any more fuel about his historically poor 3-point shooting, by taking just two attempts from downtown. Instead, the swingman has been thriving inside the arc, scoring in double-digits in five straight games on 59 percent shooting.
5. Marcus Smart – Defensively, the Celtics are back on track during their four-game winning streak, forcing at least 20 turnovers in their past four games. Smart's relentless defensive pressure (10 steals in those contests) has been a big part of that success.
4. Kelly Olynyk – The calls for the seven-footer's insertion in the NBA's 3-point shootout are growing louder. Olynyk's building a strong case with his shooting on the court (44.4 percent from deep), but the storyline of the born and bred Canadian getting a chance to perform in front of his home country in Toronto should make him an appealing choice as well for the league. Participants will be announced Thursday for the contest.
3. Avery Bradley – After a slow shooting start in his return from a hip injury, Bradley has regained his touch in the past week. He's hitting 57 percent of his attempts from the field and 41 percent of his shots from 3-point range in the past week, topped off by a season-high 27 points on Wednesday.
2. Jae Crowder – The swingman wasn't given serious All-Star consideration but his value to the Celtics is quite apparent when you peer deeper into the numbers. The fifth-year forward has the highest net rating (+6.2) out of all players in the team's rotation.
1.Isaiah Thomas – A lifetime goal was achieved by the 5-foot-9 guard on Thursday when he was elected to his first All-Star game appearance, but he'll also go down in the record books for his selection.
[fragment number=0]
33 awesome Larry Bird photos you won't remember
[bdc-gallery id="146679″]