Celtics
Floyd Mayweather on Isaiah Thomas: 'He's relentless'
Money was in the house to cheer on his friend Friday night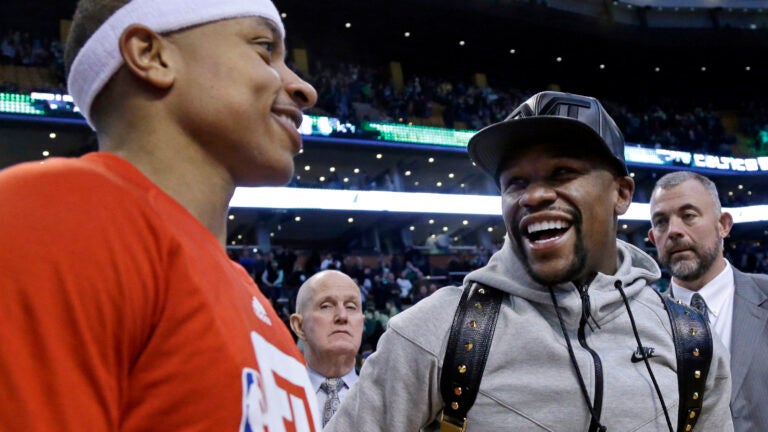 Isaiah Thomas received a loud standing ovation from the TD Garden crowd on Friday night in his first appearance since being elected to his first All-Star game. Some of those cheers came from one of Thomas' more prominent supporters: Floyd Mayweather.
The welterweight champion watched from courtside as Thomas and the Celtics beat the Orlando Magic, 113-94, for their fifth straight win. As a close friend of Thomas, Mayweather decided to make the trek to Boston to help Thomas celebrate his All-Star selection.
[fragment number=0]
Mayweather spent time taking pictures with fans throughout the contest and also visited the Celtics locker room following the game.
He also made sure to shine the spotlight on his friend by praising the hard work Thomas has put in over the years to take his game to an elite level.
"He's always playing basketball, he's always working on his game,'' Mayweather said after the game. "He likes to go to Impact when he's in Las Vegas to work on his game – in the offseason, which is a great thing when there's a lot of other players (who aren't). He's just like Stephen Curry; when it's the offseason he's still working, which is a great thing.''
While the All-Star honor was one of Thomas' top goals entering the season, both Brad Stevens and Mayweather don't expect the point guard to become complacent in the interim.
"I don't worry about that stuff too much with him, because I think the biggest thing is that this guy's got to this point because he's got a drive that very few people have,'' Stevens said. "And I don't see him being satisfied by much.''
"He's a force,'' Mayweather added. "Relentless. Very, very relentless and humble.''
Meet the 2015-16 Boston Celtics
[bdc-gallery id="147137″]