Celtics
Jae Crowder is both underrated and overrated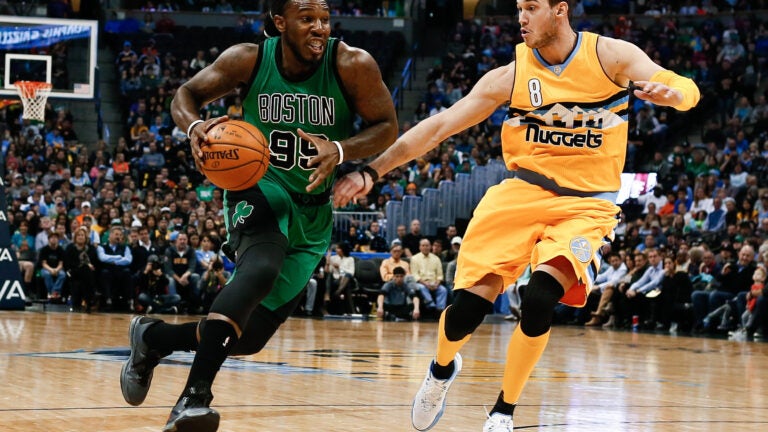 COMMENTARY
As you certainly know by now, the NBA trade deadline was a dud.
It's not just that the Celtics didn't make a move, frustrating some fans while providing others with relief. Of the nine trades made on deadline day featuring 19 players (future picks ignored), only two average at least 20 minutes a game this season.
Two! So, no, no superstars or even All-Stars were relocated.
That didn't prevent a little pre-deadine game of 'what if' from fans and media alike.
[fragment number=0]
Of course, this isn't an allowable NBA trade, given the financial implications, but the results make for an interesting discussion.
Celts fans absolutely love Jae Crowder.
So do I.
Next to Marcus Smart and perhaps Isaiah Thomas, Crowder is Boston's most valuable player, and the emerging forward has been wildly undervalued by a mainstream group of local media that, let's be honest, forms opinions on the gang in Green based on name-recognition and box scores alone.
Tune in. Don't tune in. That's their prerogative. But anyone who watches the Celtics on a regular basis understands Crowder's value. He's a "glue guy.'' In only that sense (not his on-court makeup, just to cut off a critique at the pass), he's the closest thing the club has had to Kevin Garnett since the end of the New Big Three era.
Disclosure: That's me playing the role of Tommy Heinsohn for a moment.
Moving on…
Don't take it from me. Take it from a former player, 13-year vet Shane Battier. In a piece for the Players Tribune, Battier listed Crowder as one of the four best "glue guys'' in the NBA right now, citing his energy, toughness, and fearlessness.
Once viewed as a throw-in or 'JAG' in the "Rajon Rondo deal'' of 2014, Crowder has started to blossom into a solid, versatile NBA player. A superstar? Of course not. He'd prefer to tell you the club is one collective superstar. An All-Star? Very unlikely that'll ever happen. But his value goes beyond his improving offensive and standout defensive abilities which, by the way, have both steadily improved since his arrival to the Hub. His intangibles from a leadership and mental-edge perspective can't be measured in metrics.
Do C's fans fall in love with their own players when things are going well, as they are with the club sitting third in the East with wins in 11 of 15? No question. Celtics fans are a patient bunch, even sometimes to a fault. They're willing to watch this rebuild unfold and don't "need a superstar yesterday.''
Now, I'll admit, I figured the above poll would be far more skewed toward Cleveland's Love than 60/40. It makes sense to have some pause, but that's a deal Danny Ainge would make in a heartbeat. Love is locked up for four more years on what will be a favorable contract, given the impending explosion of the salary cap, he's a walking double-double and just two years removed from being a 26 and 13 guy as the key cog in Minnesota. He's still 16 and 10 as a third or fourth wheel for the Cavaliers. Even with his defensive warts or highly-scrutinized "softness,'' Love would be a tremendous fit for Brad Stevens' vision. He's a better situation away from being a top-15 player in the league again.
But that doesn't all of a sudden mean Crowder is just some run of the mill scrub.
The hard-working, heart-and-soul, caps-lock loving leader is playing 32.1 minutes a game (all stats through Sunday), third-most on the team. He's averaging 14.1 points, 5.1 rebounds, 1.9 assists, and 1.8 steals, and he's shooting 44.9 percent from the field and 35 percent from beyond the arc. Every single one of those numbers stands as a career-best. As an underrated playmaker, Crowder's numbers continue to trend up year-by-year and he's just 25, and signed to a very favorable five-year, $35 million deal through 2019-20.
Defensively, he's physically tough, tenacious, guards three positions well, and is regularly tasked with limiting the opposition's best offensive player.
Put all that together, and Crowder's net rating of 5.1 points stands as the fourth-best on the team behind just Kelly Olynyk (6.4), Avery Bradley (5.5), and Amir Johnson (5.4).
The truth about Jae Crowder lies somewhere between the ultimate "green-teamer'' outlook and that of those in the media clamoring he's nothing but a nice piece. We don't know the youngster's ceiling yet (he's not Draymond Green, nor is he Jared Dudley), but I'm confident in believing the Celtics would be worse off without him for more reasons than you'll find on the floor.
The greatest Boston Celtics of all time
[bdc-gallery id="118766″]