Celtics
Watch Isaiah Thomas's incredible no-look pass against the Bucks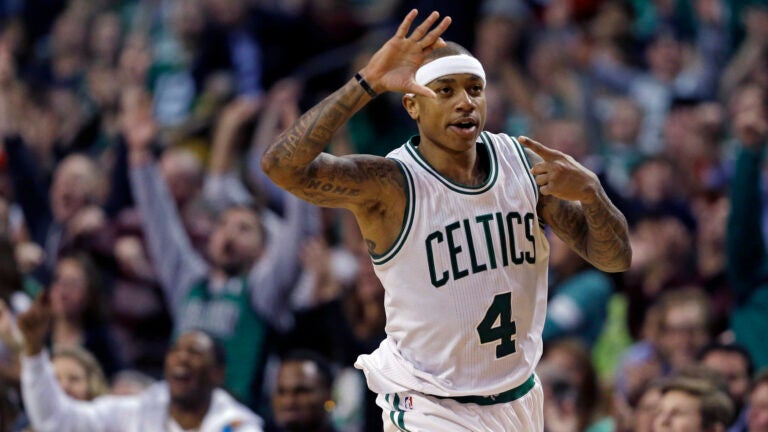 Isaiah Thomas has made plenty of big shots during his tenure as a Celtic, but it was his court vision on Thursday night that may have produced the best highlight of his Boston career thus far.
The Celtics were clinging to a four-point lead over the Bucks with just under a minute remaining in the fourth quarter when the 5-foot-9 point guard drove left into the paint against a pair of Milwaukee defenders.
Despite being swarmed by 6-foot-11 Greg Monroe and 6-foot-6 Michael Carter-Williams, Thomas managed to make a no-look, behind-the-head pass to Jae Crowder in the right corner. The small forward caught the ball in stride and sunk a crucial 3- pointer that helped Boston clinch a 112-107 win.
[fragment number=0]
After the game, Thomas acknowledged he has eyes set on Crowder in the corner from the beginning of the sequence.
"I had seen [Crowder] before I threw it,'' Thomas said, "but when I threw it, I couldn't see him no more, so I'm glad he stayed in that corner and made me look good…I knew that was going to be my bail-out pass.''
"We locked eyes right before the defender came over,'' Crowder confirmed. "I didn't know if he was gonna find a way to get it to me but he saw me for sure before the defender came over. It was a hell of a pass by him.''
The rest of Thomas's teammates couldn't help but agree with Crowder's assessment of the dish.
"Unbelievable, man,'' Amir Johnson said. "I think [the pass to Crowder] was one of the top 5 passes I've seen.''
"That was impressive,'' Jared Sullinger added. "He's 5-foot-2, and for him to throw it over, I think it was Giannis (Antetokounmpo), Greg Monroe and Jabari Parker, all guys that have 20-plus inches on him? That's impressive.''
The timely assist, Thomas' seventh of the night, helped cap Boston's ninth consecutive home win. The unselfish play was also reflective of the team's spirit this year, according to Avery Bradley.
"That play right there describes our team,'' Bradley said. "We always knew we were going to win the game, we do whatever it takes to win the game and we all want to play for each other. Isaiah could have easily just threw something up, but he went in to make a play for Jae.''
33 awesome Larry Bird photos you won't remember
[bdc-gallery id="146679″]