Celtics
Celtics earn potentially crucial tiebreaker in win over Heat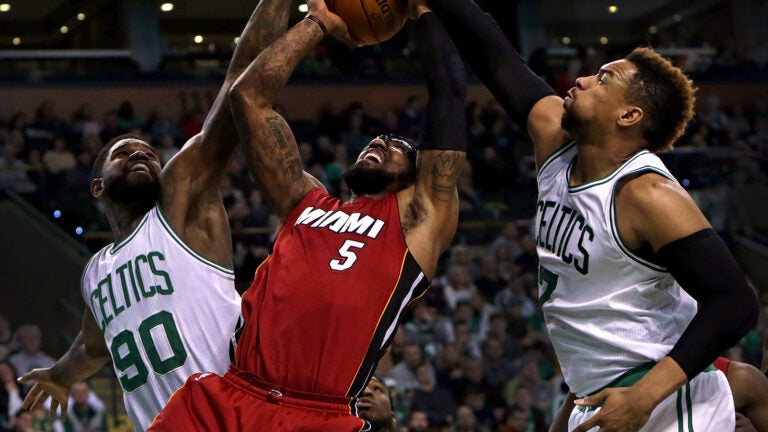 Brad Stevens walked out of TD Garden with his 100th win as head coach of the Celtics on Saturday evening following a 101-89 takedown of the Miami Heat. The milestone victory may not matter much to him from a symbolic standpoint, but the win could prove vital to the Celtics in April when it comes to determining playoff positioning.
In an Eastern Conference in which only 4.5 games separate the No. 3 seed and a trip to the lottery, every edge matters. The Celtics earned one of those on Saturday, clinching the season series against Miami with their second win of the year against Dwyane Wade and company. The teams have just one matchup remaining in April.
The victory not only gives the Celtics a two-game lead in the standings over the Heat in the race for the No. 3 seed, but it also guarantees the head-to-head tiebreaker over them. That advantage effectively gives the Celtics an extra game cushion over Miami in the standings for the remainder of the season.
"They're right behind us, and it was one of those games we needed to win,'' said Celtics center Tyler Zeller after scoring 12 points off the bench. "We got off to a slow start, but both teams started slow. We were able to come back, and the starters did a great job the last three or four minutes and kind of sealed it up for us.''
"We knew they were on us pretty good,'' Celtics forward Jae Crowder added. "We knew that we had to play for it today. We can't look too far ahead. We just knew we had to focus on these guys, try to get the win, to be where we want to be — and that's home court in the playoffs. So we knew today was big for us.''
Locking up the No. 3 seed would help the Celtics avoid the likely top-seeded Cleveland Cavaliers in a potential second-round matchup this spring, increasing their odds of a deep playoff run. By securing their 10th straight win at TD Garden on Saturday, the Celtics took another positive step on that front.