Celtics
Brad Stevens says his son gave him a '10' for his trampoline dunk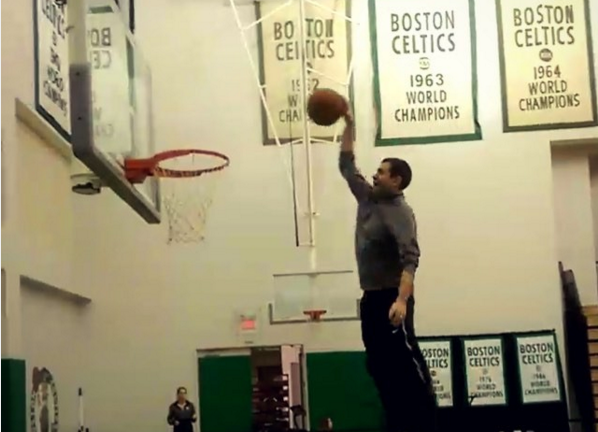 Brad Stevens has the Celtics rolling right now with an 11-game home winning streak, but had the web buzzing on Monday for a far different reason. Video surfaced of the Celtics head coach taking flight at the team's practice facility for a one-handed jam.
[fragment number=0]
Before Monday's 101-95 win over the Utah Jazz, Stevens explained why and how he performed the impressive throwdown.
"I was there just rebounding for Brady yesterday for a little bit,'' Stevens explained. "Brady's my 10-year-old, and I just looked down the side of the court, and they had those trampolines set up. I thought that would be fun, so I asked Lucky how to do it.
"I did ask that nobody tape it but obviously that got lost in translation. It's proof I need to communicate a little bit better, but luckily the few tries before that didn't make it on the web because it wasn't quite as pretty.''
The 6-foot-1 Stevens did play basketball at DePauw University for four years and was selected to a couple all-conference teams during that stint. However, he acknowledged that dunking was not a part of his game, even in those days.
"Did I ever dunk for real? Nah, not with – no,'' Stevens admitted. "Everybody that's played says they've dunked and they have at some point but it's with a flat ball and a 9-foot-5 rim, and different — I've done that.''
As for the dunk itself, Stevens was just happy it pleased one of his biggest fans.
"Hey, it went in,'' Stevens said with a smile. "Brady would give me a 10, so I'm in. A dunk for me is pretty unusual, so I enjoyed it. It was fun.''
The Greatest Boston Celtics of all time
[bdc-gallery id="118766″]