Celtics
Jae Crowder and Avery Bradley close out win over Jazz in a superlatively Celtics way
What a finish.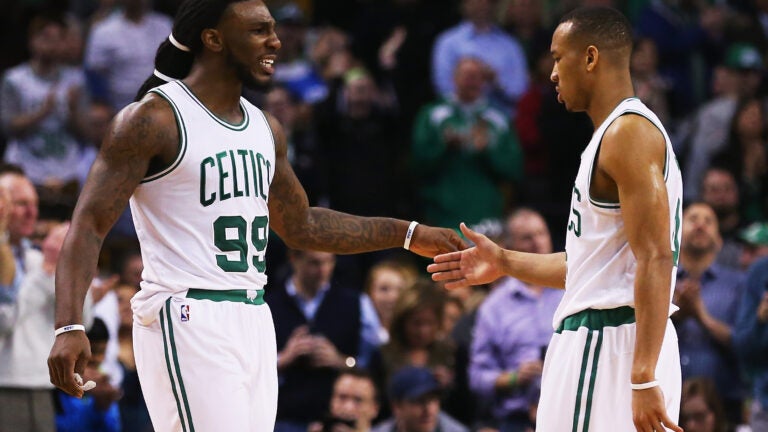 Avery Bradley and Jae Crowder stepped up when it counted.
The Celtics methodically finished their 100-95 win over the Utah Jazz Monday with a cleverly drawn-up play to Crowder and a clutch defensive stop by Bradley.
During a Celtics timeout with the Jazz leading, 95-93, Celtics coach Brad Stevens developed a play with Isaiah Thomas driving to the net. On the drive, Thomas attracted three defenders, leaving Crowder open at the 3-point line. Thomas dished Crowder the ball, and he nailed it.
"I just tried to step into it with confidence and make it,'' Crowder said after the game, via NESN.com.
[fragment number=0]
Now trailing by one point with 30 seconds left in the game, the Jazz took a timeout. The Celtics had a feeling which Jazz player would take the shot.
"I knew they were going to go to [Gordon Hayward],'' Bradley said, via ESPN.com. "I just wanted to make it hard on him and not foul him. That's what I did and I was able to get the block, read the play.''
At 6-foot-2, Bradley timed his jump well enough to block 6-foot-8 Hayward.
[fragment number=1]
The Celtics recovered the ball following the block. Bradley was fouled, and went to the free-throw line. He hit the first shot, and missed the second. After an Amir Johnson rebound, Bradley took two more free throws and made both.
"It was a heck of an execution game late,'' Stevens told reporters. "They were making plays, we were making plays, and we were just fortunate enough to get those two loose balls off the block and then off the free throw to kind of seal it.''
The greatest Boston Celtics of all time
[bdc-gallery id="118766″]