Celtics
Can NBA.com's new stats feature answer your deepest basketball questions?
Was Larry Bird better than Magic Johnson? NBA.com thinks it knows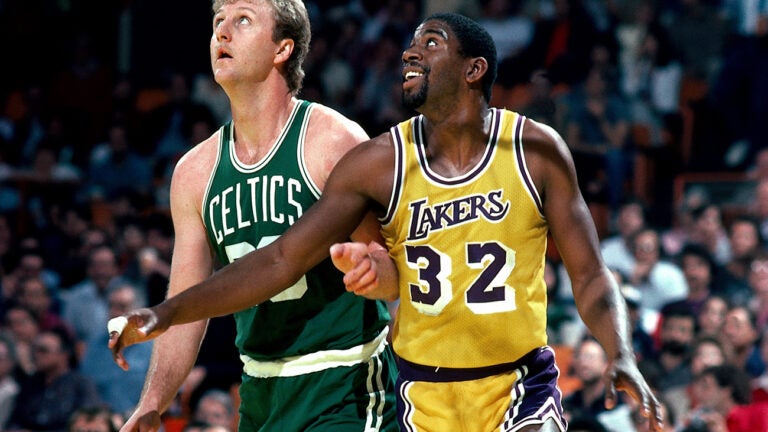 COMMENTARY
NBA.com is getting into the statistics game.
With the recent unveiling of "Stats Q&A Beta,'' the league's official site looks to compete with traffic normally generated by the likes of Basketball-Reference.com (for fans looking to compare players or remember awards) and nbawowy.com (generally used by basketball writers for on- vs. off-court statistics for individual players and lineups).
While both of the more established sites have myriad search and comparative options, they can be a bit intimidating for the non-mathematically inclined basketball fan.
So let's give the league's new tech toy a beta-whirl and see if it can settle some of our more contentious bar arguments, rather than simply add to the supporting data:
Question: Who's the best player of all-time?
Answer: Michael Jordan. This seems easy enough. While clearly in line with the commonly accepted notion of Jordan as the game's all-time greatest player, the reasoning as to why he's considered the greatest is unclear. After scrolling past Jordan's player card (#23/G/Washington Wizards, which is consistent with the site's practice of listing former players as members of the teams for which they most recently played), the result shows a list of ten players, with their traditional "counting stats,'' in no discernible order other than from best to worst player.
Less impressive are the site's suggestions of three "similar questions,'' one of which is "How many points did Marc Gasol have the first quarter last night?'' It's a particularly odd question, not least because it has nothing to do with the original search, but also because Marc Gasol's last game was two weeks before this writing.)
Let's move on. After Jordan, the players ostensibly ranked second through tenth are Wilt Chamberlain, Bill Russell, Bob Pettit, Larry Bird, Elgin Baylor, Magic Johnson, LeBron James, Charles Barkley, and Kareem Abdul-Jabber. A list of all-timers, for sure, but few people outside of Boston rank Bird ahead of Magic, and most would rank both behind Kareem. So, naturally our next question is . . .
Question: Was Larry Bird better than Magic Johnson?
Answer: #33 / F / Boston Celtics. Weight: 220 lbs. Height: 6-9. Age: 59. Born: Dec 7, 1956. Exp: 12 years. Prior: Indiana State. That's it. That's the whole answer. Looks like we're going to have ask something a little less subjective . . .
Question: how many times have two teammates had ten or more assists in the same game?
Answer: Sorry, we did not understand your question.
Well, fair enough. That's a tough question to ask even basketball-reference — though if you can find an answer, let us know how you did it. What's actually frustrating here is, again, the wildly off-topic suggested search options, including "Do the Sixers have a game tonight?''
Do the Sixers have a game tonight?! Are you kidding me NBA.com? I understand you're trying to mimic human speech patterns but come on! The address bar in every mobile and desktop default browser can answer that question before I even finish typing. I want you to help me settle drunken arguments, kill time on the bus, or verify that Reggie Miller is an idiot. I do not need you tell me the weather.
To be fair, the program is still in beta development. So far, it can't answer questions more complicated than its featured questions, such as "How many assists has Steve Nash had in a game against the Rockets?'' (Answer: 17) or "How many points does Tim Duncan average per playoff game against the Southwestern division?'' (Answer: 21.2.) Hopefully, with a little more time, it'll be able to respond with more well-developed artificial intelligence and onion, but for now . . .
Question: Who's the worst player of all time?
Answer: Michael Jordan (#23/G/Washington Wizards).
Alright, NBA.com, at least you know the answer to "what's a beta version?'' If you need me, I'll be on over at basketball-reference.com.